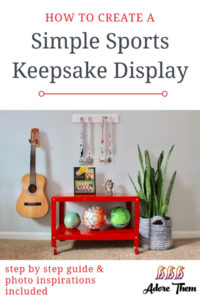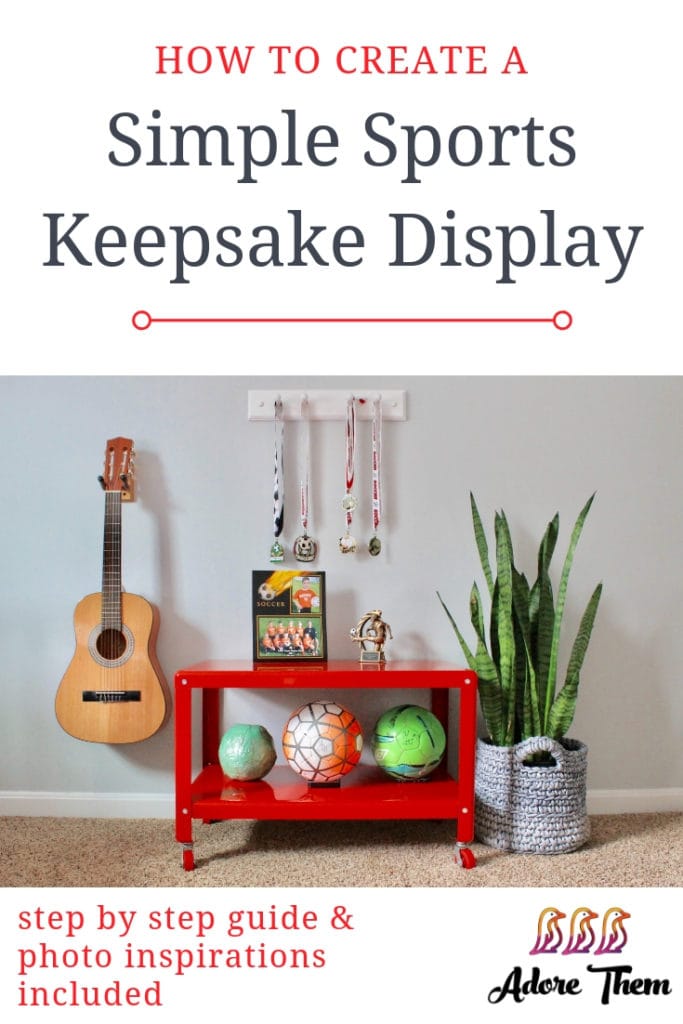 When my son started playing soccer, he was five years old. We decided to try out different options available for a young competitive kid who loved to run and kick. Now that he's played every spring and fall for the last three years, we have started to accumulate medals, trophies and memorabilia. We recently decided to create a keepsake sports display. Check out this simple DIY guide, along with photo examples, below.
---
This article is written by Pamela Rineer
For more on this topic, check out the full Sports collection
---
Step 1 for Sports Display –
Begin with a clean freshly painted wall
Step 2 – Add Pegs
Rows of shaker peg rails are useful for practical storage and artful displays. Use them to hang baskets for organizing, or for displaying hats. Anything around the home can be draped or stored with a loop or s-hook on a peg rail. 
When hanging pegs to be used for sports medals, remember to leave enough room for your storage table or cart below, as well as room for trophies or pictures that sit on top. Measure:
 1. the height of the cart
2. the height of the photo or trophies
3. the length of the medals
Add those three measurements to find the final height to hang the peg rail from the floor. I also suggest making sure it is hung at a reasonable height for a younger athlete that may want to reach his medals to admire or show others.
My son also plays guitar and we needed to store it up off of the floor. I purchased a simple wall mount guitar holder and hung it to the left. 
Step 3 – Add The Display
Little fingers like to touch, see, and play! So displaying trophies or special photos up out of reach wasn't something I thought he'd appreciate. I purchased a small wheeled cart in his favorite color to use for display and storage.
Step 4 – Add Texture & Balance
Lastly, I balanced the guitar on the left with a mother-in-law's tongue plant on the right, more commonly known as a snake plant. I placed it in a gray woven cloth basket so that it looks aesthetically pleasing. And a bonus – snake plants are known for their ability to purify the air.
Step 5 – Fill the Space and Enjoy
Then, I simply filled in the spaces trying to keep it as uncluttered as possible. Medals draped on the peg rail. A current team photo is displayed while previous seasons are stored for safe keeping. Last years trophy sits on the table top. His first soccer ball signed by a professional soccer team member who also coached him a couple summers.
The bottom shelf can be used a number of ways. In this case I stored additional signed balls as well as a ball he made out of found materials for a fun soccer project. Or perhaps a current lego build and inspiring books. If needed, toys could also be stored such as trains and cars in like baskets.
I hope this inspires you to find simple ways to create your own keepsake sports display!
For more on this topic, check out the full Sports collection
---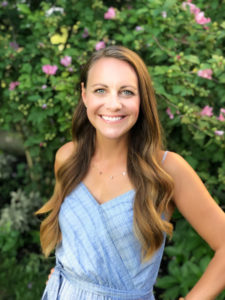 Featured Contributor: Pamela Rineer
Pamela Rineer lives in Lititz, PA with her husband, two boys, and very large goldendoodle. With a love of real estate, design, and money management she began rennovating their homes on a budget. Now, settling into their fifth house, she shares simple DIY's for all things home.