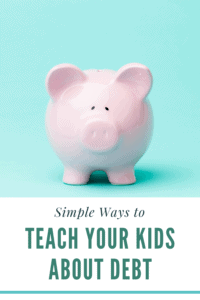 Taking the time to teach your kids about debt, and money in general, is an important step in parenthood. It is a chance for you to set your children up for success when they get old enough to make their own financial decisions. You want to make sure they have a solid foundation when it comes to money, lending and debt. If you are wanting to have the big talk with your child, but am not sure what to talk about or where to start, here are some simple things to keep in mind when you are giving your kid the rundown on the value of a dollar.
---
For more on this topic, check out the full Saving Money collection
---
It's Never Too Early to Teach Your Kids about Debt
Start talking to your children about money while they are young. There is no such thing as too young when it comes to these things. As soon as your kid is able to understand and use money, they should know the rewards for saving money, avoiding debt, as well as managing money. To set your child up for financial freedom, they have to be educated about money. You could join membership programs like DTSS to gain insight on staying debt-free. Visit dtss.us or any other educational membership program website for more.
[ Free Printable: Saving Money Worksheet for Kids ]
Illustrate The Damages Of Poor Money Management
You are not a perfect human being and you make mistakes with your money. Give your child a peek into what the repercussions of maxing out a credit card, tarnishing a credit score or not paying a bill on time look like. You do not want to put undue stress on your child, but showing them a little bit of what these money mistakes can lead to will help them better understand the abstract concept of money. Once they know what is at stake, they will be less likely to make those mistakes themselves.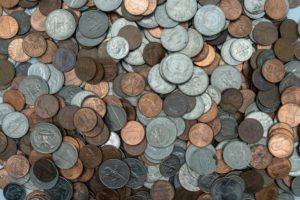 Teach Your Kids To Live Within Their Means
It may be tempting for your children to want to buy expensive things, or simply things they could not afford when they were growing up. Persuade your kid to rethink this. Unless they can afford it, they need to understand the importance of living within their means. Living within their means is essentially being more responsible with money. Teach them that though they can, it does not mean they should.
[ Read: Painless Ways to Save Money ]
Teach The Difference Between Good And Bad Debt
Not all debt is bad. Things like college and other investments are acceptable things to go into debt for. These factors are considered "good debt." On the other hand, bad debt is anything else that is not an investment for your future and therefore is considered "bad debt." No matter how you frame it, it is still debt. Just make sure that your child knows and understands that all debt comes with responsibilities and best practices. All debt has risks and it is up to your child to weigh those options. Knowing the difference between good and bad debt could be key to their financial freedom and future money success.
For more on this topic, check out the full Saving Money collection