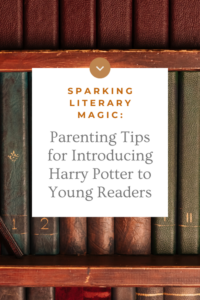 The moment Harry Potter received his acceptance letter from Hogwarts, an owl-delivered scroll sealing his escape from the stifling Dursley household, readers around the globe felt a magnetic pull into a world where the mundane could turn wondrous with a flick of a wand.
This magic, penned by J.K. Rowling, has transcended mere ink and paper. It's become a cultural touchstone, illuminating the dark corners of childhoods and adulthoods alike, flickering like the candles in the Great Hall. But how does one first introduce this luminescent world to a young reader, keen-eyed and eager, without extinguishing the very magic it's meant to spark? Read on, and let's talk about how you can introduce Harry Potter to the little ones.
---
For more on this topic, check out the full Summer Learning collection
---
The Right Age: Setting the Stage for the Journey
Consider, for example, the first book in the series, Harry Potter and the Philosopher's Stone (or Sorcerer's Stone in the U.S.). It introduces a more straightforward battle between good and evil, relatable for younger children, perhaps in the 7 to 9 age range. Harry, Ron, and Hermione are 11 years old, grappling with challenges that resonate with the threshold of adolescence—a useful benchmark.
As you flip through the pages and progress into later volumes like Order of the Phoenix or Deathly Hallows, the tonal landscape darkens, embracing themes of sacrifice, moral ambiguity, and even political subtext. These later books might be more suitably tackled by children in their early to mid-teens.
Now, cognitive milestones also play a role here. Children around 9 or 10 start to somewhat understand irony and metaphor. This newfound cognitive flexibility allows them to appreciate the depth of characters like Severus Snape or Albus Dumbledore, who are not merely villains or heroes but complex figures straddling the in-betweens.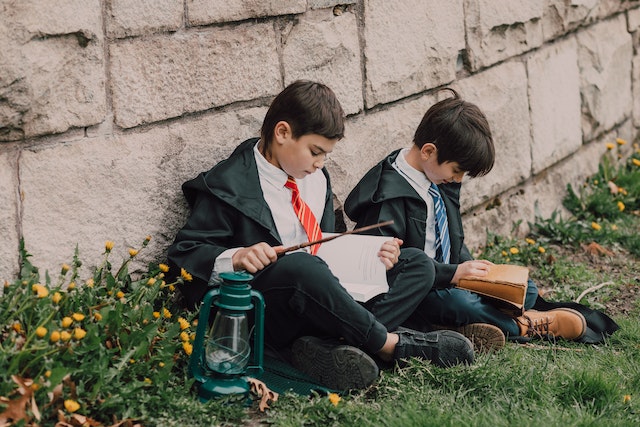 Pre-Reading Activities: Whetting the Appetite
Before your child even opens the first page, a sense of anticipation can be as valuable as a vault in Gringotts. Pre-reading activities offer an exhilarating prelude, serving as kindling for the literary fire ahead. For instance, a family movie night to watch the trailers of the Harry Potter films can be as inviting as a ticket to take a trip to Hogsmeade. Trailers offer just enough to intrigue without giving away crucial plot points, thereby kindling curiosity.
Alternatively, dive into Harry Potter-themed crafts. Crafting wands from twigs and hot glue or making "sorting hat" cupcakes stirs excitement and offers a hands-on connection to the story soon to unfold. These activities forge an initial bond between the child and the world they're about to explore, creating a tangible link to an otherwise imaginary realm.
Creating a Wizarding Atmosphere: Beyond the Book
You've prepared the mind; now prepare the space. Building a kid-friendly home library with Harry Potter books is not enough. Reading doesn't have to be a passive act of eyes meeting words on a page. Imagine the transcendental joy of not just reading about Harry's first feast in the Great Hall but virtually stepping into it. Transform your reading environment to echo the magical ambiance of Hogwarts. Simple DIY decorations—like floating candles made from rolled-up paper, LED lights, or a homemade Platform 9¾ sign—can magnify the reading experience tenfold.
Another method to augment this environment is by incorporating relevant soundscapes. Playing soft, instrumental versions of the Harry Potter soundtrack can envelop the room in an aural cloak of magic, intensifying immersion. Sound enriches the sensory experience, pulling the reader further into the narrative than text alone could achieve.
The Shared Experience: Reading Together vs. Independent Reading
Exploring the intricate hallways of Hogwarts School of Witchcraft and Wizardry can be a solitary adventure or a familial odyssey. But which approach offers the most enriching experience? Reading together provides a shared emotional journey and a dynamic platform for immediate discussion. Questions about the ethical choices of characters or the meaning behind Dumbledore's enigmatic phrases can be dissected on the spot, enriching understanding and deepening bonds.
On the flip side, independent reading nurtures a child's autonomy, empowering them to build their interpretations and emotional connections to the story. This form of engagement can be pivotal for older children, aligning with their developmental need for independence. Plus, it affords them the priceless experience of grappling with plot twists and moral quandaries on their own terms, fostering critical thinking skills.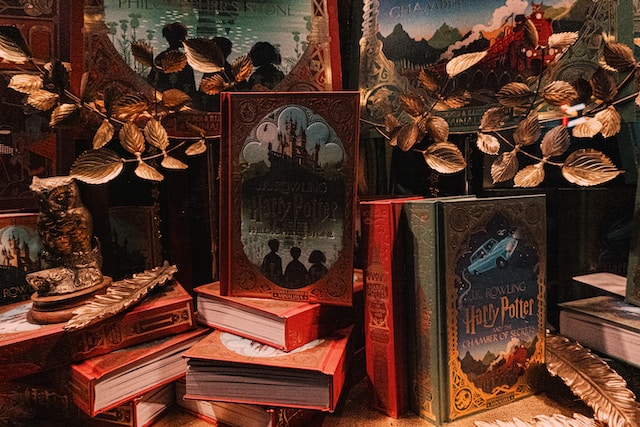 Reinforcement and Recall: After the Last Page Is Turned
The final chapter concludes; the last sentence resonates. But the story's magic need not dissipate like morning mist at daybreak. Prolonging the impact of this literary journey calls for some strategic follow-through.  For instance, transforming a corner of your child's room into a Harry Potter-themed book nook for kids can be a lasting way to reinforce memory and deepen understanding.
Further, a Harry Potter-themed quiz night can invigorate recall and stimulate conversation. Categories could range from Hogwarts history to magical creatures. Such a dynamic interactive setting enables children to articulate their understanding while simultaneously nurturing a sense of accomplishment.
Conversely, creative assignments, such as writing a letter from the perspective of their favorite character or even drafting an alternate ending to a particularly resonant book in the series, encourage deeper reflection. They allow children to apply critical thinking, synthesize understanding, and express creativity—capabilities not unlike the diverse skills of a well-rounded wizard.
The Unspoken Lesson: Instilling the Values of Harry Potter
While the overt allure of the Harry Potter series lies in its magical escapades, hidden beneath its bewitching narrative are life lessons of universal import. Loyalty, courage, and the significance of choice versus destiny are topics ripe for exploration. Herein lies an opportunity to read and cultivate values through reading.
Parents can punctuate reading sessions with pauses for reflection and conversation. A pivotal moment, such as Harry's decision to spare Wormtail's life, opens avenues for discussing the complexities of mercy and justice. The relationships among Harry, Ron, and Hermione offer more than friendship goals; they exemplify loyalty, respect, and emotional intelligence.
Wrapping Up
Introducing Harry Potter to your young reader isn't just a bedtime routine but a transformative odyssey. It's a layered undertaking that extends beyond mere reading to include pre-reading activities, environment optimization, shared experiences, ethical discussions, and post-reading engagements.
With each element meticulously designed, the series becomes more than a collection of books; it evolves into an experiential course in growing up, one imbued with literal and metaphorical magic.
For more on this topic, check out the full Summer Learning collection
---