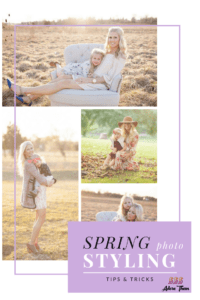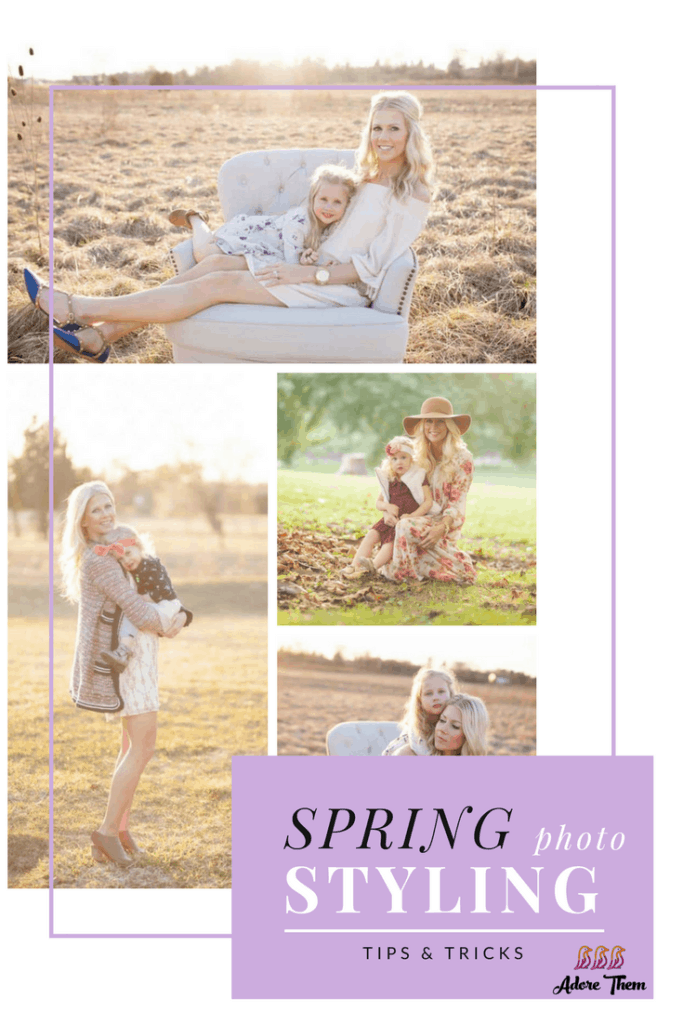 Spring Photo Styling Tips
Warmer weather, everything in bloom, glorious daylight that hangs around longer and eventually turns into stunning sunsets make the perfect backdrop for spring photos. Since my daughter's birth, we've had photos taken for Mother's Day each year. I'll be sharing these pictures while pointing out tips and tricks for creating beautiful photos of your family. Here are a few tips to help you gather inspiration and style your spring photo shoot.
---
This article is written by Carey Martin Bender
For more on this topic, check out the full Photography Tips collection
---
8 Spring Photo Styling Tips
1. Get INSPIRED!
What is grabbing your attention right now? What makes you feel happy? Maybe it's a certain color palette, a location, "prop," or even clothing style. Use all of these things to help develop your style & setting for your photos.
2. Pick an Article.
I typically find one piece of clothing that helps to inspire me that I build the other outfits around.
3. Aim for Cohesive, Not Matching.
Everyone does NOT need to match. Keeping everyone's clothing within the color palette you've chosen will help keep the look cohesive.
4. Think LAYERS.
Layers and different textures of fabrics etc. added into your outfits will add so much interest in a very simple way. Think scarves, jackets, hats, belts and mix your fabrics like denim, leather, cotton or knits.
5. Keep The Prints Minimal.
I love patterned material and mixing prints, but keep the prints minimal, maybe one or two and make sure they still fit into your overall color palette. You don't want your outfits to look too "busy" and distract from the people in your photo.
6. Keep hair and make-up simple.
You typically can wear your make-up a little heavier than normal so that it shows up in pictures, but overall I like to keep my look timeless. When you do something out of the ordinary as far as hair or make-up in pictures, unless it's a special occasion, you typically feel like it doesn't "look like you" and end up liking the pictures less.
7. Pick a Location.
Once you've chosen a location for your pictures this can also help to determine the type of clothes you might choose to wear. Do you want to be more formal or casual? With the gals in your photos you may want to vary some wearing pants or shorts, dresses or skirts. Try your best to make sure everyone is comfortable. When you're wearing something you like and feels good, you're likely to get better cooperation!
8. Have Fun!
Last but not least, HAVE FUN! I've found especially with kids, that most times you're best off to let the photographer guide the session and they will have way more success getting your kiddos to cooperate than you will.
---
Spring Photo Shoot Examples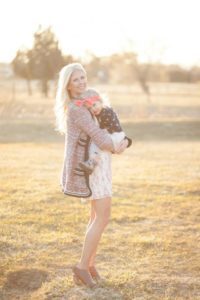 For this shoot I started with this cardigan that I had recently purchased and loved, to wrap our other outfit details around. Our color palette included navy, shades of pink, olive and cream. My outfit stayed the same, but Haven did have a jacket that she wore for some of the photos and others she did not. That's the beauty of layering.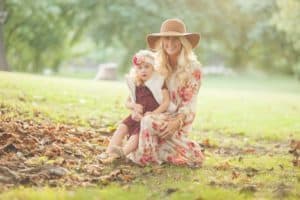 This shoot we went with a more Bohemian vibe…long dress, floppy hat, mocs and shearling vest. I kept my outfit simple and used the hat in some but not all of the photos, same with Haven's vest. In this case we did have 2 patterned materials; flowers and polka dots, but they both had similar color palette and the polka dot pattern was a smaller scaled pattern as opposed to my bolder floral, which made the two coordinate well.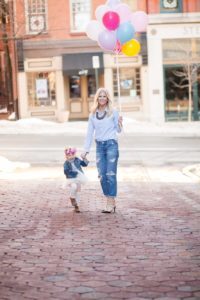 These pictures were taken in downtown Lancaster, so a more urban setting, which I loved. We took the pictures for Mother's Day, but also used it as an opportunity to have Haven's 3 year old pictures taken, hence the balloons we brought as a prop. Our color palate was cream, blue with pops of pink. I had a bright pink tulle skirt I was originally going to wear, but I wanted Haven to be the highlight of the photos so I toned down my outfit to something much more everyday, added some interest with a great pair of heels and kept Haven in the spotlight with her pink flower crown, denim jacket and adorable cream tulle skirt.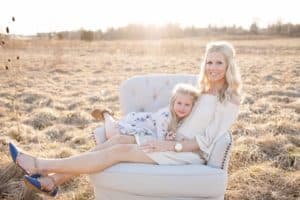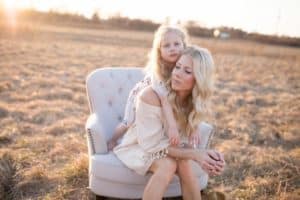 This photo shoot was probably one of my favorites. No one else knew, but I had just found out I was pregnant…so technically both my kiddos are in this photo. 😉 I loved the dress I wore, while very simple the fringed bell sleeves added interest and I also brought a fedora hat to wear in some of the photos. Haven wore a simple linen floral dress and I matched my flats to the color in her dress. I braided her hair again to add simple interest and I also wore my hair back in some and took it down to wear the hat in others. We brought this great light gray linen chair right out of our living room to the shoot as a prop and it helped make us feel right at home.
*Photo Credits to Kari Lehman at Free Your Mind Photography*
For more on this topic, check out the full Photography Tips collection
---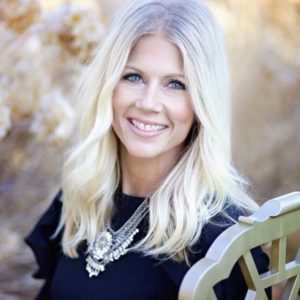 Featured Contributor: Carey Martin Bender
Carey Bender is a wife, mom, and entrepreneur. She is a fashion lover and a fitness fanatic who is always looking for a DIY project, a perfect cup of coffee, and inspiration around every corner. Carey adores Lancaster County living, but is always dreaming up her next adventure.
---