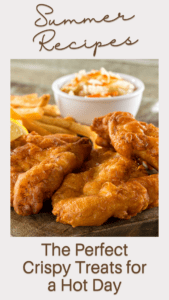 Summer Recipes: The Perfect Crispy Treats for a Hot Day
The hottest day of the year is just around the corner, and it's time to bust out those ice cream sandwiches. But you don't have to wait until July to enjoy a cold treat. There are plenty of summer recipes that will satisfy your sweet tooth, cool down your kitchen, and provide a little bit of comfort this season. Here are some desserts, appetizers, and main dishes that are perfect for these hot days ahead.
---
For more on this topic, check out the full Recipes collection
---
Waffles
Waffles are a great breakfast or brunch idea for a hot day. They are so versatile, and you can serve with fresh fruit, syrup, powdered sugar, whipped cream, and savory ingredients such as bacon and eggs. Of course, the perfect combination is waffles with ice cream topped with warm chocolate sauce.
For this recipe, you will need:
Waffle batter (prepared according to package instructions)
Two scoops of vanilla ice cream per waffle sandwich
Chocolate Sauce- prepare the chocolate sauce before serving time. It's best to prepare it ahead of time because, after heating, the sauce hardens quickly when left at room temperature without stirring in additional liquid. In a small heavy-bottomed pan, combine butter/oil, cocoa powder, and sugar. Boil over medium heat while constantly stirring with a wooden spoon until all the ingredients melt together.
Remove from heat immediately when boiling starts, add vanilla extract or liquor of choice (bourbon is preferable) and stir well. If the chocolate sauce appears too thick, thin it out by adding milk before serving time if desired – some people prefer thicker sauces on their waffles.
Beer Battered Fish
This refers to any fish coated with a beer batter. The most common types are cod, haddock, or whiting.
To cook crispy, tasty baccala, you need to start with making the batter. The batter consists of flour, beer and often spices. Then, the fish can be deep-fried or pan-fried in a bit of oil. An excellent tip to get the perfect crispy coating on your fish is using self-rising flour instead of regular plain flour. Self-raising has baking powder added, which helps give that extra crunchiness when frying.
The batter sticks nicely onto the fish thanks to the carbon dioxide bubbles in beer known for their leavening properties.
Oven-Baked Squash
This is a great way to use up the squash from your garden.
Ingredients:
butter
salt and pepper, to taste
onion powder, optional
First, preheat the oven at 350 degrees F. Cut both ends off the summer squash, then cut into pieces that are about an inch thick or less if they're very long. Place on a baking sheet with parchment paper; add butter, salt and pepper, onion powder, and bake for 30 minutes, turning once after 15 minutes.
Fried Chicken
Fried chicken is often a staple food that is eaten by most Americans year-round. However, for those of you who don't want to spend the time frying chicken at home this summer, here are some alternative ways to make crispy fried chicken without an outside deep fryer.
A classic summer recipe that will give your chicken a delicious crispy texture is to fire roast it. Coat the raw chicken with breadcrumbs and spices before you place it in an oven on broil for about 15 minutes or until cooked through.
This technique works incredibly well if your frying pan has ridges like a grill since they help hold onto extra flour and create crispier edges. However, if you don't have one of these types of pans, then try using aluminum foil (shiny side up) placed under your cooking rack to mimic its effect!
Strawberry Shortbread Ice Cream Sandwich
You can serve this as a dessert or even a sweet snack. It is straightforward to make, and you can make it with ingredients you already have in your kitchen.
Ingredients:
Strawberry shortbread cookies (store-bought)
Vanilla ice cream (ice cream of choice, softened at room temperature for 30 minutes)
Fresh strawberries (sliced thinly lengthwise)
Take one strawberry shortbread cookie and top it off with some vanilla ice cream. Top that with another strawberry shortbread cookie, then place the sandwich on an aluminum tray before placing this into the freezer until firm like a rock. Serve once fully frozen by thawing slightly for about 15 minutes before serving time so they won't crack when bitten into them.
Conclusion
In conclusion, summer recipes are beneficial, especially in the summer. It is a great way to keep calm and enjoy your favorite dishes even though it's scorching outside.
For more on this topic, check out the full Recipes collection
---