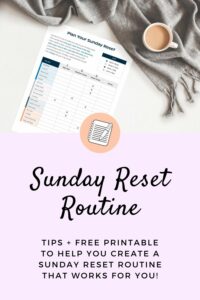 Free Printable Checklist: How To Prioritize Your Sunday Reset Routine
Do you find yourself getting weighed down by the Sunday scaries leading up to every work week? You could probably benefit from a Sunday reset routine to practice mindfulness and get yourself ready to tackle the week ahead.
Sunday reset routines are more than just a trend on TikTok and Instagram. They're an expert-approved way to get yourself centered and give yourself the break you really deserve. In this post, we'll go over how to design a Sunday reset routine. And we provide a free printable checklist that can help you accomplish your weekend goals!
*Free Printable Sunday Reset Routine Checklist
and a Step by Step Infographic are below*
---
For more on this topic, check out the full Get Organized collection
---

Designing a Sunday Reset Routine
Sundays are a perfect time to reset because—whether you have the opinion that it's at the beginning or end of a week—you can design a day centered around the goals you want to achieve for the week and effectively manage your time. 
Design your personal Sunday reset in four easy steps:
Evaluate

by reflecting on your week.
Plan

your Sunday routine in a wellness journal.
Reset

by turning these plans into action, and
Rest

by doing an activity that relaxes you.
---
Plan Your Sunday Reset With A Free Printable Checklist
Planning a Sunday reset is the biggest challenge when first adopting the reset lifestyle. However, we'll break it down for you so it can be easy to accomplish.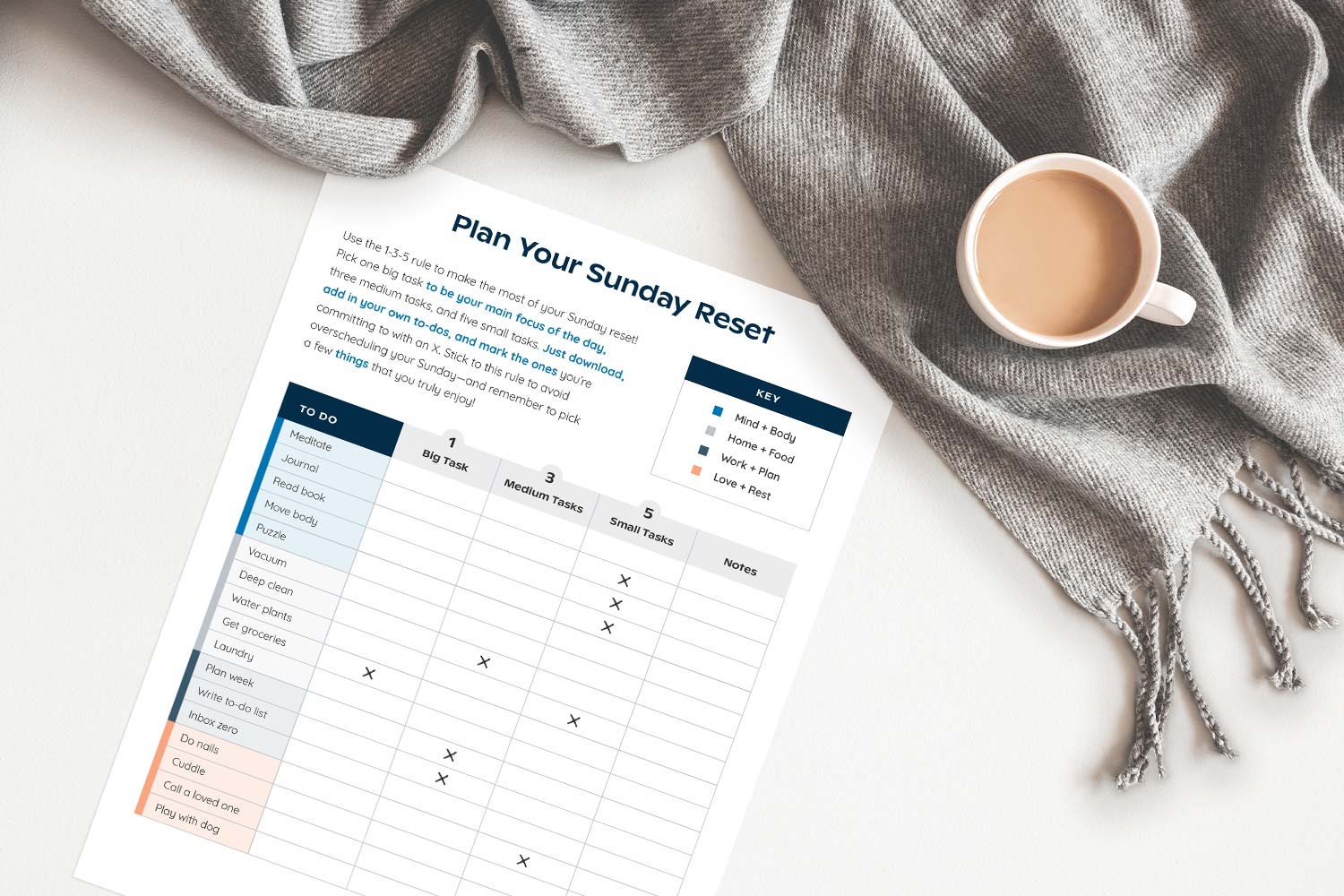 ---
1-3-5 Rule
When planning your Sunday reset routine, utilize the 1-3-5 rule to easily accomplish your goals. By breaking your tasks down into big tasks (1), medium tasks (3), and smaller tasks (5), you can better organize your commitments. 
Pick one big task that you want to accomplish for the day. This could be anything from grabbing groceries to organizing your kids' stuff. Then, choose three medium tasks that are easier to accomplish, like taking your dog on a walk or doing a one-hour workout. Then, finish off your checklist with five small and simple tasks. These could include calling your family members or even completing your 1-3-5 Sunday routine checklist. 
The 1-3-5 rule helps you accomplish your goals for the day while also ensuring that you aren't overscheduling yourself on a day that should be focused on rest. 
Checklist Categories
When deciding what to accomplish for your Sunday reset, it's important that you accomplish goals in all four categories of wellness to create a balance. You don't want to dedicate all nine tasks to the "Work and Plan" category, or else you'll be stressing yourself out instead of resetting. 
Remember to focus on your body and mind as well as your home and food. Mixing in love and rest routines with work and plan tasks can help you have a mindful reset and get you ready for the week ahead. 
Creating a Sunday reset routine is a great way to invest in your health and wellness and can get you prepared for the week ahead. Feel free to use our printable for every day of the week if you're a stay-at-home parent. Being a parent is a full-time job, and you deserve to reset as often as you can.
---
Sunday Reset Routine
How to Set Yourself Up for a Successful Week
---
For more on this topic, check out the full Get Organized collection