Learn how to choose a photographer!
Choosing a photographer can be an overwhelming task at times. There are a few key qualities that should be considered before deciding to book. All you have to do is remember the 5 Ps. Continue reading below to find out what expert advice professional photographer Angie Englerth has when choosing a photographer.
---
This article is written by Angie Englerth
For more on this topic, check out the full Photography Tips collection
---
How to Choose a Photographer
Look at their PORTFOLIO
Is it consistent? Is their style noticeable? More importantly, is it appealing to you? Can you picture these types of images on your walls and in your albums? Every photographer has their own style, so make sure you are choosing someone that shares your same tastes.
Look for PROFESSIONALISM
While it is not necessarily a sign of professionalism, I still feel it's valuable to know; have they been published at all? Are they endorsed by anyone? How do they respond to your inquiry? How do they speak to you and to others? All of these things will give you a feel for their professionalism. Oftentimes this factor will help you determine how your experience will go as you work with them through the photo shoot and while choosing your photos.
Are they PERSONABLE?
I think this is so important especially when working with kids. If your kids are not comfortable with your photographer, your pictures will likely not end the way you'd like them too. At my sessions, I always make it a point to interact with the kids and involve them in each session. Kids will help me make their parents smile or sometimes snap the photo themselves with my camera.
What's the PRICE?
I hesitate to list this one, but the reality is everyone has a price range. Find out the average investment ahead of time. Talk with your photographer about what is included in the fee and what prints and products are available for you to purchase. It's also important to consider what comes out of the session fee and other costs on the photographer's end. Some photographers will provide everything you need for a session, sometimes meaning purchasing new props or paying a fee to have your session at a certain location. Your photographer is running a business which means they are also responsible for taxes.
What PRODUCTS do they offer?
Prints and products are an extremely important part of the process. Does the photographer offer products that appeal to you? Are they high quality? Will they stand the test of time? Is the photographer helpful with choosing what products work best for you? Are they helpful in designing your wall art and your albums?
For more on this topic, check out the full Photography Tips collection
---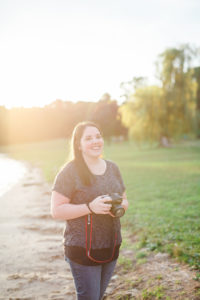 Featured Contributor: Angie Englerth
I am Angie, a wife and mama to two sweet little boys! I'm a portrait photographer in Lancaster county capturing the journey to and through motherhood. I believe that women look the most gorgeous when pregnant and I want them to feel the same way about themselves. My goal for each maternity session is for mamas to realize just how beautiful they are. I also enjoy capturing little ones while they are still little. All the details of newborns, from the tiny toes to the milk bumps on their nose, are my absolute favorite!
---