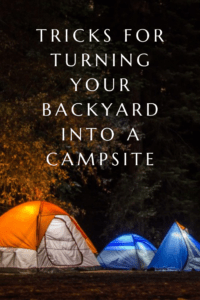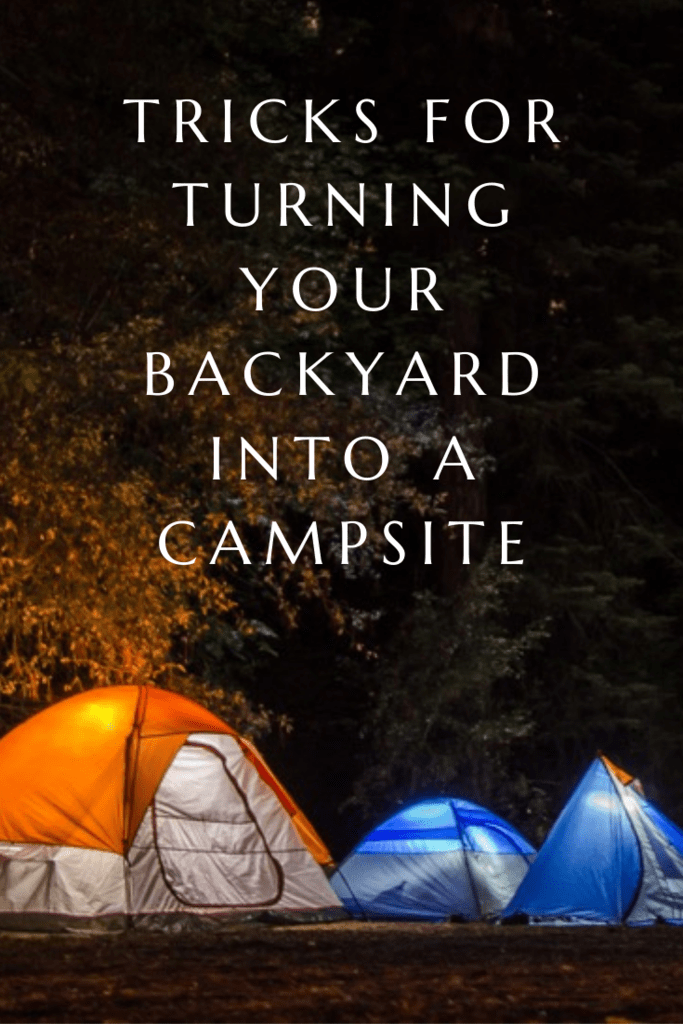 Camping is such a wholesome and brilliant activity. Getting back to nature and away from technology offers a much-needed respite from the daily grind. It can also encourage your kids to get off their screens and enjoy your family time together. But when it comes to actually packing up and heading into the great outdoors, it's understandable that you might have your reservations. If you (or your kids) don't fancy roughing it, you can still enjoy all the fun of camping in your own backyard! Follow our simple tricks and tips below to transform your backyard into a campsite that everyone will be proud of… And don't forget the snacks!
---
For more on this topic, check out the full Summer Safety & Activities and Travel Tips collections
---
How to Turn Your Backyard into a Campsite
Pitch the tent
It's not camping without a tent! Pull out your family-sized tent from summer storage, or grab a few pop-up tents to give everyone their own space. Then stuff them full of sleeping bags, blankets, pillows, and even stuffed animals.
If you fancy a bit more of a challenge, you could build a fabulous tepee with some lodge poles and canvas. Not only will this make an uber cozy shelter, but it will also offer a sense of satisfaction that's hard to beat!
Build a fire
Next on our list of campsite essentials is the fire. If you have a fire pit, all you'll need is some coal, firewood, and kindling to get a roaring campfire going. Or you could build your fire in a metal container for safety. Who does't love story time by the campfire, or a few toasted s'mores?!
Just be sure to contact your neighborhood fire department to check whether there are any rules or regulations for outdoor fires in your area. And always keep a careful eye on the kids!
Stargazing
Stargazing is definitely one of the best things about camping outdoors. Do a bit of Googling before you head out so you can impress everyone with your knowledge of constellations. Or just enjoy the pretty lights.
If there's too much light pollution in your local area, or you've picked a cloudy night, you can easily create your own starlight by stringing up some fairy lights.
Allocate jobs
Camping is more fun when everyone joins in! Ensure that each person gets involved with pitching the tent(s), or building the tepee – even if it takes longer. Older kids can collect firewood, and younger children can help with bedding or food prep. Sensible children could even help build the fire (under careful supervision, of course).
[Read Chore Chart by Age & the Benefits of Teaching Responsibility]
Plan a singalong
Singalongs around the campfire are classic for a reason! Before you settle down for the evening, have everyone pick their favorite song and get singing! You could even print out the lyrics for a really organized evening.
If you have a guitarist in the family, make sure the guitar is tuned up and ready for a good old-fashioned camping experience with backing music.
Limit devices
If your goal is to bring the family together and experience a night in nature (even if you just decided to turn your backyard into a campsite), then electronic devices are a big no-no! Phones, iPads, and video games can all stay indoors while you're camping.
Rather than spending the whole time attached to their screens, camping should involve conversation, games, singalongs, and other technology-free activities. Your cell should stay indoors too! If your 10-year-old isn't allowed to talk to their friends during family time, you shouldn't be checking Twitter either!
Cook outdoors
There's no point in building an awesome campfire if you're running back into the kitchen every 10 minutes to prepare dinner! Use a pie iron to make delicious grilled cheeses, pudgy pies, quesadillas, and breakfasts directly on the fire. The long handles mean that older kids can even get involved and cook their own food.
All the snacks
Once you've finished your delicious campfire dinner, it's time for dessert! Get some long metal or wood skewers for roasting marshmallows or building s'mores. Let each kid warm their own snacks over the campfire: roasting marshmallows is no fun if someone else does it for you!
You should also bring snacks that don't need cooking to enhance your campout. Chips, dips, carrots, popcorn, and anything else you can think of will provide essential fuel for campers young and old.
Relax!
Once you've finished turning your backyard into a campsite, it's time to relax and enjoy the festivities. We love mixing up some cocktails for the grown-ups and mocktails for the kids. Then end the evening with some hot cocoa (bonus points if you make the cocoa on the campfire!) and stories. And don't forget to make a proper camping breakfast in the morning to complete the experience!
[Read Easy Homemade Instant Hot Cocoa Recipe (3 Ways)]
Turn Your Backyard into a Campsite
With these tips, your family is sure to create memories that will last a lifetime. And your kids might even learn some new skills – all from the comfort of your backyard!
For more on this topic, check out the full Summer Safety & Activities and Travel Tips collections
---