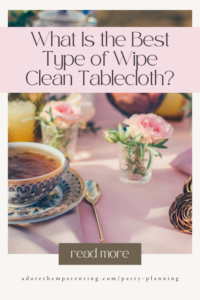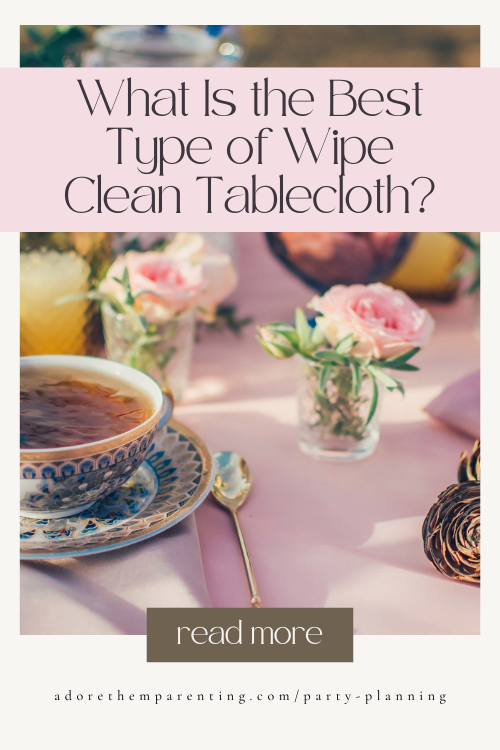 Tablecloths are a great way to add style and pizzazz to any dining area. They can be used for formal occasions or casual dinners, and they come in many colors, materials, and textures. But what if you want something easy to clean? Then you might want to consider getting a wipe-clean tablecloth. These types of tablecloths have been designed specifically for those who need something durable yet easy to care for. So here are the different types of wipe-clean tablecloths available on the market today so that you can find the perfect one for your needs!
---
For more on this topic, check out the full Party Planning collection
---
Wipe-Clean Tablecloths Compared to Regular Ones
Wipe-clean tablecloths are made with a special material that is tough and durable, yet still easy to clean. The material is usually waterproof and resistant to stains, making it ideal for messy spills and everyday wear. Another great thing about wipe-clean tablecloths is that they don't require any fancy cleaning tools or products – just a damp cloth and mild detergent are all you need. Of course, it's important to read the manufacturer's instructions when caring for your tablecloth, as there are a variety of wipe clean tablecloths and different types of materials require different care. Regular cotton or linen tablecloths are also an option, but they may not be as durable or easy to clean. They can still look great in a formal setting and are often more affordable than wipe-clean varieties. However, regular tablecloths will require more frequent and careful cleaning.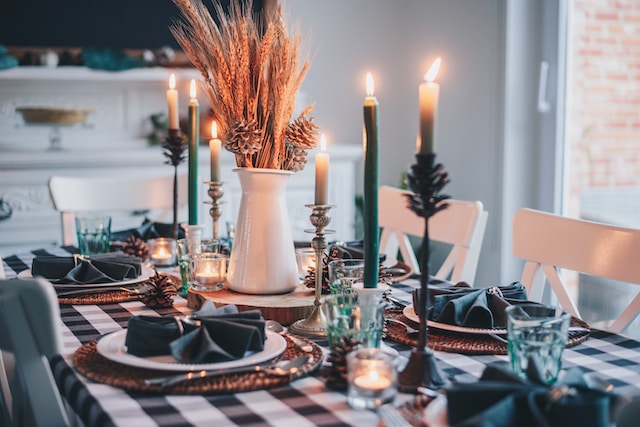 Types of Wipe-Clean Tablecloths
The two main types of wipe-clean tablecloths are vinyl and polyester. Vinyl tablecloths are very easy to clean and care for, as they can simply be wiped down with a damp cloth. They also tend to be more affordable than other types of tablecloths. However, they're not recommended for use in outdoor settings, as the material is quite delicate and can easily be damaged by elements like wind and rain. Polyester tablecloths are also a great option for those who need something durable and easy to clean. They tend to be more expensive than vinyl, but the material is much more resistant to the elements, making them a great choice for outdoor dining. Polyester tablecloths also come in many colors and patterns, so you're sure to find one that fits your style.
Other Types of Wipe-Clean Tablecloths
In addition to vinyl and polyester, there are also other types of wipe-clean tablecloths available. For example, laminated tablecloths are very easy to care for and can be used both indoors and outdoors. They're also quite affordable and come in a variety of colors and designs. PVC tablecloths are also popular because they're very durable and waterproof, making them ideal for cooking activities or outdoor dining. Finally, coated cotton is another type of wipe-clean tablecloth that's easy to clean and highly resistant to stains, making it perfect for messy meals or everyday use.
Maintenance Tips for Wipe-Clean Tablecloths
No matter what type of wipe-clean tablecloth you choose, it's important to properly care for it. Make sure to read the manufacturer's instructions and follow them closely so that your tablecloth lasts as long as possible. In general, make sure to wipe down spills immediately and don't leave any standing water on the surface. It can also help to use a mild detergent when cleaning the cloth, but avoid harsh chemicals or abrasive cleaners. Finally, never put your tablecloth in the dryer – this can cause shrinking and may damage the fabric.
Make sure that you store your tablecloth properly when it is not in use. Avoid hanging the cloth as this can cause stretching or sagging, and instead fold it or roll it up to store away. Also, be sure to add a bit of fabric softener if you plan on storing the cloth for an extended period – this will help keep its texture and keep it from becoming brittle over time. With a little care and attention, you can enjoy your wipe-clean tablecloth for many years to come!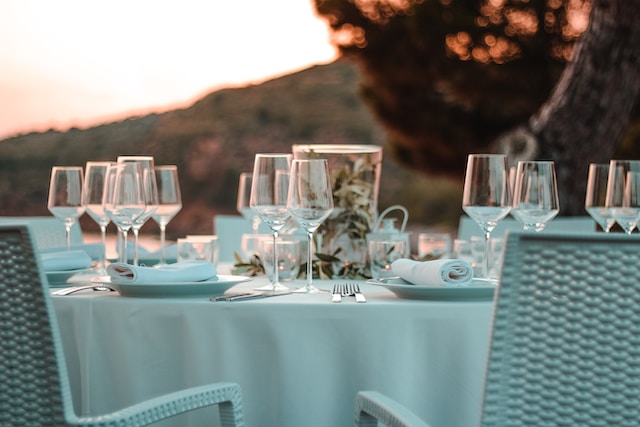 How to Choose the Best One for Your Dining Room
Once you know the different types of wipe-clean tablecloths available, it's time to decide which one is best for your dining room. Consider factors such as how often you'll be using it, how much durability and strength you need, and what kind of look and feel you want for your space. Vinyl or polyester may be the most affordable options, but if you're looking for something more stylish or longer lasting, then laminated or PVC tablecloths might be a better choice. Choose your favorite style and color to complete your dining room decor!
Product Reviews
Before you decide on a purchase, take some time to read reviews from other shoppers. This will help you get an idea of what others are saying about the product and make sure that you're getting a quality item. It can also be helpful to compare different brands and models so that you find the best one for your needs. With a little research, you'll be sure to find the perfect wipe-clean tablecloth for your dining room and even your outdoor dining area.
When to Change Your Tablecloth?
The only potential drawback of using a wipe-clean tablecloth is that it won't always look its best. After some time, spills and stains can accumulate, making the cloth appear dingy and worn. If this happens, it's time to change your tablecloth – either by replacing it with a new one or looking into different options such as upholstering or refinishing your existing tablecloth. With regular cleaning and maintenance, however, you can keep your wipe-clean tablecloth looking good for years to come. And if you ever need to upgrade, there are plenty of stylish options available. The best thing you can do is to buy several different ones and switch them up whenever you feel like it.
Wipe-clean tablecloths are ideal for those who need something that's both stylish and easy to maintain. Whether you're looking for a formal or casual option, there's sure to be one that suits your needs. Plus, with their special material and waterproof construction, they can stand up to even the messiest of meals! So if you're in the market for a new tablecloth, consider investing in a wipe-clean option – it might just save you some time and hassle in the long run.
For more on this topic, check out the full Party Planning collection
---