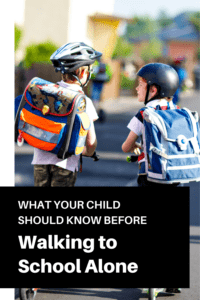 What Your Child Should Know Before Walking to School Alone
As loving parents, we want our children to be independent and grow into mature, well-adjusted young adults. However, the idea of giving them more freedom and the green light to do things without your supervision can feel utterly terrifying. 
One of the biggest milestones in your child's pursuit of independence is walking to school alone. They've probably been asking you for weeks or even months to allow them to complete this perfectly harmless task all by themselves. Of course, they know the route, and they know the quickest way to get there…but what about all the other potential hazards they could come up against along the way…and what if you're not there to help them?
It's a parenting minefield. However, when you believe your child is old enough (many experts recommend the age of 10) you're going to need to put some rules in place and give them plenty of advice, not just for their own safety but for your own sanity.
Here we'll explore what your child should know before they walk to school alone…
---
For more on this topic, check out the full Back To School collection
---
Teach them to always be extra vigilant
Your child is probably proficient when it comes to crossing the road, however, they should still be encouraged to exercise caution and be wary of cars and trucks. Drivers who are distracted by their smartphones, drivers who are fatigued or speeding won't be able to react in time when your child is crossing the road. The last thing anyone wants is a road tragedy – in the worst case scenario, if you or your child has been hit by a truck for example, you can get more info from an Indianapolis truck accident lawyer, here. 
The statistics of child fatalities and accidents involving vehicles and crossing the road are terrifying, so make sure your child understands the risks and that they never cross the road without ensuring it's clear first. 
Help them get to know their route better
If something does go awry, it's important that your child knows that there is somewhere they can go to if they're confused or get turned around. If their route takes them past a church, library or a store, speak with your child about heading into these buildings and asking for help if something happens. 
Speak with school staff
Are there regular crossing guards at your child's school? Mention to them that your child will be walking to school independently from now on and that you'd appreciate them paying closer attention to them. This will also ensure that your child crosses safely. It's also recommended that you speak with your child's teacher and let them know about the arrangement. That way if something goes wrong and they don't turn up for school or they've arrived late and upset, they'll know to contact you straight away. 
Buy them some reflective accessories
Now that the afternoons and early mornings are a little darker and gloomier, it's crucial that your child is seen. Brightly colored backpacks, reflective tape and cool reflective accessories won't just look great, but they'll help motorists and cyclists spot your child in the dark. 
And finally, don't panic
You know your child better than anyone, so sit down together and have a chat about them walking to school independently. You'll both feel much more confident about the idea. 
For more on this topic, check out the full Back To School collection