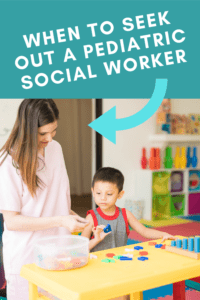 I recently had the opportunity to speak with Liz Disterhoft and ask her a whole bunch of questions about the field of social work. Liz received her MSW from Simmons School of Social Work, and she has been working as a social worker in community health for eight years. Currently, she is a social worker at a unique pediatric practice that utilizes a team-based approach to care. This experience made her the perfect person to talk to about concerns that many parents have regarding their children and social work services. Continue reading below to learn when to seek out a pediatric social worker.
---
For more on this topic, check out the full Mental Health collection
---
Interview with a Pediatric Social Worker
Q: What makes a social worker different than a psychologist, psychiatrist, or family doctor?
The main thing that sets licensed social workers apart from other professionals in similar areas is our unique perspective. We put a focus on sociology into our clinical work. Such as how culture fits into a client's life. How family systems affect lives. And how community integration impacts the client's life. Once we identify struggles, we work with the client to either provide therapeutic interventions and/or connect them to resources that will have a positive impact on their well-being.
Since we put a focus on this day in and day out, we often know about, and have access to, community organizations and programs that others may not be aware of. Social workers are able to assess and diagnose, provide therapy, make referrals, and speak on your behalf.
Q: What does a pediatric social worker do?
I see parents of newborns all the way up to 20 year old "kids." I help people cope with a variety of situations such as trauma – car accident, death in the family, domestic violence, and divorce. Developmental delays – such as speech and language concerns. Mental health concerns – such as anxiety, depression, and others. Identity issues – such as gender identity and cultural identity. Chronic medical illnesses. Social issues – such as bullying, social skills, self-esteem, etc. Family placements – such as foster care and adoption quotes. And there is even more support that I can offer depending on the child and their family's needs.
I work closely with children and families to give them the tools and resources to improve their current struggles. My job is to make their lives easier, not more complicated. So we work together to find solutions that will make sense for the individual. Creating that therapeutic alliance is so important. When working with children, the social worker's relationship with the parents are just as important as the relationship with the child. Everyone needs to be on the same page with how therapy can positively affect the family.
Q: You often see pregnant and postpartum mothers – what can you tell me about that?
I am glad that you pointed this out because this is a population that is often neglected, and one that can benefit so much from extra support services.
Moms often neglect their own needs and need some additional support to make sure that they are taking care of themselves. Sometimes I refer new moms to support groups in her area to make sure that there is not too much isolation going on. Sometimes I work with mother's with postpartum depression, or pregnant women who are at risk for developing postpartum depression. And sometimes I work with mothers whose babies are having medical difficulties since this has an enormous impact on stress levels.
I am happy to be working in a practice where various professionals work together for the greater good of the patient. And I enjoy being able to help new moms through such a difficult transition period in their lives.
Q: What are some common hesitations that prevent people from seeking out treatment?
Many people hesitate to reach out before they hit a crisis point. However, social work can enhance life at any stage. It is much easier to improve your own life and your child's life if you reach out sooner rather than later.
Many people fear that they will be labeled as "crazy," and they don't want anyone to find out that they might need some support. The reality is that we all need extra support from time to time. And reaching out to a professional is actually a very healthy and intelligent thing to do.
Another common hesitation is the fear of the unknown. I am able to calm those fears by assuring clients that it is a social worker's job to meet the client where they are at. The client drives treatment, and we work within that comfort zone.
Q: If I start treatment, how long will we have to be involved with the social worker?
There is a common misconception in this field where people feel like they will be stuck in therapy for ten years if they set up that initial appointment. This is simply not the case. Life ebbs and flows, and you can be in and out of treatment as-needed.
Maybe it works best for your family to be seen once a week to get started. Maybe you only need one or two sessions to sort out a particular problem and gather some additional resources. Or maybe your child needs ongoing support that looks slightly different at each stage of their life.
All of this depends on the child and their family. The goal is to have the client be self-sufficient and responsible for their own healing process. And we are here to help in any way we can. We won't be offended if you ever need or want more or less treatment!
---
The Importance of Early Intervention
Early intervention can make a world of difference for children. Catching potential concerns early and addressing them head on can mean a happier, healthier future for your child & the whole family.
---
When to Seek Out A Pediatric Social Worker
Q: When should people reach out to a social worker?
As a parent, you know your kid. You know when something is off. And really any sudden negative changes in behavior are worth looking into.
However, it is always better to be preventative rather than reactionary. If you know that there are sudden changes coming, it is best to provide your children (and yourself) with extra support to get through that period of time. Any big shifts create a more fragile time in the family system, and children benefit from having an objective person to talk to.
Some of these foreseeable situations include the chronic illness of a family member or a separation or divorce.
There is another time to reach out that people often do not consider – the toddler years. Of course, I am not working solely with a two year old. I get to work with the family and give them recommendations on things that they can try to get through this difficult stage of life. I specialize in child development. So I am able to give a unique perspective as to what's going on. What is normal. And yet how to improve daily family life.
As mentioned above, there doesn't have to be a crisis to seek out support.
Q: How do you find a social worker?
Unfortunately, finding a good social worker that is a good fit for your particular family can be tough. And this is the place where we lose people who could use our help. It is important to be patient with this process. Please understand that it is okay to interview professionals until you find someone who you feel will be a good fit for your family. Feel free to call around and speak with a few different social workers before deciding who to meet with. This is something that can be very helpful  to get a sense of how it may feel to talk to them. During those phone calls you can directly ask about their therapeutic style and expertise.
Your health insurance policy should connect you with agencies who participate with your insurance. Also, many of these local agencies are happy to help you through the process and find what you are looking for. You can also visit Psychology Today or search the National Association of Social Workers database here.
Q: Any final thoughts?
Sometimes people don't get help early on, & they have already been through so much before reaching out for help. Don't hesitate to reach out! Social workers are the friendliest people you'll ever meet ????
The good news though is that we are seeing a transition where people are becoming more open to  behavioral therapies, and the healthcare system is making social work more accessible. More and more professionals are beginning to understand that emotional struggles can manifest themselves as physical ailments. Thankfully, the system is gradually doing a better job of treating the whole person.
For more on this topic, check out the full Mental Health collection
---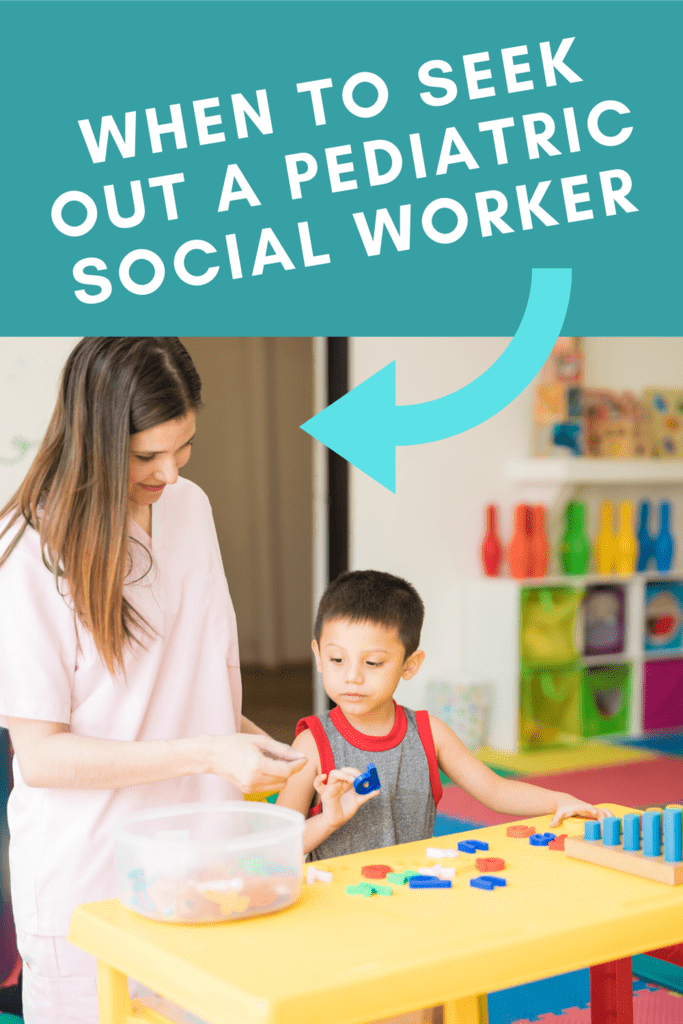 ---