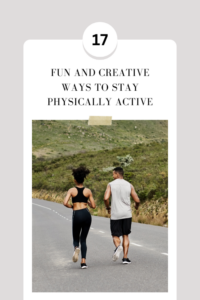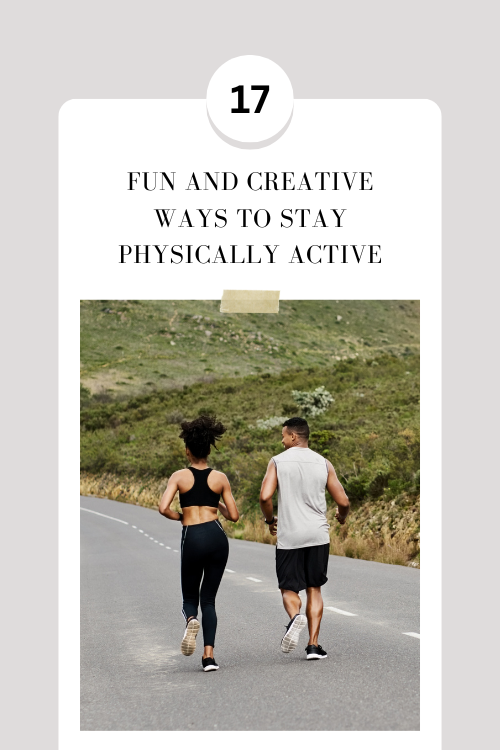 Health experts say exercise is crucial to a healthy lifestyle. Adequate physical activity can reduce stress, improve sleep, and improve mood. However, many people are unclear where to begin to become more active. This is evident in the fact that 1 in 4 adults do not meet the global recommended physical activity level. Although some people enjoy lifting weights at the gym and training for marathons, these activities may not suit everyone. Fortunately, there are numerous fun and creative ways to stay fit. Here are a few you should consider.
---
For more on this topic, check out the full Staying Healthy collection
---
17 Fun And Creative Ways To Stay Physically Active
1. Hiking
Hiking is a physically engaging sport that requires walking many kilometers on roads or trails. Keep in mind that the duration varies from basic half-day programs to complex itineraries spanning more than 20 days. Hiking is a recreational activity that can be done alone with a companion or as part of a group. You only need your legs and a great pair of shoes or sneakers. Peak bagging, long-distance hiking, and day hiking are the styles you can choose from based on your preferences. It is fun and can be on everyone's list of recreational activities since it promotes cardiovascular health and maintains body shape.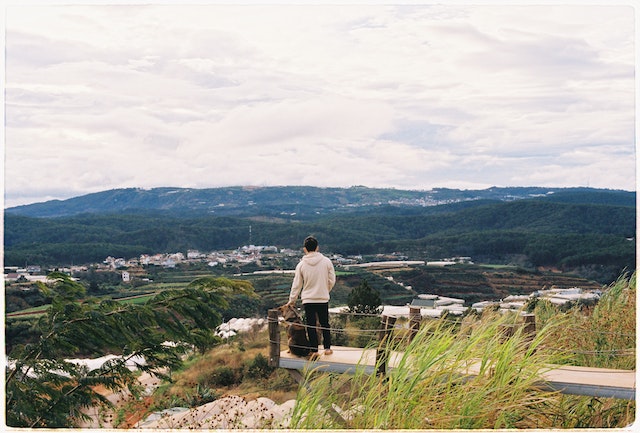 2. Fishing
Fishing is the oldest leisure pastime on the planet. This sport is both fun and addictive once you master the art of putting bait to the hook and cleaning the fish once they have been caught. If you are still learning to do this, bring someone not bothered by it. Keep in mind that some little lakes or ponds in your area may contain enough fish to enjoy.
3. Surfing
Surfing is a surface water activity in which a surfer rides the forward section or face of a moving wave of water. It then usually delivers them to the beach. Surfing is an exciting way to get physically active. It exercises almost all your muscles, balance, heart, and lungs. Because it requires strong concentration and commitment, this exercise also enables you to improve your mind. If you find surfing unsettling and difficult, boogie boarding is a less strenuous ocean activity, so feel free to try this.
4. Go camping
Camping is a great way to spend more time with friends and family in nature. Walking in a scenic place, relaxing around a campfire, and sleeping under the stars are all wonderful experiences. Waking up and feeling that you have your little corner of the world to yourself is also pleasant. Camping may not be everyone's favorite activity, but it is still entertaining and worthwhile. You simply need to prepare and bring the essentials to make it more pleasant. A tent, sleeping bag, cooking utensils, safety tools, and flashlights are some items you should bring along on your next camping adventure.
5. Zip lining
Zip lining is one of the numerous fascinating physical activities and a favorite among adrenaline seekers. It comprises riding a steel rope on a protected set or a belt between two sites, generally in a beautiful valley. This outdoor entertainment activity is excellent because it blends thrill, speed, and nature. Again, safety precautions are required due to the increased altitude. Before embarking on your little adventure, ensure you are adequately fastened to prevent accidents.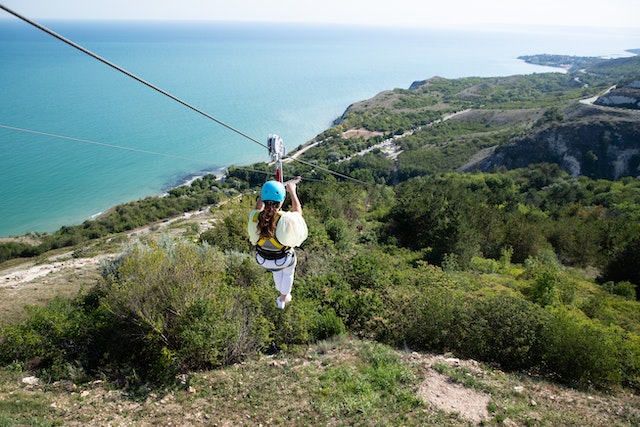 6. Engage in outdoor photography
Others can see the world through your eyes, thanks to photography. Photography is a fun indoor and outdoor leisure activity that everyone can pursue without spending much money or putting in much effort. It is great for people who like taking pictures. Even if you are not a pro, you can do it; you only need to capture anything that catches your eye and attention. Moreover, walking around can also put you in shape, even as you decide what people or items to capture.
7. River sports
River sports may become a lifetime passion whether you wish to sail on a tranquil lake, canoe along a serene river, or kayak on crushing ocean waves. While certain leisure activities on this list may involve purchasing your canoes, kayaks, and sailboats, you can rent them if you are not ready to make such a financial commitment.
8. Horseback riding
Horseback riding is a more comfortable alternative to more risky leisure hobbies. However, you should not jump into the saddle without speaking with an experienced rider. If you have never ridden before, it is advisable to sign up for a guided trail ride. Even if you have prior experience, talking with a professional about the specific horse's qualities will be beneficial.
9. Snowboarding and skiing
When the weather turns cold, you can hit the slopes. Both activities allow you to work out your muscles and raise your heart rate while getting an unequaled adrenaline high. Find the best ski resorts for your needs; if you do not have your own skis or snowboards, you may rent them on-site.
10. Swimming
Swimming is an excellent way to stay physically active, whether accessing a pool or living near a lake. This type of exercise raises your heart rate and develops muscle strength without joint strain. You must, however, take all required precautions to avoid drowning and other accidents. If you are injured as a result of someone else's negligence, you can seek a reputable injury lawyer to receive the due compensation. If lap swimming is not for you, try water aerobics or treading water.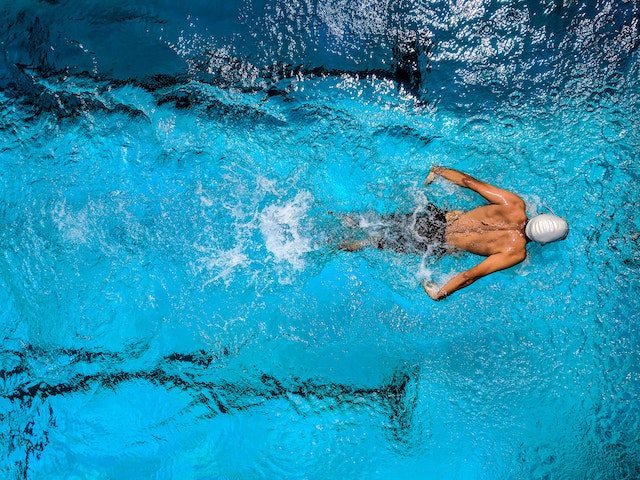 11. Play golf
To perfect the game of golf, years of practice are very necessary. However, if you put up the effort, you will be rewarded with an exciting game and a strong network of fellow players. If you are just getting started, consider attending lessons. If you are unsure if the game is for you, consider mini-golfing with some friends.
12. Trampolining
Trampoline fitness, often rebounding, is a fun and unusual training activity involving hopping on a trampoline while following an instructor's movements. However, you should note that these lessons are challenging. They are high-energy with exciting music and lots of other people enjoying themselves. These classes are available in gyms and exercise studios. Trampolining, in fact, has been proven to have favorable impacts on general health while keeping you physically fit and active.  Have you any spare space at home? Purchase your own rebounder, master a few simple routines, and let your body take the lead – no gym required. Several virtual trampoline exercise courses are available to watch from the comfort of your home or garden.
13. Aerial silks, trapeze, or circus silks
Looking for a new and exciting way to stay physically fit? Sign up for a trapeze, circus, or aerial silk lesson to learn how to soar through the air or steady oneself in the folds of silk fabric. Have you ever attempted slacklining on a trope? Not only is it entertaining, but it may also help to improve your core and lower body strength. These low-impact techniques are challenging yet fascinating, and you will be sweating in no time without even realizing it.
14. Get on a bike
You don't have to be Lance Armstrong to enjoy your bike ride and get a decent physical activity going. Do not bother about purchasing specialized riding gear or shoes. Simply lace up your sneakers, wear a helmet for safety, grab a water bottle, and get ready to go. Pedal at a moderate speed for as long as you choose, or test yourself with a few sprints or uphill climbs. If riding outside isn't your thing, consider taking an indoor cycling class.
15. Yoga on a standup paddle board
In its own right, standup paddle boarding is at the top of the fun exercises list. When you add a few yoga positions, it becomes a full-fledged physical challenge. Before you hit the water, you may practice a few positions online or enroll in a local paddle board yoga class. You will be shocked at how much your core and all the small stabilizer muscles throughout your body are used to keep you upright as you go through your flow.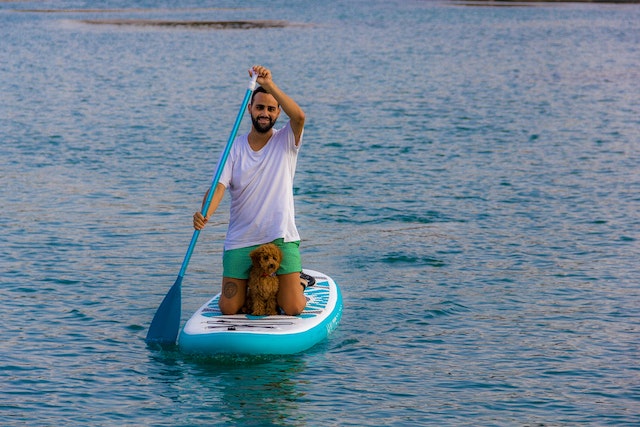 16. Take up a dance class or just dance at home
If you are not the most coordinated person, enrolling in a dance class or dance lesson will help you move your body without realizing it. Whether you enjoy hip-hop, tango, two-step, shuffle, or another type of dance, there are bound to be studios, clubs, and ballrooms around you that provide lessons and classes. Are you too shy to dance in public? Play your favorite playlist at home and dance away in your bedroom or living room.
17. Consider rock climbing
Even living in a flat landscape, you may go vertical and work up a strong sweat by visiting a local climbing gym. Choose top rope climbing, which allows you to climb higher up the wall since you are secured with ropes and a harness, or bouldering, which is done closer to the cushioned footing and does not use ropes.
Conclusion to 17 Ideas for Creative Physical Activity
Several physical and recreational activities can help you keep physically active. Still, these are the best ones to try out. Staying active and fit reduces the chance of developing chronic illnesses. It is the pinnacle of living a nice and healthy lifestyle.
For more on this topic, check out the full Staying Healthy collection
---