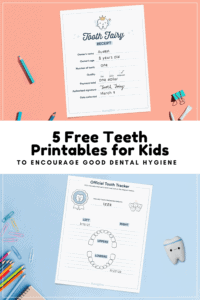 5 Free Teeth Printables for Kids to Encourage Good Dental Hygiene
It's no secret that getting your child to brush their teeth can be a bit of a battle. For some kids, tooth brushing is just one more task to their morning routine or before they get tucked in at night. But establishing healthy oral hygiene habits from a young age is so important in setting your child up with healthy teeth throughout their life. 
As your child grows older and begins to brush their teeth on their own, it's important to keep a few tips in mind from the American Dental Association on brushing best practices. 
Position the tooth brush at a 45-degree angle to the gums. 

Gently move the brush back and forth in short (tooth-wide) movements.

Brush the outer, inner, and tops of the teeth.

When cleaning the inner surfaces of your teeth, tilt the brush vertically and make several up and down motions.
Luckily, there are some activities you can use to make tooth brushing all the more fun and exciting for your child. Auraglow created five free dental health printables for kids to help you and your child create a fun tooth brushing routine, complete with a tooth fairy receipt and a daily brushing tracker. And with March being Oral Health Month, there's no better time to introduce these printables to your brushing routine! 
---
Free Teeth Printables for Kids
Includes 5 fun printables to encourage good dental hygiene:
Tooth Fairy Receipt – Tooth Brushing Tracker – Teeth Brushing Stickers – Smile Coloring Page – Official Tooth Tracker
This slideshow requires JavaScript.
---
For more on this topic, check out the full Staying Healthy collection