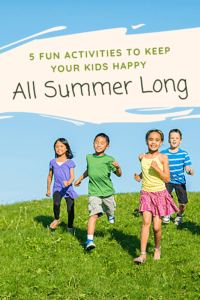 When it comes to keeping the kids amused when you are working from home, it can be a tough one. Thankfully, there are plenty of ways that you can keep them busy for hours. Here are 5 fun activities to keep your kids busy for hours at a time and boost their creativity all summer long.
---
For more on this topic, check out the full Summer Safety & Activities collection
---
Put them to work
No, we don't mean that they need to fill out the tax returns for you. Although, if they are good at math, we wouldn't blame you for wanting to pass that job off. What we mean is give them kid jobs to do and create a little world. Kids love to dress up and pretend to be grownups. Help them create a world with cardboard boxes, corrugated plastic signs, and simple toys for hours of amusement. You could create a little market so they can go shopping. Dust off those old clothes that you don't wear anymore, and throw them in your kid's dress-up bin. Your children will love dressing up and using household items to create their own backyard home.
Check out: Free Pretend Play Printables for Kids
Pavement art
Depending on where you live, you could send your kids outside to decorate the local area with some pavement art. Keep in mind, some housing associations don't allow this, so you might need to keep this in your backyard. But a large supply of chalk and some imagination can keep the kids drawing for hours. And if you have some free time, then you could join them and show off your own art skills. The best part is, some water will wash the chalk away so they can have a clean slate to draw on every day.
Racing track
Do you remember when you were little and how you were probably out all day on your bike? You probably don't want your own kids disappearing for hours, but there is a way to keep them pedaling their bikes for a long period of time. Designing a race track on your driveway or patio can be great fun as you can make it as big or as small as you need it to be. You could even get them to mark it out with some chalk so they don't forget where they are going.
Knights and forts
Keeping with the fun backyard play, you could create a different type of world. Cardboard forts are a great way to get your kid's imaginations fired up. And it doesn't have to be limited to forts. You can create body armour, swords and shields, and hobby horses. After they have created their knight outfits, they can paint them with their favorite colors before heading off into battle. If you organize this enough, you could have them creating their world of make-believe all summer.
Write their own stories
You will not get handed a New York Times bestseller, but you will definitely get something amusing from your kids. Writing their own stories is a great activity that will boost their imaginations and their language skills. And if there is one thing that you should know about writing, practice makes perfect. You never know, you might help mould them into bestselling authors one day.
For more on this topic, check out the full Summer Safety & Activities collection
---