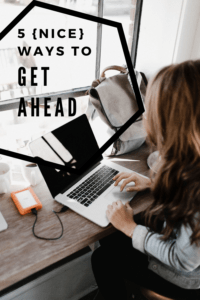 Women are changing the corporate world in so many ways. We value honesty, kindness, balance, integrity, and high quality work. We want it all, but we won't stoop too low to get it. And, we understand that getting ahead in business, doesn't have to mean that you leave a trail of destruction behind you. Keep reading for great career tips for women…
---
For more on this topic, check out the full Work Life Balance collection
---
Here are 5 (nice) ways to get ahead…
1. Show Your Value
I didn't say that being nice means not working hard. It is exactly the opposite. If you want to get ahead, you need to work hard, follow directions, and show your value. You don't have to brag about yourself, or make others look bad. You just need to prove yourself (time and time again), and eventually you will be rewarded for it.
[ Read More Career Tips for Women: How to Be Heard in a Noisy World ]
2. Don't Beg
When you are first starting out, it is tempting to go begging for readers, sales, promotion, etc. But the best and most sustainable type of growth is organic. If you are working hard and proving your value, people will start coming to you. No one likes to be bothered. No one wants to feel obligated to support you. They want to support you because they believe in you… so give them a reason to believe in you.
[ Read More Career Tips for Women: How to Win at Networking ]
3. Pursue Opportunities
So you are working hard and leaving people alone. But how are you going to grow if no one knows about you and your products? You are going to seek out opportunities and go after them. You are going to follow your heart and say "yes" to whatever comes your way that seems like a good fit. And, you are going to go after opportunities that might seem just out of reach, but you are going to get them and do well at them. Let the other people tell you "no." Don't defeat yourself before even trying.
4. Be Reliable
Do things when you say you are going to do them. Meet deadlines. Show up to meetings on time. Give realistic estimates. Be honest about your capabilities. All of those things are so important when trying to get ahead. You want people to be able to count on you, and you want them to genuinely enjoy working with you.
[ Read More Career Tips for Women: How to Balance Motherhood and Working from Home ]
5. Be Nice
Don't worry about being too nice! Compliment people, "Like" their social media posts, congratulate them on accomplishments, give helpful advice when they ask for it. Doing this will keep you in the front of people's minds. And if an opportunity arises where they can help you in return, they will think of you in a positive way. Hopefully then they can help you get that connection, job, promotion, etc.
[ Free Printable: 50 Daily Planner Printables ]
For more on this topic, check out the full Work Life Balance collection
---