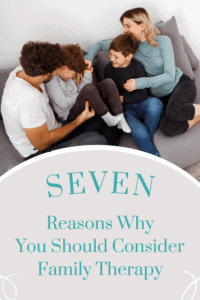 Many families have specific unresolved issues that linger for years. The existence of these issues is entirely natural, and most people can relate to this experience. However, some situations are far more problematic than others. Problems within the family can be of different natures and intensities. To address such complex issues, some families may opt for family therapy. Family therapy is an excellent resource for families who face difficulties in handling their domestic troubles. Family therapy can be highly effective, and it can yield great results when done from centers like recovery center baton rouge. If there are unresolved issues that persist in your family, you should consider family therapy. Let us look at seven reasons why you should consider family therapy, and learn how family therapy can be beneficial.
---
For more on this topic, check out the full Tough Times collection
---

7 Reasons Why You Should Consider Family Therapy
Stronger Bonds
Family therapy is a collective process that involves every member of the family. When you go for family therapy, you are not just seeking help for yourself alone. In today's fast-paced world, it can get challenging to find some time with your family. Due to this reason, many families face issues of disconnection. Many families realize that they do not speak to each other for extended durations, and this lack of communication negatively impacts the family's dynamics.
When families go for family therapy, they create stronger bonds with every member of the family. These bonds become even stronger over time because every family member shares intimate details about their life during family therapy. This bonding process is vital for every family. When you have stronger bonds within the family, your relationships will improve inevitably. Stronger bonds will also reduce the number of other issues within the family because everyone will become more understanding of each other's actions.
Resolution of Family Conflicts
Many issues arise within the family that go unresolved for years. These unresolved issues may seem trivial at the time. However, they can lead to significant difficulties in the future. In many cases, family members hold resentment against each other for years and sometimes even decades. If your family does not resolve its conflicts effectively, it will be significantly detrimental to the entire family. Dealing with complex issues at home can be challenging, so family therapy is an ideal outlet. Certain family members may feel more comfortable opening up in front of a therapist, so it is essential to give everyone the chance to express themselves. If you go to family therapy to resolve your family conflicts, you can rest assured that you can deal with those issues comprehensively. A qualified therapist will guide your family through every step of the process.
Source of Support During Life Transitions
We all go through several life transitions, such as moving out, buying a home, having children, and many others. These life transitions can take a toll on all of us regardless of our strengths. In this situation, you need to have support from your family. Your family will be with you every step of the way to ensure that you move smoothly through the transition. You will also have access to valuable insight that your family possesses. Your family will share those experiences during your transitional phases, and you can benefit immensely from them.
[Read: Making it Through Tough Times – Overcoming Struggle as a Family]
Increased Self-Esteem
Not only will your family benefit collectively, but you will also gain self-esteem at an individual level. Many people have insecurities when their families are not solid and cohesive. Individuals who have a stable family tend to have higher self-esteem because they are proud of their family.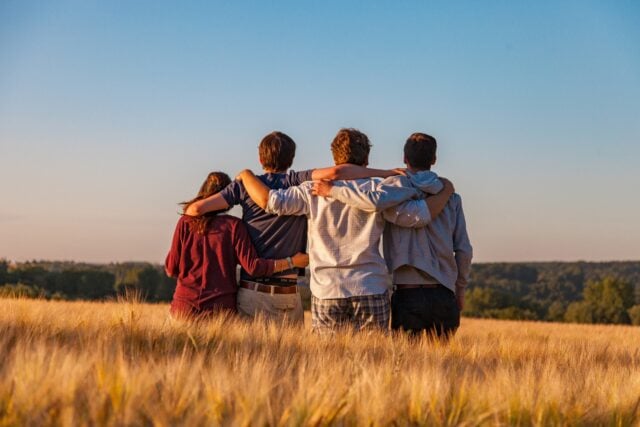 Improved Group Dynamics
When you go through family therapy, you will learn many skills that you can apply and other aspects of your life. For example, during your family therapy, you will learn essential skills to manage many group situations. Navigating complex situations involving multiple people is a crucial skill that will benefit you immensely. Not only will you know how to navigate group situations, but you will also learn how to make yourself heard. Many people easily get drowned out, and they put their preferences at the end. Through family therapy, you will learn to prioritize yourself while ensuring that you do not hurt anyone else.
Better Communication Skills
Excellent communication skills are undoubtedly one of the most valuable skills an individual can possess. Regardless of the situation that you are in, good communication skills will always come in handy. Every prominent position involves a great deal of communication. If individuals do not have a good command of their communication skills, they can fall behind. Communication skills are indispensable in every aspect of your life, and you will inevitably reap the benefits of possessing better communication skills.
Learning how to communicate appropriately will help you resolve any issues that arise in the future. You can handle any challenging domestic situation when you can address a particular problem by sharing your feelings. The communication skills you will learn will be comprehensive. You will learn to express yourself, and you will also learn how to listen to others. It is imperative to create a perfect equilibrium in a family so that no member feels left out or ignored. When you have excellent communication skills, you will realize that most of your domestic issues are easy to tackle.
Make Your Family Life Enjoyable
Unfortunately, a lot of families do not look forward to spending time together. This preference is understandable because domestic situations can become extremely challenging to handle. If you do not enjoy family life at all, you are missing out on many valuable experiences. Your family is the most crucial entity in your life. Your family will stand by your side unconditionally, and they will support you in everything you do. However, no one is perfect. There will undoubtedly be situations where you feel hurt by your family and want to separate yourself from them. However, it is worth the effort to work on your domestic issues to ensure that your family life is thoroughly enjoyable. Many people say that they regret not making up with their family in the later years of their lives. It is ideal to seek family therapy so that your family does not drift apart.
[Read: Family Home]
Conclusion
Family therapy can be an excellent resource for families who want to improve their domestic lives. It is not a necessity that you must have a lingering issue to take family therapy. Families can also opt for therapy for regular maintenance and upkeep of their relationships. Any relationship that is worth resolving will take some time and effort to maintain. Therefore, you should never lose hope merely because you face a few hiccups.
For more on this topic, check out the full Tough Times collection
---