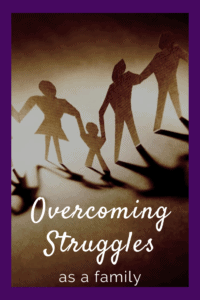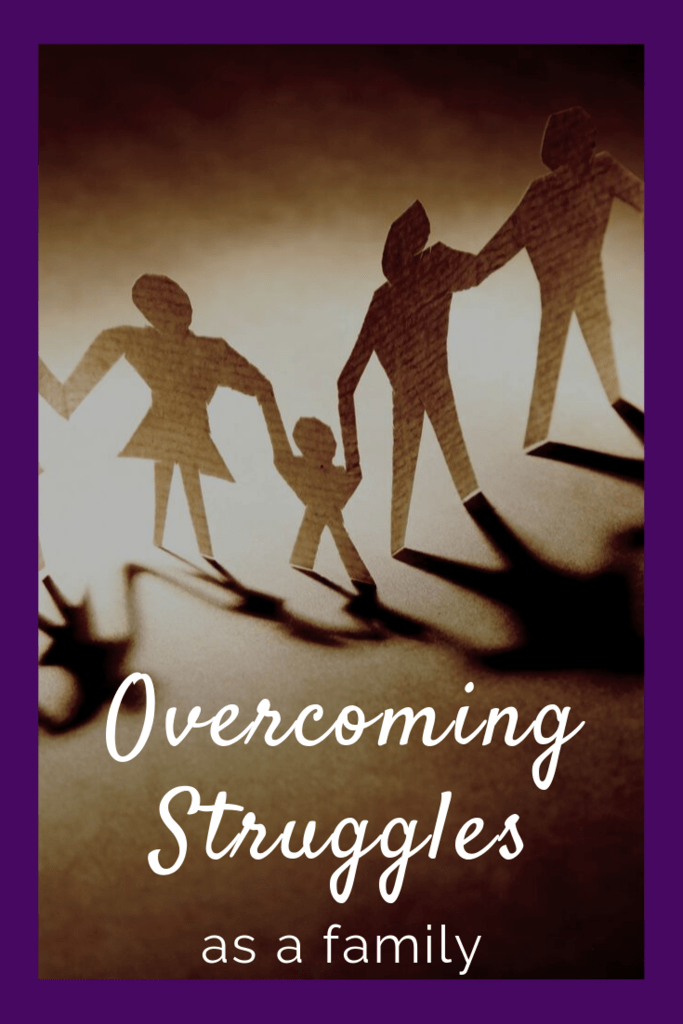 Our lives are made up of many phases. Some are more fun than others, and some seem like they will last forever! Each one brings a new challenge, and many fun moments that go by too quickly. But some of these phases can bring along some very difficult situations. I've realized that everyone goes through hard times. But what is different is how we each handle these hurdles. How we overcome the struggle.
---
This article is written by Karissa Tunis
For more on this topic, check out the full Tough Times collection
---
Everyone has a Struggle
Lately I feel like my attitude and sanity have been put to the test! 
After a very difficult two years for our family, I admit I've been sad and frustrated. For some reason, at least for me, everything seems to always happen at once. Top it off with some bumps in relationships, over committing myself for the sake of pleasing others, and all while trying to deal with some personal issues…. And now I feel like a hot mess, or maybe just a mess that can't do any one thing right!
But everyone goes through hard times. Whether they are physical, financial, mental health, emotional, personal, or a combination, we all have our struggles.
One thing I've noticed is that often times those fighting the biggest battles, often complain the least. And if they are dealing with something that they do chose to share with others, they somehow do so in a very positive and impacting way. I have so much respect for these individuals! Not only are they dealing with something much bigger then I am, but they handle it all in a graceful way! And oftentimes, we learn the most from these incredible individuals!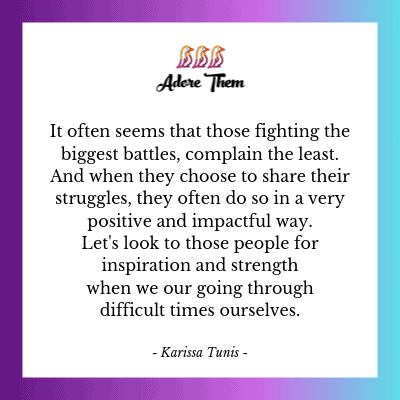 There is No Competition in Challenges
However, I'm also learning that there is no competition when it comes to challenges. Even though I might not be fighting a battle as difficult as someone else, I still am allowed to get upset, frustrated, and have an off day. In fact, I think it is important to acknowledge those feelings, and to let yourself feel all of the emotions.
But what I'm not allowed to do, is let it take over my life. Sure in the moment things are tough, but the moment won't last forever. And sure depending on what the outcome of the situation is, it may alter life going forward. But life doesn't stop. And eventually you need to find a way to cope with it and move forward (I know, much easier said then done).
When I watch the news it puts things into perspective. The pictures of the refugees fleeing with nothing but the clothing on their backs is heartbreaking, and the terror attacks are unbelievable! What majority of others around the world deal with is truly awful! Even on my worst days I know I still have it better then most. So when I that the time to look around, there is still something to appreciate. And there is still good to be found.
I've realized that at any given time there will always be someone out there that has it better then me, AND there is always someone that has it worse. There will always be someone with more money, a prettier family, a better job, a nicer car, and a bigger house. But there is also someone without a job, car and/or house. Someone that lost a family member, or someone who is fighting for their own life.
Take the time to Reset
When we are faced with these struggles it often gives us an opportunity to "reset." Often times, without even realizing it, we dial back to the basics. What we are left with is what truly counts. It forces us to shift our focus on to what actually matters most. To simplify the chaos, and be present.
Then, eventually, we find a way to move forward. And sometimes we do so in a new way. Often we learn strengths that we never knew we even had. It seems that there is almost always a chance to learn a lesson, and an opportunity to turn a negative into a positive.
So, I need to do better at not getting so emotional, but seeing things for what they actually are. I don't want to sweat or stress over the small stuff. Instead, I want to keep things in perspective; and appreciate the good times, and what I do have. I want to love those around me, and treasure the moments that count. And when things get difficult, try to learn some of life's hard lessons.
But, most importantly, I want to find a way to do it all as a consistent loving parent while teaching my kids what truly matters most. Like they say, "Tough times won't last, but tough people do."
So now I need to put on my big girl pants, learn some of life's valuable lessons, and prove to myself what I've really got. Tomorrow is a new day. And hopefully before I know it, I will be on to another one of life's phases.
For more on this topic, check out the full Tough Times collection
Go here for a free printable of "If we believe that tomorrow will be better, we can bear a hardship today"