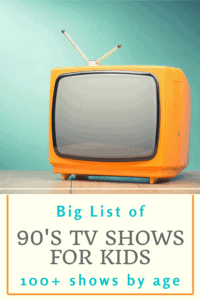 Take a trip down memory lane with this big list of 90s TV shows for kids! I had so much fun reminiscing about the shows from my childhood, and I can't wait to show my kids some of my favorites. You can find clips for most of these 90s TV shows on YouTube, which is a fun activity to do together as a family!
---
This article is written by Shari Medini
For more on this topic, check out the full Staying Home collection
---
90s TV Shows for Little Kids
(ages 2, 3, 4, and 5 years old)
I was surprised to see how many of these 90s TV shows for little kids are still around today! Check out this fun list of shows for your toddlers and preschoolers and see what they are interested in…
Arthur

Babar

Bananas in Pyjamas

Barney

Blue's Clues

Bob the Builder

Dragon Tales

Franklin

Gullah, Gullah Island

Little Bear

Mister Roger's Neighborhood

Sesame Street

Teletubbies

The Big Comfy Couch

Thomas the Tank Engine

Wimzie's House
---
90s TV Shows Checklist Printable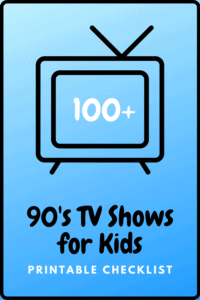 ---
90s TV Shows for Young Kids
(ages 6, 7, 8, and 9 years old)
This list of 90s TV shows for young kids has over 50 options on it! It must have been a very popular age-group for TV at the time (and probably still today). As a parent, you know that 6 year olds are very different from 9 year olds so be sure to check on the content of these shows before showing to them to your kids. Common Sense Media is a great resource for this!
Aaahh!!! Real Monsters

Alvin and the Chipmunks

American Gladiators

Angry Beavers

Animaniacs

Animorphs

Beakman's World

Beetlejuice

Big Bad Beetleborgs

Digimon

Adventures of the Gummi Bears

Care Bears

CatDog

Chip n Dale Rescue Rangers

Darkwing Duck

Dinosaurs

Duck Tales

Eureka's Castle

Fraggle Rock

Garfield and Friends

Gargoyles

Ghostwriter

Goof Troop

Inspector Gadget

Madeline

Mighty Morphin Power Rangers

Pokemon

Pee Wee's Playhouse

Pink Panther

Popeye the Sailor

Reading Rainbow

Recess

Rocket Power

Rugrats

SpongeBob Square Pants

Talespin

Teenage Mutant Ninja Turtles

Flintstones

Jetsons

Magic School Bus

Pinky and the Brain

Powerpuff Girls

Smurfs

Super Marios Bros Super Show

Wild Thornberries

Tiny Toons

What Would You Do?

Where in the World is Carmen Sandiego?

Where's Waldo

Wild and Crazy Kids

Wishbone

Zoboomafoo
---

Also, check out this list of 90s Movies for Kids (and where to watch them)!
---
90s TV Shows for Preteens and Teens
(ages 10 years old and up)
This list of 90s TV shows for preteens and teens varies a lot in the subject matter and content so I would highly recommend looking up these shows on Common Sense Media before watching. This allows you to make sure that they are appropriate for your kid and something that you are comfortable with them watching!
Alf

All That

Amanda Show

Are You Afraid of the Dark?

Bill Nye the Science Guy

Bill Nye the Science Guy

Boy Meets World

Clarissa Explains it All

Courage the Cowardly Dog

Cow and Chicken

Dexter's Laboratory

Doug

Ed, Edd, and Eddy

Family Matters

Figure it Out

Freakazoid

Fresh Prince of Bel-Air

Full House

Goosebumps

Guts

Hanging with Mr. Cooper

Hey Arnold!

Hey Dude

Home Improvement

Johnny Bravo

Kablam!

Legends of the Hidden Temple

Ren and Stimpy

Rocko's Modern Life

Salute Your Shorts

Saved by the Bell

Secret World of Alex Mack

Sister, Sister

The Adventures of Pete and Pete

X-Men
Favorite 90s TV Shows for Kids
So tell us… what are your favorite 90s TV shows for kids?! Did this help you remember some forgotten favorites? Did we miss any on our list? Which ones do you want to show to your kids? Send us a Tweet and let us know!
---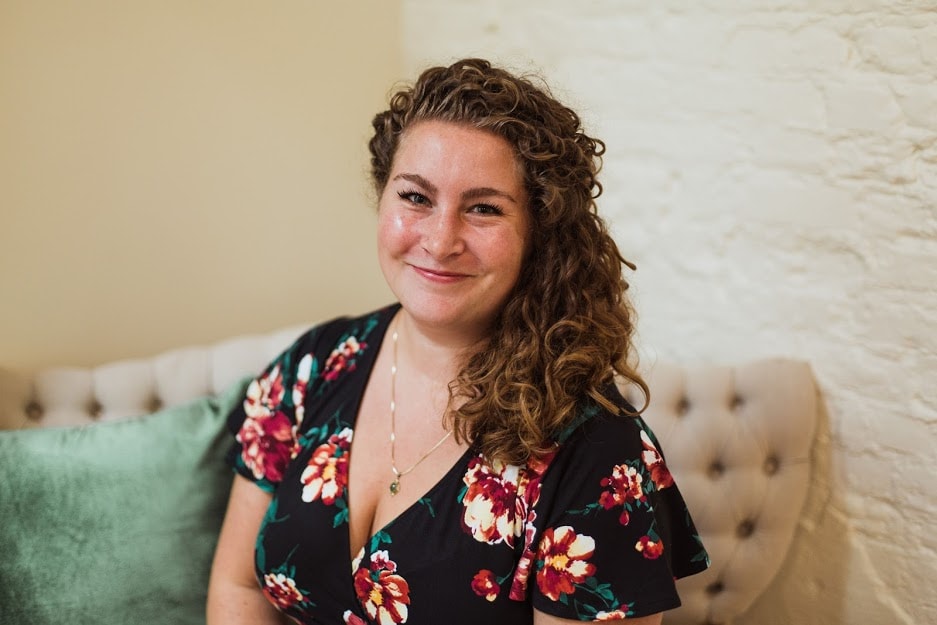 Co-Owner: Shari Medini
Shari Medini is the co-owner of the parenting website Adore Them. Her prior experience includes working as a marketing strategist and writer on multi-million dollar capital campaigns, website designs, advertising campaigns, and book launches. Shari's parenting articles have been published in dozens of publications; and she enjoys doing various speaking engagements. When she's not on her laptop, Shari can be found spending quality time with her husband and two sons exploring their hometown of Lancaster County, PA
Contact: Shari@AdoreThem.com
---