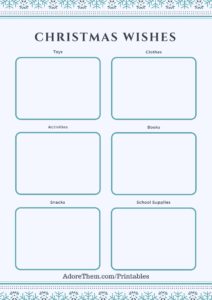 I love buying Christmas gifts each year for my kids! Each year, they learn and grow and have different interests than the year before; and it is fun to shop around in stores and online for gifts that I hope will light up their faces on Christmas morning! But… there are still plenty of times where I get stuck, and I need input from my kids to make sure I'm on the right track. This is why I created this free Christmas wish list printable for kids to be able to fill out!
I chose to break down this Christmas Wish List into different segments to help kids right down more than just their most-wanted toy of the year.
---
For more on this topic, check out the full Gift Giving collection
---
Christmas Wish List Printable Categories
Toys
Sometimes I forget to buy my older son things that he can just play with and enjoy! I get so caught up in educational activities and building kits that sometimes I need the reminder that he is still just a kid who wants to be able to play with toys on Christmas morning too.
Clothes
Young kids aren't always thrilled about getting clothes for Christmas, but incorporating it into their wish list is a good way to give them a heads up. They might also have some good ideas for items of clothes that they might be wanting or needing this year.
Activities
Adding activities to the Christmas wish list is a good way to be able to gift experiences instead of toys. There might be things in the community that your child has been wanting to do, lessons that they want to sign up for, or a place that they have been wanting to travel to. This is their space to share their fun ideas with you! [ Check out tons of free holiday crafts for fun ideas as well! ]
Books
Books are a great way to round out your child's gifts for this holiday season. This category on the kid wish list printable is a great way for them to be able to share some new books that they might be interested in – not just books that the school assigned or books that you have picked out for them.
Snacks
Why are snacks on this Christmas Wish List printable? I added this section because I like to include snacks in my kids stockings! [ Read: Stocking Stuffer Gift Ideas ] This is a fun way to surprise them with some of those treats that you never let them buy at the grocery store.
School Supplies
My kids go crazy for erasers, notebooks, pens, sticky notes, and other random school supplies. Get ideas from their wish lists, and then head to the Dollar Store for some inexpensive, yet practical gifts!
Print out a whole bunch of these free Christmas wish lists for kids for your own kids or for a fun and easy Christmas party activity for early on in the holiday season!
---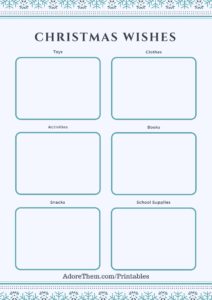 ---
For more on this topic, check out the full Gift Giving collection