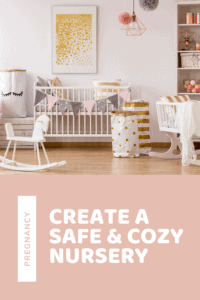 There's nothing more exciting than creating a nursery for a much-anticipated new arrival! But it can also be a daunting prospect too. As you begin to share your ideas about color schemes and cribs, you'll find everyone else has an opinion that they just can't wait to share with you! Luckily, you'll find plenty of helpful tips to assist you in creating the perfect environment for your baby. Continue reading below for helpful tips on how to create a safe and cozy nursery.
---
For more on this topic, check out the full Pregnancy Through Postpartum collection
---
With safety always a top priority, you can get the lowdown on which products are approved and endorsed for use in a newborn's nursery. And with some stylish interior design tips, you will be able to enhance your home décor with a nursery that complements your tastes. To get a head-start and move forward with creating the ideal nursery for your little one, take a look at these top tips now: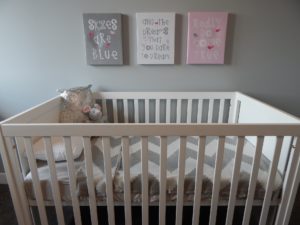 Put Safety First
It goes without saying that safety needs to be at the forefront of your mind when you consider any aspect of a nursery. For first-time moms and dads in particular, it can be difficult to automatically adjust to all the safety considerations you'll need to make, especially if your baby hasn't arrived yet.
However, there's no need to worry too much. Products and furniture designed for use in nurseries undergo strict testing prior to release. So you can be sure that goods from a reputable brand will provide the safety and security your baby requires.
While style and comfort are certainly essential for a calming, tranquil, and cozy nursery, if you focus on safety first, you'll have peace of mind that your nursery will undoubtedly be a haven for you and your baby.
Think Ahead
Your baby won't be a newborn for long. So planning for the future is a good way to ensure your nursery will stand the test of time. If you think renovating a nursery is tricky now, try doing it again further down the line when you've got a six-month-old baby eager for your attention!
It's particularly important to consider your child's future needs when you're buying nursery furniture. With varying requirements regarding sleeping environments, it can be most sensible to purchase a crib that will grow with your child. The addition of a breathable crib mattress or toddler mattress is all you'll need to adapt your child's bed as he or she begins to grow if you choose a crib that's adjustable.
Although adjustable cribs can sometimes be a little more expensive than alternative options, they typically offer far better value in the long run. Instead of having to buy a new crib or bed as your child grows, an adjustable version means you can keep the same comfortable sleeping station for your baby without the need to invest in any extra furniture.
Look for Non-Toxic Materials
When you're decorating a nursery, you need to think about factors that might not normally be an issue when you're redesigning a room. As your baby gets older, they'll have a keen desire to try and put things in their mouth. While parents spend a significant amount of time trying to persuade youngsters to not eat the furniture, it's inevitable that your baby will spend some time gnawing at the edge of their crib.
Fortunately, manufacturers are well-aware of key baby characteristics and they design their products with babies in mind. If you're buying a brand-new crib, you'll probably find it's made and finished with non-toxic materials. However, it's always worth double-checking.
If you're using a refurbished crib or a family heirloom that you're putting a new spin on, be sure to check the suitability of paints, dyes, or stains before you use them on nursery furniture. Although there are plenty of non-toxic options out there, they don't all fit this bill. By confirming the safety of the materials prior to any renovation works, you can avoid costly and stressful mistakes, and ensure that your baby's room will be safe as they get older.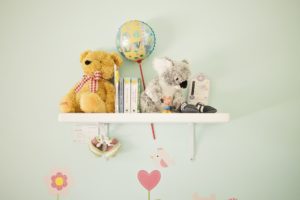 Place Furniture Carefully for a Cozy Nursery
When you're deciding what the floor-plan of your nursery should look like, pay particular attention to where you choose to place your baby's crib. Many parents initially assume that situating a crib close to a window will provide stimulation. However, putting a crib too close to a window is an unnecessary risk and should always be avoided.
As your baby grows, they will begin pulling themselves up and standing. And before you know it, they will even attempt to climb up (or out!) of their crib. Of course, you don't want them to near any windows by the time they try to do this.
However, placing a crib too close to a window can be risky for newborns too. If a window were to break or smash, it would pose a significant danger to your child's well-being. For parents living in areas prone to storms, hurricanes, or tornados; it's particularly important to consider the risk of property damage affecting the interior of the nursery. Although it may be a remote possibility, any level of risk should be negated where possible.
If the size of your nursery means trying to avoid placing the crib near a window is impossible, there's no need to panic. Special window treatments can be used to strengthen glass and safety glass can also be fitted to minimize the risk of any injuries occurring in the event that a window breaks.
Consider Your Needs Too
Although the nursery will be your baby's room, you're going to be spending a considerable amount of time in their too. As well as focusing on the items that will provide your child with a safe, cozy, and secure place to sleep; remember to think about the features that might make it more comfortable for you.
A supportive chair is a must-have accessory in any cozy nursery! This will be ideal for the frequent night feeds you'll be doing. Many parents prefer to have a chair that allows some movement, such as a rocking chair, as they believe the continual movement helps to calm a distressed baby.
In addition to this, you may want to add a full-size bed to your nursery, if there's room for one. If your baby has an unsettled night, you may spend more time in the nursery than in your own bed. So having somewhere to lay down and rest your head will certainly come in handy.
What's more, in two-parent families, giving your partner the opportunity to get a few hours of uninterrupted sleep while you care for your baby in the nursery can be one of the kindest things you can do. If you have the right furniture already in place, you'll find it much easier to take a flexible approach once your baby has arrived and is happily settled in his or her nursery.
Remember to Factor in Storage
If you're a first-time parent, you might be surprised at the sheer number of things your little one will need. From bottles and sterilizers, to an endless supply of diapers and bibs, your home is about to get a lot more crowded. Due to the vast number of accessories required to care for a newborn, it's handy to have some dedicated storage space.
If your nursery is fairly small, you may have already dedicated a separate storage area in another part of your home. However, it is useful to have the essentials to hand, especially at night or when you're caring for your baby alone. By installing some form of storage in the nursery, you can keep it well stocked. This will ensure everything you need is easily accessible at any time.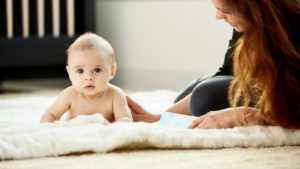 Choose Flexible Lighting
When your baby's wide awake at 3 am, the last thing you'll enjoy is a super bright light illuminating the room and hurting your tired eyes. As well as being unnecessarily irritating for you, a bright, cool light doesn't promote sleep or relaxation. And it certainly won't help to soothe your baby.
For a cozy nursery, flexible lighting is one of the best design decisions you'll make. You will want to have access to a bright light for changing or during daylight hours. But installing a dimmer switch or wall lamps will allow you to moderate the amount of light during the evenings, night, or early mornings.
A warm glow can be particularly comforting. So look for LED bulbs that deliver softer tones. Created to last for an extended usage period, LED lights will rarely need to be changed, which makes them the ideal choice for parents who are bound to be feeling the strain at some points.
Creating the Perfect, Cozy Nursery
Whether you choose a bold color, or a neutral palette for your nursery, there are really no rights and wrongs when it comes to design. When it comes to creating a safe and cozy nursery, minimizing the risk of accidents and giving your baby a warm, soft place to rest is what's really important. Asking for recommendations from fellow parents can be a great way to find out which products might work for you. But don't be afraid to trust your gut either. With the right amount of research, you can find the ideal products for your nursery. And you will enjoy the peace of mind that comes with having a nursery that's ready for your new arrival.
Additional Parenting Resources:
For more on this topic, check out the full Pregnancy Through Postpartum collection