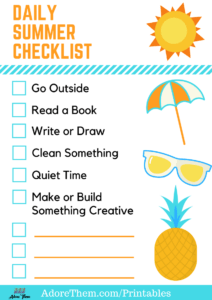 Free Daily Summer Checklist for Kids Printable included below!
Having a more relaxed schedule is one of the things that I look forward to the most about summer. Since I work from home, we are lucky to have flexibility and adopt a more go-with-the-flow attitude. This more relaxed approach is usually a wonderful break for all of us after a school year of busy-ness, but there are definitely downsides to it too…
Having a more relaxed schedule can sometimes mean that nothing gets accomplished over the course of a day. We start to adopt an attitude of, "I'll do it tomorrow." But in the mean time we are falling into bad habits and way too much screen time.
So this summer, I wanted to come up with a solution that felt like a middle ground between no schedules and too much rigidity. And that solution is this printable checklist!
---
For more on this topic, check out the full Summer Safety & Activities collection
---
Making Our Summer List
I took some time to brainstorm what I wanted on our summer checklist. I didn't want the list to feel overwhelming, because then we simply wouldn't do it. And I didn't want the list to be too specific, because summer is all about going with the flow.
The six simple things that are on the list can essentially be done anytime throughout the day at various locations! There are not certain times for certain activities, or certain limits. And my boys can make a lot of their own decisions throughout the day which is encouraging their independence as well. They can choose which books they want to read, what they want to draw/color/write, what they want to clean up, what they want to build (legos, blocks, or even glue scrap pieces of paper together), what they want to do during quiet time, and what they want to play when they go outside!
I also included those three blank spots so that we can fill in and change our summer checklist from day to day or kid to kid.
[Read: 30 Summer Activity Ideas for Kids (with free printable]
Laminate the List
I have a laminator that I don't use very often. But it has been so great to have on hand! I've had the one below for 5 years, and it still works great 🙂
But if you don't want to get a laminator, then you can also grab an 8×10 frame from the Dollar Tree to make this printable reusable!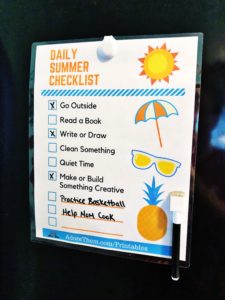 Use the List
After laminating our daily summer checklists, I hung them on the fridge. They are highly visible and easy to grab! A cheap, magnetic dry erase marker is on the fridge too so that the boys can check off their lists as they go throughout the day.
I don't care if they do their whole list first thing in the morning, or if it takes them all day – that's up to them! I just want to make sure that we're not leaving out the important, enriching activities that will help them learn and grow.
[Read: How to Prepare for Pool – Pool Safety for Kids]
---
Daily Summer Checklist for Kids Printable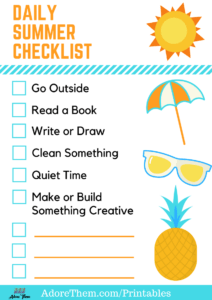 ---
And for more on this topic, check out the full Summer Safety & Activities collection