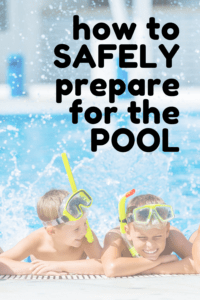 Pool safety for kids is so crucial. Days in the water can be fun for the whole family, but we have to make sure that water safety stays at the top of the list. The steps below will help you feel better prepared and less stressed during pool season. I follow this routine every single time that I take my kids to the community pool (which is almost a daily occurrence), and it allows us all to stay safe and enjoy our time together.
---
This article is written by Karissa Tunis
For more on this topic, check out the full Summer Safety & Activities collection
---
Know Your Limits at the Pool
It's not always practical to think each child will always behave exactly as expected. Is it possible for you to manage everyone if someone needs fed, someone else needs to go to the bathroom, or someone needs some extra help in the water? If not, then don't go alone.
As moms we want to do it all. We also prefer not to always ask for, or pay for, extra help. However, the pool can be a dangerous place for any little ones that are not properly watched or attended. So pool safety for kids has to be our top priority! After my second and third were each born, I never went to the pool without help from a family member, friend, or babysitter. Whether they came along to be that extra set of eyes and hands, or if they kept my baby at home; I knew I couldn't go to the pool with all of my kids – all by myself – until they were all a little older.
[Read: 30 Summer Activity Ideas for Kids (with free printable)]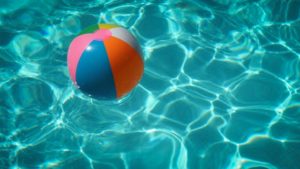 Prepare Your Pool Bag Ahead of Time
I always keep a separate pool bag in the closet beside my beach/pool towels. It's always stocked with sunscreen, band-aids, bug repellent, ziplock bags for wet or dirty items, tissues, a hair brush and hair ties. All I need to add the day of is our sunglasses, hats, a change of dry clothes, a few snacks, and water bottles.
Pack the Pool Toys and Gear
In our garage there is a shelf right by my car that I keep our seasonal gear on for the kids. In the summertime that shelf holds the kids swimmies, pool floats, and a toy bag. This bag is filled with sand/water toys. By keeping a separate bag of toys, it saves us from collecting things from around the house. And then needing to clean and return them when finished. It is also fun to save these special toys for our special outings.
You can put in your bag different water toys, such as water blasters, water guns, or personalized pool balls. Unlike water blasters and water guns, pool balls can have your child's favorite design and colors, which will make them one of their favorite toys. Pool balls are not only a wonderful toy, but also help children stay afloat.
[ Read: Non-Pool Toys that are Perfect for the Pool ]
---
Warning – Be careful of pool rafts! 
I have a dear friend whose daughter is a strong swimmer. But one time she got trapped under a large pool raft. Every time she tried to pop up for air, she was still under the raft, and the lifeguard could not see what was happening. Thankfully, the girl's father did see and ended up jumping in and saving her (with all of his clothes on). So ALWAYS keep an eye on your children. And be aware of pool rafts to ensure pool safety for kids!
---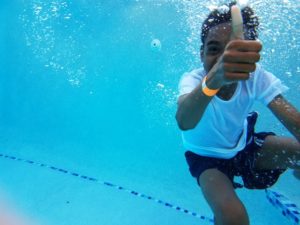 Put on Swimsuits and Sunscreen Ahead of Time
If the drive isn't far, consider putting on bathing suits and applying sunscreen at home. It allows the sunscreen more time to absorb into the skin before getting wet. You may also have better luck with the kids holding still and not putting up a fight. Because if your kids are like mine, they just want to jump in the water as soon as possible!
Give Clear Instructions and Let the Kids Help
On our way to the pool I always remind my children of what behaviors are appropriate and how I expect our pool trip to run. Safety is a huge concern for me. So I make it clear that if we are not playing in the water safely and following the rules, we will leave IMMEDIATELY! Pool safety for kids is my top priority, and my kids understand that this isn't something that we take lightly as a family.
[Read: How to Set Expectations for Your Kids and Improve Child Behavior]
Our routine from the car to the pool is this:
As we get out of the car I give each child something to carry to our chairs. This helps to prevent them from jumping in before we arrive at our spot.

Next, the kids know the routine:

Everyone takes off their pool cover-ups and puts them inside our waterproof pool bag. This prevents having wet clothes later on.
All flip flops and sandals (make sure they don't wear any with a slick or slippery bottom) go under my chair.
I help to put their swimmies on.
Once I give the ok (and not before), they are allowed to go sit on the pool steps, or stand in the shallow end, while I lay out our towels and prepare our area.
Once I finish setting up our space, I will give them the thumbs up to go swim. At this point everything has been done and now I can truly just focus on them having fun!
Enjoying the Pool With Young Kids
While I might sound a little strict – planning ahead, being organized, and reviewing our plan with the kids has saved a lot of time, mishaps and frustration.
Please do not think my children are perfect little robots that always follow each step exactly. But I have found that it's much easier to reel them back in when there was order to begin with. And having left the pool abruptly in the past has taught them that it's much more fun to follow my guidelines in order for us all to have a safe and organized pool day, verses nap time at home!
Access my checklist below, and print it out to keep in your closet or pool bag as a great reminder for you, the nanny, grandma, or whoever else may be helping out.
---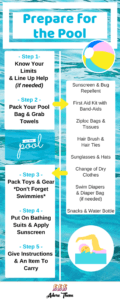 ---
For more on this topic, check out the full Summer Safety & Activities collection