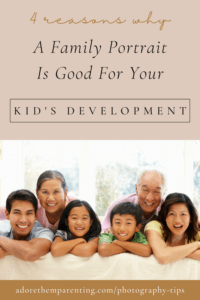 Today, just about everyone owns a camera. But it cannot replace a professionally taken family portrait you'll be proud to display. Your childhood home probably comes to mind when you envision the family portraits. Surly you remember details, like right down to the clothing and expressions you wore. They hold memories that will last the test of time, and are an important reference point when learning about your connections to family. Make time for your children's family portraits as well. This will help insure they carry the legacy through to their own families. Blue hour photography understands the importance of getting your family portrait just right. So below we will examine why a family portrait is good for your kid's development.
---
For more on this topic, check out the full Photography Tips collection
---
It Can Boost A Childs Self-Esteem
Portraits allow children to learn about themselves and their family.  Portraits promote feelings of love and belonging beyond their physical presence. This enables children to develop an intuitive sense of self. If you want to boost your child's self-esteem in a practical way, you should consider hanging photographs in the child's bedroom. Or some place where they'll see the portraits before sleeping and when they wake up. No matter how difficult life gets, these visual reminders will show them they can always count on their family for support.
It Can Help Them To Understand Their Position In The Family
In enforcing the family unit, parents shouldn't underestimate the importance of visual cues, especially in young children. Your photo albums or desktop will certainly contain plenty of happy snaps. But these photos will only be accessible when prompted. The act of taking a photo with your family will give your children an appreciation for family history and prompt their curiosity about where they come from and where they belong. The portrait serves as a daily reminder that 'this is where I come from, and that is where I belong.' In particular, if you have additional family photos on display in the living room, kids can locate their generation in this family hierarchy and tell stories about their own families.
It Documents Their Growth
School photos are embraced annually. So why not family photos? Growing up is a fast-paced process. The ability to capture a child's progress as it happens, as a group (instead of putting together individual photos) is a valuable memory to cherish. Family photos are always a regret for most families down the road – never the other way around! Families have unique traditions for capturing milestones. Some parents even take a picture of their kids every day in the same pose until their pre-teen years to document growth. Taking a family portrait every year or every two years is a terrific way to capture the likeness and personality of your family as everyone grows and changes.
It Teaches Them Family Values
Children benefit from sentimentality, togetherness, and family pride through taking photos for posterity. With the 'selfie' culture of our day, especially among older kids, photography has a tendency to be less associated with family. Because portraits preserve connections between family members and photos, they're an ideal way to preserve those connections. If your kids are young, they might resist taking photos at first. But as they grow older, they will surely treasure them. As well, establishing a family portrait tradition will most likely be carried forward to your children's families.
Family Portrait Tips
Here are some tips for taking an amazing family portrait
Be sure everyone is well-rested and well-fed before you arrive at the studio. Fatigue and hunger will lead to restlessness and impatience, which will negatively impact the photo shoot.
If you choose an outfit, use complementary colors and prints rather than completely matching pieces of clothing. There is no harm in sticking with colors that suit you and your children, and by incorporating a bit of contrast here and there with a bright pop of color.
Consider another approach to the 'say cheese' tradition, because you don't have to look directly at the camera to get a successful photo. You don't even have to smile at the camera at all times to get a good picture.
You don't have to be a determined or ruthless soldier when taking a portrait of your loved ones – it's just supposed to be fun! As long as you have fun, your photos will also appear to be less staged and forced and your personality will be able to shine through the more fun you are having.
Providing all people with access to family portrait
The cost of a professional family portrait session is usually a barrier to ordering them regularly. In addition, you would generally need to pay for extra shots that you are really delighted with.
Conclusion
This guide should help you to understand the importance of having a family portrait with kids, and how it can help their development.
For more on this topic, check out the full Photography Tips collection
---