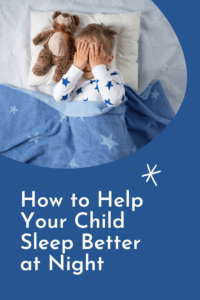 There's nothing more joyful and satisfying than watching over your child while they're fast asleep. That is, of course, after you manage to get them to sleep after endless rounds of cuddling, chatting, and story-time. While parenthood brings a plethora of challenges, one of the biggest hurdles is to ensure that your child gets a good night's sleep. But as a parent, you'd know that peaceful slumber isn't something that comes naturally to kids. In this article, we've handpicked a few tried-and-tested techniques to help your child sleep better at night.
---
For more on this topic, check out the full Sleep collection
---
Child Sleep Recommendations
While some kids have trouble falling asleep, others might wake up in the middle of the night. Or perhaps you have a child that refuses to stay in bed after sunrise. Needless to say, lack of proper sleep can affect your child's physical health, behavior, and cognitive abilities.
Sleep time is when the body repairs and rejuvenates itself. Typically, children need 10 to 12 hours of uninterrupted sleep every night. And adolescents need a minimum of 8 hours of shut-eye.
The good news is that it isn't particularly difficult to inculcate healthy sleeping habits in children. From creating a bedtime routine, to limiting screen time, various small changes in their daily life can go a long way to improve your child's sleeping pattern.
Understand the Cause of Their Sleep Troubles
Is your child particularly averse to the idea of going to bed? Do they complain of external light or sound interrupting their sleep? Are they scared of being attacked by imaginary ghosts and monsters?
If you want your child to get a good night's sleep, you need to first identify the root cause of their sleeping troubles. Find out whether they feel comfortable and secure in their bed. Also, consider whether they're getting enough sunlight and indulging in physical activities throughout the day.
It's also a good idea to talk to your kid to check whether they're stressed or nervous about an upcoming event. Even a simple quiz or school play could keep your socially anxious kid up at night.
---
20 Free Printable Bedtime Charts
For more on this topic, check out the full Sleep collection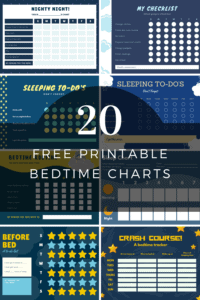 ---
Revamp Their Room
The idea is to make your child's room more homely and welcoming by turning it into a sanctuary for sleep. Start by getting rid of all the toys, clothes, books, and other objects lying around in the room. The more you declutter the space, the more conducive it'll be to a good night's sleep.
Next, take a closer look at the walls, curtains, bedsheets, and door to identify any distracting imagery and stimulating colors. It's a good idea to use plain light-colored bedsheets, duvet covers, and curtains. If the walls are too bright or dark, try and cover them with soothing photographs or paintings.
Make sure you also check for the presence of any light sources that might keep your kid awake at night. You could also consider sound-proofing the room and adding a source of white noise. Don't forget to involve your child in the process of renovating their room.
[Read: What to Keep on Your Nightstand & Relaxation Techniques]
Let Them Use a Weighted Blanket
That's right! Weighted blankets aren't just useful for adults suffering from insomnia and anxiety. A kids' weighted blanket can go a long way to make your child feel secure and relaxed at night. It's particularly useful for children who are prone to nighttime awakenings and sleep terrors.
Weighted blankets for kids are available in various sizes and weights. Make sure you choose a blanket that roughly weighs 10% of your child's body weight. Also, don't force your child to start sleeping with it right away. Instead, you can try covering their legs with it while they're watching TV or playing video games. If they enjoy the calming effect of the blanket, they'll be more open to giving it a shot while sleeping.
Once they get used to the feeling and want to use it at night, tuck them in like normal. Give them their goodnight kiss, and then drape the blanket over them while saying "And here is my goodnight hug" 🙂
Watch Out for Blue Light
You don't need someone to lecture you about the havoc that blue light from electronic devices can wreak on your child's health. Apart from affecting their eyes, it also suppresses melatonin production, thereby altering the body's sleep-wake cycle. This, in turn, can disrupt their sleep pattern and cause them to stay awake at night.
That's why you should make it a point to cut down blue light exposure at night. Restrict your kid from using smartphones, tablets, or computers right before bedtime. Instead, encourage them to read a few pages from a storybook. Also, keep an eye on how long they use various electronic devices throughout the day.
Regularize Bedtime
As a ground rule, you should ensure that your child goes to bed at the same time every day. Try to stick to this schedule even on weekends and holidays. It can also help to create a relaxing bedtime routine that sets the tone for a peaceful slumber.
[Read: Promoting Healthy Sleep: From Birth to Beyond]
Make Sure They Are Comfortable
Is your child undergoing treatment for a sleep disorder? It may take time for your child to get used to using a continuous positive airway pressure (CPAP) device for sleep apnea, as prescribed, and discomfort may be one of the reasons. Finding a CPAP mask specially designed for kids can help ease them into therapy and get that much-needed good night's sleep.
You want nothing but the best for your child, and it shows through the actions you've taken to ensure they sleep better at night. Don't forget to take care of yourself and sleep too.
For more on this topic, check out the full Sleep collection
---