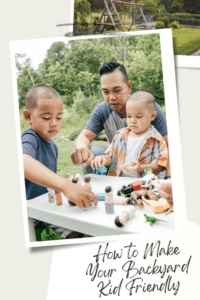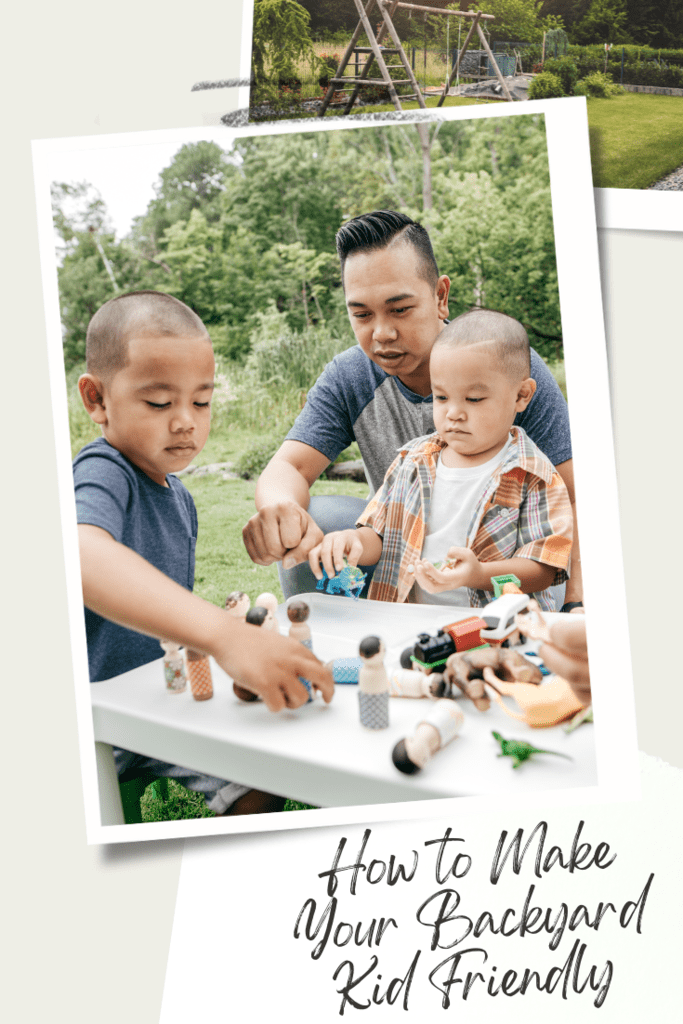 Do you want to set up a kid-friendly outdoor space? Maybe you just want to make sure that your child has somewhere to go while you work from home. Or perhaps your house is the one that all the kids end up at. But if you aren't quite sure how to go about doing this, keep reading. Below is a guide for how to make your backyard kid friendly.
---
For more on this topic, check out the full Family Home collection
---
Create a Backyard Room
Give your kids the feeling of privacy and even intimacy by creating a backyard room for them. At the end of the day, your yard may already have this. Think about what you have and then use it to your advantage. Look for nooks, trees, corners and more. If you have a weeping willow tree, then try and create a secret room. Or even a climbing tree if you have older kids. If you don't have any features such as this then remember that you can create rooms by using umbrellas, canopies, and even forts or hideaways. If you can do this, then you will soon find that you can turn your space into something truly special. Your kids will love it, and it will certainly give them a new sense of adventure.
Sand Play and Creative Mess
Why not give your kids a place to dig in the sand? When you do, you can then give them something to touch, feel and build with. This is a very important part of child development, and sand is a wonderful sensory experience for your kids to have fun with and manipulate. The sandbox is usually a favorite with kids. And sometimes it's possible for you to build a very natural pit in your garden if you have the space. Just give your kids some shovels, some scoops, buckets, molds or even funnels, and you'll soon find that their imagination takes them the rest of the way.
If you have any outdoor furniture, then make sure that you invest in some furniture covers. You may be wondering "should you buy outdoor furniture covers if you don't have soft cushions?" and the answer is, yes, absolutely. Sand has a habit of finding its way into just about anything, and if you have any reclining chairs or even sofas outdoors, you'll want to make sure that sand can't get into the mechanism at all.
Water Play
Another sensory thing that you can invest in would be water play. Water is a fantastic and fun sensory experience for your kids, and this is especially the case in warmer weather. Kids love to run through sprinklers when the weather is hot. And they also love to play with things like water balloons too. They can splash around in a baby pool, and they can also play with a water table too. If you can create something like this for them, they will love it! And depending on their age, you know that they are going to be safe from harm while you concentrate on getting some jobs done around the house.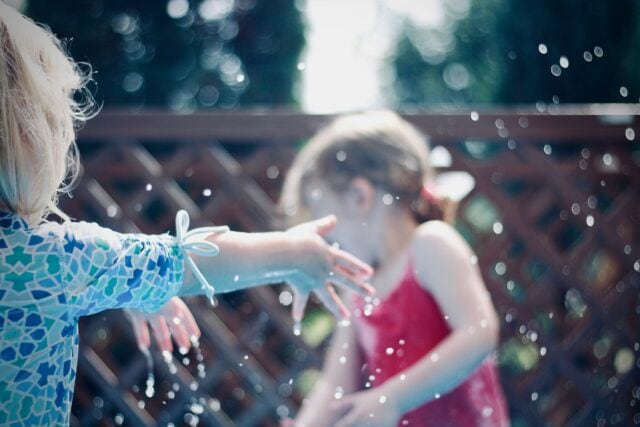 Outdoor Art
Art and creativity is great if you have kids. Sometimes you might want to make art outside because the weather is just so great. Sometimes you may find that outdoor activities are best suited to the backyard as well because you don't have to worry about any projects being big or messy. Garden looms are fantastic ways for you to create art in your yard and it is in a defined space too. Take an easel outside for your kids and also make sure that you give them plenty of opportunities to get creative. If you let your kids create art outside, then you don't have to worry about paint dribbles or splashes. On top of this, it's very easy for you to hang the paintings on the clothing line to dry.
Chalk and Drawing Opportunities
Sidewalk chalk is a staple for any child. You can use it for everything. From drawings, to body tracings, and even games such as tic-tac-toe. Chalk washes away with the rain or it washes away by using a hose. This means that your kids can draw just about anywhere they want. This happens to include rocks, wooden structures, concrete, or even sidewalks. It's very easy for you to create your very own DIY chalkboard if you want. The only thing that you need to do is paint a huge piece of wood with some chalkboard paint. You can then mount it on the fence or even at the side of the house.
Kid's Garden
Any kind of garden that your child can take ownership of is fantastic. They can watch a seed grow and they can also pick the fruit themselves as well. It truly is a magical learning experience, and it is ideal if you want to show them some degree of responsibility. You should make sure that you do your bit to try and give them their own space so that you can make into a success. Some easy plants for kids include radishes, carrots, peas and even strawberries. Your kids might not want to eat stuff like this just yet, but they will take great enjoyment in learning how to grow and even harvest them.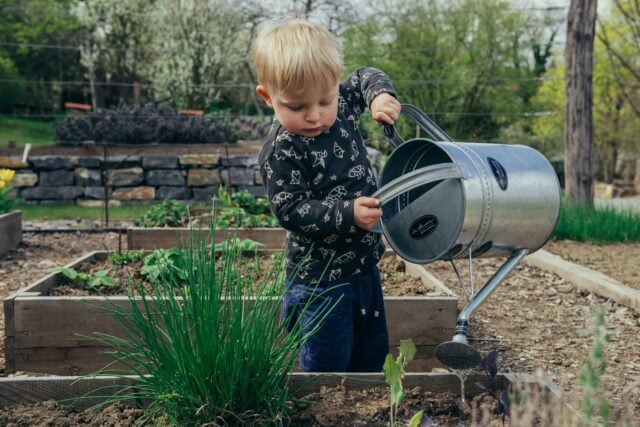 Attracting Birds
Kids love to watch birds. If you want, you can easily attract all kinds of wildlife to your garden. This can include butterflies too. If you would like to attract even more of them then why not try and plant some native flowers and also try and put down some trees on the perimeter of your yard. If you can do this, then you can give them plenty of shelter and food. Add some bird feeders, and a birdbath if possible. Another thing that you can do with your kids is painting birdhouses. When you do this, you will soon find that your kids get way more enjoyment out of seeing birds visit the garden.
Observation Kit
Treat your backyard as if it is a science lab. It's very easy for you to have a few observation tools handy if you can. Butterfly nets can be used, and you can also try and catch flying insects too. If you want, you can use a jar with holes in or even a bug house. These are all good for insect observation and it is also good for them if you want to teach them about how important nature is.
Bubbles
This really is a no-brainer. Bubbles are magical for a lot of kids. They are also very affordable to buy as well. There are all kinds of wands out there that you can use, not to mention that you can also use bubble machines too. If you can invest in things like this then you will soon find that it is easier than ever for you to help them have fun not just for now, but for years into the future. Stilts, activity cones and other open-ended play things are also very good for outdoors. You can create obstacle courses and you can also help your kids to have the best time by simply using what is around them. If you can do this, then you will soon find that they can have the best time ever and this is fantastic to say the least.
Making your Backyard Kid Friendly
Of course, there are many things that you can do to try and take things to that next level and if you follow this guide. Then you will soon find that it is easier than ever for you to give your kids an amazing, entertaining space, even on a budget.
For more on this topic, check out the full Family Home collection
---