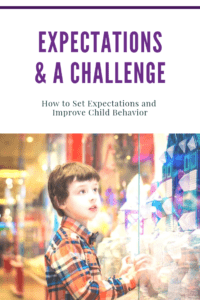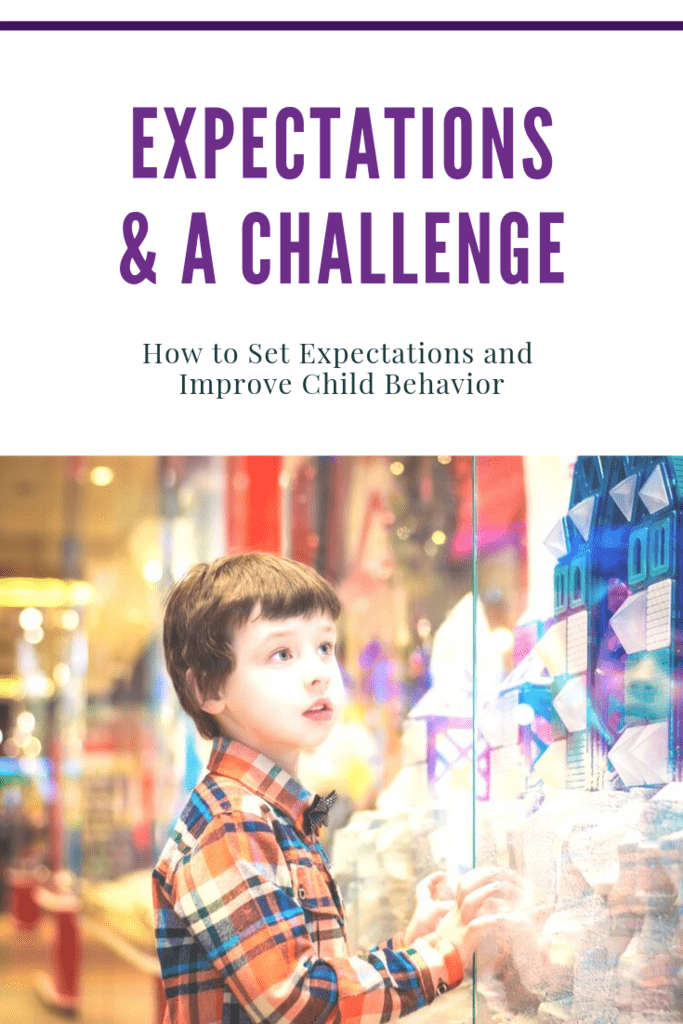 A couple of years ago a dear friend shared with me some very valuable advice. Every morning on the way to school she told her children exactly what she expected of them for that day. She found that her kids responded very well to this, and almost always rose to the expectation. I have adopted this parenting advice, applied it in my own family, and have seen my children's behavior improve! Read below to find out how to successfully set expectations, improve your child's behavior, and discover helpful expectation examples that you can start implementing today.
---
This article is written by Karissa Tunis
For more on this topic, check out the full Child Behavior and All About Toddlers collection
---
Being a mama with three young children, I need order in my life to make it though the day. I have found that leaving the house and going out in public can be stressful; especially if the kids are misbehaving, running around, etc. So for us to go out and about our day in a safe and manageable way, I need to set expectations for not only myself, but also for my kids.
Having healthy expectations is important. It creates order, gives guidance, and provides realistic requirements. Without this, chaos will quickly take over.
Why You Should Set Expectations for Your Child
Immediately I took my friends advice and I began using her expectation examples. But I didn't just do this for school, I did this almost everywhere we would go – play dates, extended family dinners, holiday parties, birthday parties, etc. I would, and still do, instruct my kids to use their manners, thank the hosts, think of a compliment, and to respect other people's houses and toys.
I always make it clear that it is an honor to be invited into someone else's home. If we follow the expectations that I have set and remember our manners, we often are invited back. But if we misbehave, then we risk not being invited over again.
Now I even use this technique when going to the grocery store and running other errands. Each place we go has slightly different rules, but I believe it is important to inform my children on what is and is not acceptable in each of these settings.
When To Discuss The Expectation
I have found that it helps to talk to my children before we arrive. That way they can prepare themselves before becoming distracted with their new surroundings.
An example of this is at the playground. If I wait until we arrive to tell them to please stay with me; they are probably already running towards the monkey bars and never heard a word I said. But, by telling them in the car on the way there what my expectations are, they can walk onto the playground already knowing exactly what is expected of them.
Below I have listed out expectation examples, and several of the reminders that I discuss with my children in our different scenarios. I don't always say all of my expectation prompts every time. And I alter what I say depending on if I'm speaking to my 8, 5 or 3-year-old. But whatever I say, I always say it politely. I also like to always end on a positive. I tell them that if they follow all of these rules, how proud I will be, and even eager to return with them another time.
Other than a few embarrassing moments, or the occasional toddler melt down, I can honestly say my kids usually do very well in public – sometimes even better than they behave at home!
EXPECTATION EXAMPLES for improving child behavior
Below are my expectation examples. Continue scrolling for a more in depth look at the expectations for school. I also have included a fun infographic of the expectation examples that you can save to your phone or computer as a helpful reminder, and a fun school challenge for your child to try!
ON OUR WAY TO SCHOOL:  PLEASE…
Listen to your teachers
Be kind to all of your friends and classmates
Give someone new a compliment
Look for someone lonely at lunch or recess and be a friend to them
Learn something new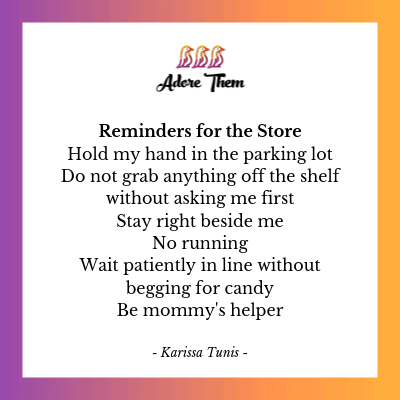 ON OUR WAY TO THE STORE:   PLEASE…
Do not grab anything off the shelf without asking me first
Stay in the shopping cart or right beside me
No running
Hold my hand in the parking lot
Wait patiently in line and do not beg for candy at checkout
Be mommy's helper  (my kids love putting things in the shopping cart for me, or helping to carry a few light items)
ON OUR WAY TO SOMEONE ELSE'S HOUSE:  PLEASE…
Take off your shoes when we go inside
Remember your Please's and Thank You's
Do not grab toys without asking first
Stay in the rooms they are entertaining in (do not go upstairs or downstairs without asking first)
Our house rules still apply – no running, wrestling, jumping on furniture, yelling, etc.
Have Fun 
ON OUR WAY TO THE PARK:  PLEASE…
Hold my hand in the parking lot
Do not run off, stay close to mommy so I can always see you and help
Take turns and no pushing your siblings or any other kids
Stay close to your younger siblings, or friends, and help them if needed
Be careful when running that you don't bump into others
Let's have some fun 
Setting Realistic Expectations for kids
You will notice that my expectation examples are very basic and easy for a child to follow. That is because my children are young. As they grow older, my requests will be adjusted.
Setting realistic expectations is very important! You need to take into consideration your child, their age, their abilities, and their maturity when asking for a certain behavior. If they can't handle the requirements to make something a success, then it would be better to stay home, or leave them with a sitter. Don't put yourself in stressful situations that end in arguments and tears – that's not good for anyone!
An example of this would be running errands. If you have a busy toddler that just wants to get into everything, then maybe leave him home with Grandma or your partner. If your daughter normally naps from 12-2pm, then don't expect her to sit quietly at your doctors office at 1:00 in the afternoon.
On days that I know I will be asking a lot of my children, and for a long period of time, I will often offer a reward. I will follow up my expectations with "If you behave, when we get home you get to…". Oftentimes it's watch a movie, play at the park, have a favorite snack, or I try to think of something else special for them.
I don't always like to bribe my kids, and I don't want them to think that all good behavior deserves a reward each and every time. I believe they should always aim to be the best version of themselves that they can be. But, they are still young children. If I have a full day planned with running errands and doing my things, then I like to reward them with something fun at the end that they like.
Expectations at School
As our daughter started kindergarten a few years ago, I began to implement my expectation prompts. I tried every morning on our drive to school to discuss her what I expected; listen to your teacher, be nice to the other children, and learn something new.
A few months into the school year my daughter came home one day in tears. She is very good at art, she's athletic, and she knows more animal facts than anyone I know! But she is not a strong reader. On this particular day another girl in her class made fun of her for not knowing as many words as she did.
My sweet, super sensitive little girl who has a heart of gold, and who truly loves to make others happy, was crushed. It took everything in me to not break down with her, and to not say something that I might later regret.
After I got her calmed down and acknowledged her feelings, I asked what we could learn from this? Together we agreed that the hurt and yucky feelings she felt were definitely not anything she ever wanted to make anyone else ever feel. We talked about how lucky she is that she has so many other wonderful friends that make her feel good. I told her to think about what makes a good friend. Think about the type of people that she likes to be around, and then to be like that to others – especially those with fewer friends.
---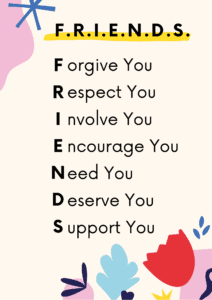 ---
Taking On A School Challenge
So, the next morning on our way to school, I told her my expectations as usual, but then I added a challenge – to give a compliment to someone in the class that is not as popular.
That afternoon when I picked her up she reported on her new task and how happy it made the other person. And making them feel happy made her feel good too!
So we continued this. Each morning on our way to school we reviewed her expectations and came up with a new challenge. I suggested she play only games another friend wanted to play one day. Another day her challenge was to find someone lonely at lunch to sit with, make a new friend, and so on.
For the remainder of the school year this continued, and she was always excited to tell me the difference she made for someone, no matter how big or small.
Now I'm not saying I'm the perfect mom, or that I have the perfect kids. They still act up at times, and I fail at my job often.  But I do believe there is more to school or life than good grades and perfect attendance. I believe in respect, manners and good people skills. I believe in making other's feel good when they are around you, and treating other's the way you want to be treated.
Ways to Help Child Behavior
Even though we do not have it all figured out all of the time, I hope that when we look back at each year we can honestly say that we have improved in some way. Or even better, in many ways! And in order to do this we need to keep learning those life lessons – those expectations, and challenging ourselves in new ways.
For more on this topic, check out the full Child Behavior and All About Toddlers collection
---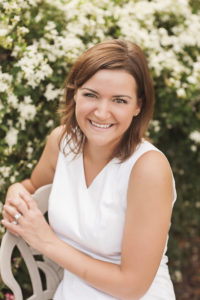 Co-Owner: Karissa Tunis
Karissa Tunis is the co-owner of both the parenting website Adore Them and the family event company Milestone Family Expos. Through these ventures she is able to share inspiring, heartfelt insight with large audiences within local communities and across the country! Her knack for all-things-organization allows her to balance content creation, brand partnerships, and event planning without losing sight of what she wants for her own family. Despite her busy schedule, Karissa also makes it a priority to spend quality time with her husband and three children. You will often find her volunteering at her children's schools, cheering them on from the soccer sidelines, or enjoying the great sites of Charleston, SC with her family.
Contact: Karissa@AdoreThem.com
---