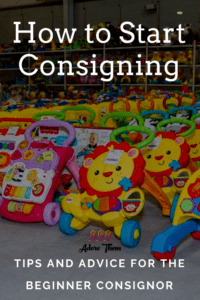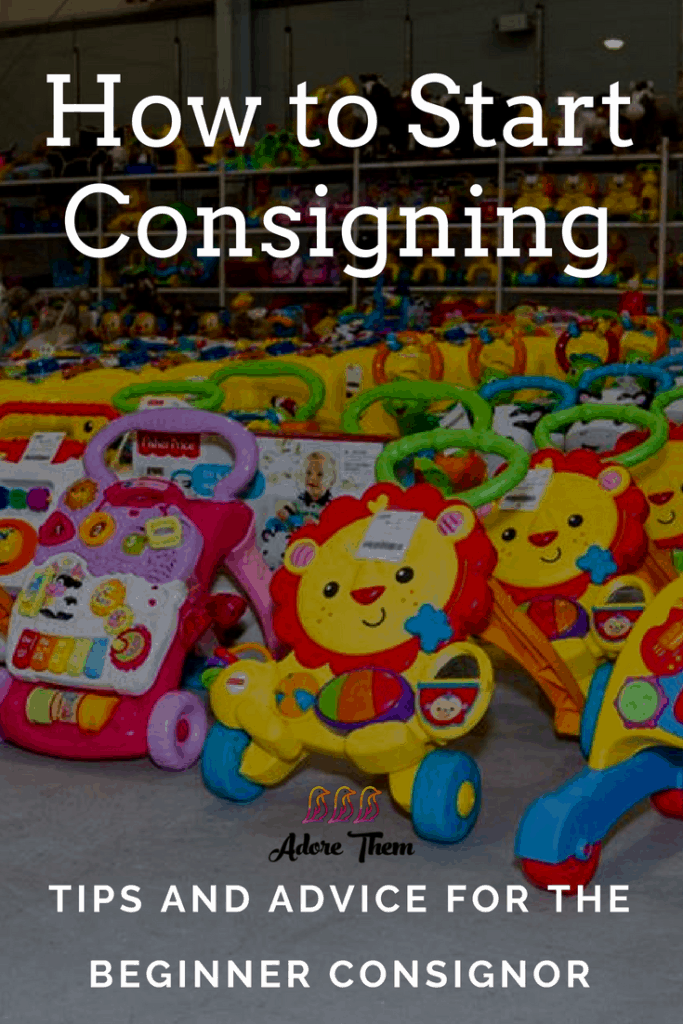 I fell in love with consignment sales years ago as a new mom on a tight budget, and what's not to love? Being a consignor has many benefits (which I cover below)!
You can purchase things at a significant discount.
It is fun and can feel like treasure hunting.
Books, toys, gear, and clothing is getting reused instead of being discarded needlessly.
And a good portion of the money spent is going back into the pockets of local families.
Shopping at consignment sales can be a great way to save money (read these consignment sale tips to make the most of your trip), but taking the next step and becoming a consignor yourself could be even better!
---
This article is sponsored by Just Between Friend Lancaster
For more on this topic, check out the full Saving Money collection
---
Why Should I Become a Consignor?
Declutter Your Home
It is amazing how much stuff we can collect over those first few years of parenthood. There is all of the baby gear and baby clothes that our children outgrow quickly. Then there are the toddler toys, books, and puzzles that they master and lose interest in. And, of course, there are always the odds and ends things that you really don't need cluttering your house anymore!
Cleaning things out and getting organized can be a fantastic feeling, but it can be really hard to let go of things – especially if they have some sentimental value.
I have found that consigning makes that letting go process much easier! If I know that those cute clothes or fun toys are going to a good home (and putting a little money back in my bank account), I am more likely to let go of them. Who wants to throw away their children's things, or sell them for a quarter at a garage sale??
Get Consignor/Shopping Benefits & Give Back
If you are planning on shopping at the consignment sale anyway, it could be worth your while to consign as well since many consignment sales offer benefits to their consignors! You might be able to shop early, receive a discount on items that you purchase, and/or earn higher commissions by volunteering some hours working the sale. Check with your local sales to see what they currently offer.
Becoming a consignor is also a great way to support other families within your own community. You are able to recycle your own items while offering them to fellow families at a significant discount. It's a win-win for everyone! Just be sure to shop responsibly – just because everything is discounted does not mean you need to bring more clutter back into the house 😉
Earn Money
This is the big one, right? At the end of the day, most consignors choose to do this because they want to make some extra money while also raising their family. Consigning is something that you can do on your own time, in your own home, with your kids running around being noisy 🙂
Consignment sales offer items at a significant discount, but it is still well-above yard sale pricing. If you are looking to sell high quality items, consignment sales are a much better option than yard sales. Since both of these options require time and effort from you, it seems to make more sense to choose the option that will bring in more money.
How much money you make is really up to you! I know some people that do a big clean out and consign the majority of their unused items all at once, while others choose to consign little by little as their kids grow out of the different stages. My first time consigning, I chose to do a big clean out and sell all of the baby through toddler stuff! It was a big undertaking, but I also made almost $600!!
How Do I Start Consigning?
Figure Out What to Sell
Before you look into consigning, make sure that you have high quality items that you are willing to sell. There is a learning curve when you start out as a consignor, and you want to make sure that you have enough items to make it worth your while! You don't have to start pulling items out of the attic just yet, but it can be helpful to start making a list of the items that you'd like to sell as you think of them.
Find a Consignment Sale
Once you've determined that you have enough clothes, toys, games, gear, and accessories to sell then you will want to figure out which local consignment sale you want to sell at. You may have a couple different options in your area, and it's worth figuring out which one will be the best fit for you.
Consider the Following:
Other consignors experience and recommendations

Commission Rates

Consignor Perks

Size of the Sale

Dates/Deadlines of the Sale
I personally have had a lot of success consigning with Just Between Friends Lancaster, and since they are a nationwide brand, there is a good chance that you have a JBF in your neck of the woods too! They do a great job of supporting their consignors through each step of the process, and their events are always well-attended (which means that your items are more likely to sell!)
Highlights of being a JBF Consignor include:
Earning 60% of your sold items (JBF Lancaster Consignors earned an average of over $350 last Fall!)
Opportunities to earn 70-75% by helping out at the event
No upfront costs to participate (just a flat $11 fee taken out of your check)
No limits on the amount of children's clothing or other items
Using your smartphone to tag your items!
Access to a private Facebook group where you can get personalized help to maximize your earnings
The option to use their Valet Service where they price and prep for you!
You can go here to find a JBF consignment sale event near you.
Consignment Details & Dates
Review all of the important dates and make sure that they will work for you and your family. There are the dates of the sale; but there are also drop off dates and times and consignor registration deadlines to keep in mind. Add all of these important dates to your calendar now to avoid double-booking!
You will also want to look over the consignment sale's guidelines for consignors. This can get overwhelming but don't panic! You will be able to take things one step at a time moving forward. At this stage, just read through things to get an idea of what you need to do. Many consignment sales try to be as thorough as possible to keep things nice and organized for both consignors and shoppers so these guidelines can seem daunting at first glance, but they tend to actually be very helpful as you move through the process!
Register as a Consignor
Don't forget to actually register as a consignor before the deadline! There is often a small fee associated with consignor registration, but I have always found these fees very reasonable considering the amount of money I've been able to make back. Once you register as a consignor, you will then have full access to the information that you need to get started!
What Steps Should I Take as a Beginner Consignor?
Step 1 – Review Those Guidelines Again
As I stated above, consignor guidelines are often very thorough! It is important to figure out at this stage what the consignment sale will accept and what they won't. Swimsuits often aren't accepted at Fall sales, while winter coats aren't accepted at Spring sales. You will likely need to check for recalls for any baby gear that you'd like to consign. And there will be helpful information about the quality that is required of the items that you want to consign.
Step 2 – Choose and Clean Your Items
Try to be as objective as possible when you are choosing items to sell. Think about what you would be excited about purchasing and use that as a starting point as you organize. You also want to have a critical eye when it comes to the quality of items. Stained or well-worn clothing likely won't pass quality control and neither will broken toys. Don't waste your time cleaning, organizing, and tagging items that won't end up selling anyway.
You can also check with the event organizers and ask about which items sell the best, which items they tend to need more of, and which items they tend to have too many of. For example, boys clothing in good condition tends to be in short supply so if you have those, you may be able to charge a bit more for them.
Cleaning all of your items is also very important! Lysol wipes and Oxiclean can be a huge help in getting rid of dust and stains. Keep in mind that other parents are looking for clean, safe items for their children – they won't choose to purchase something that looks or smells like it came from your basement.
Step 3 – Buy Supplies
Nothing is more frustrating than sitting down, ready to make some progress only to realize that you don't have what you need to make it happen! Before you dive in too much further, make sure you have what you need in advance.
I tend to need the following things when consigning, but be sure to refer back to those consignor guidelines to see what you will need:
Hangers

Safety Pins

Packing Tape

Gallon Bags

Cardstock for Tags
Step 4 – Organize and Arrange Your Items
I tend to organize my items into different category piles – toys, books, gear, clothes, misc., etc… From there, you can arrange clothes by size (to make things easier on drop-off day); and you can also figure out if you want to do any bundles. A swaddling blanket set might make more sense than selling each of them separately. Or a grab-bag of small toys is more likely to sell than each toy individually.
This is also good time to refer back to those guidelines again! As you are organizing your items, you will want to know if there are particular ways that you need to hang or arrange items. Some consignment sales get very specific when it comes to which clothes to hang and how to hang them. Make sure that you are doing it correctly the first time so that you don't have to go back later!
Step 5 – Pricing: Research and Entering into System
Now that your items are clean and organized, you are almost ready to start entering them into the consignment sale system; but… be sure to do some pricing research first!
Pricing is a tricky step in this process and can be the difference between your items selling through or sitting on the shelves at the sale. Do some research at this stage by asking consignor friends for their advice, visiting consignment sales yourself, and even asking the consignment sale event organizers for advice! They often have great insight into how to price your items.
Once you have a good idea of how you want to price your items, you can begin entering them into the system. Grab your laptop, sit next to a pile of organized items, and enter in the information before moving onto the next category.
Step 6 – Tag Your Items
Once everything is entered into the system, you will need to print out your tags and attach them to your items. Again, take this one step at a time! Go through pile by pile, category by category in a way that will make sense to you. You will need to follow the guidelines for tagging so keep them handy at this stage!
Tagging items is also a good point in the process to ask for some help. Invite a friend over, put on a movie, and work on tagging items together!
Step 7 – Consignment Drop Off
This is another step where it is extremely helpful to have a helping hand. Many consignment sales have you drop off your items in the area of the sale where they will stay. Toys go to the toy section, strollers go to the stroller section, Boys 2T clothing go to the Boys 2T clothing section, etc. It is very helpful to load up your items in a way that will make it easy to unload at the event location, and it is a good idea to bring a cart or a wagon to help you transport your items around the sale space.
Step 8 – Enjoy the Event!
Phew! You did it! Now for the fun part… you can shop the sale if you'd like, and you get to collect payment at the end of the event! You have probably learned a lot along the way, and everything will seem a lot easier next time around!
Step 9 – Pick Up or Donate
When tagging your items, you have the option to either donate your items to a local charity automatically or pick up any of your unsold items. Some consignment sales require you to hunt for your specific items at the end of the sale, but another perk of consigning with JBF is that unsold items that are not marked as "donate" are sorted by each seller's number ahead of time! This allows for a quick and efficient pickup that works better with your busy schedule.
At the end of the day…
Becoming a consignor does require time and effort from you, but there are a lot of benefits to giving it a try! Take that leap, clean out that closet, work through the process one step at a time, and make some extra money along the way 🙂
---
We have partnered with Just Between Friends to promote their upcoming sale in our hometown of Lancaster, PA; however, JBF offers sales across the country!! Go here to find a JBF consignment sale event near you.
For sneak peaks & sale details, you can also follow JBF Lancaster across social media: Facebook | Instagram | Twitter
---
For more on this topic, check out the full Saving Money collection