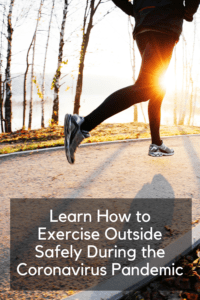 In a time when all gyms have been closed, getting outside to exercise is now more important than ever. Studies show that spending time outdoors and exercising is good for both mental and physical health. But how can you exercise safely in the wake of the COVID-19? Yes you should avoid crowds, keep your distance, and use a face covering; but what else can you do to reduce your risk of coronavirus? Continue reading this article for additional  coronavirus tips that will help you exercise safely.
---
For more on this topic, check out the full Staying Healthy collection
---
Don't Go Out in Public When You Feel Sick
Don't go out in public if you are showing any COVID-19 symptoms. According to the CDC, some of the most common signs are a dry cough, fever, shortness of breath, chills, muscle aches, and headaches. However, the list of symptoms is always evolving, so be sure to continue to check the CDC webpage frequently.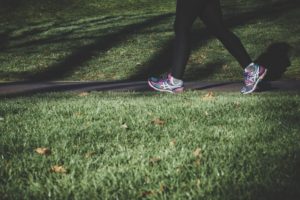 Exercise Safely Near Your Home
Most recreational areas have already been closed, and the safest place to exercise is near your home. As you exercise, try and minimize interactions with others. A walk around your neighborhood is a great option, or consider going for a bike ride. Perhaps you and another family member want to play a game of tennis, or go for a run together at your local park. There are lots of options when it comes to exercising safely outside.
Be Careful When Choosing an Exercise Partner
It's not against the law to exercise with others. However, you need to take some precautions. Only ride with someone from your household, and when standing, stay 6 feet apart. In case you go biking, keep at least 20 feet apart.
Keep in mind that you breathe harder when exercising, and you pump out more vapor, which may be infected. Therefore, when you take a break in between exercises, and you're breathing heavily, ensure you keep a distance of more than 6 feet. It's also important that you keep small groups. The more people in a group, the harder it is to keep a safe distance. Additionally, it becomes easier to get distracted. So be strategic when planning to exercise safely within a group outside.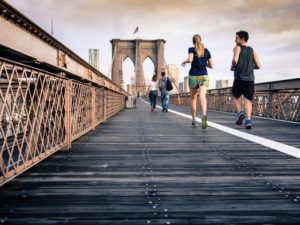 Wear a Face Covering When Passing Others
Many sidewalks and hiking trails don't have enough room to allow you to maintain a distance of 6 feet when passing. While it's not known how likely coronavirus can be transmitted during a brief pass, you need to be careful. Wear a face covering when passing others, or wear a bandana that you can adjust when passing someone. Avoid coughing or sneezing while passing others. – This is obviously common politeness, but it is more important now to avoid the spread of COVID-19.
Avoid Touching Traffic Buttons
As you exercise outside, avoid touching high-used surfaces like elevators, doors, and traffic buttons. The COVID-19 germs can stay on surfaces for up to 72 hours. Therefore, try as much as possible not to touch high-use surfaces when out in public areas. But if you must touch, avoid touching your face after. Consider using a glove, or keep some hand sanitizer in your pocket.
Bottom line: From working from home, to homeschooling children, the new coronavirus has changed life as we know it. Gyms and fitness studios have also been closed, and regular exercisers have resolved to exercise from home. However, the social distancing rules shouldn't prevent you from getting outside. Some outdoor exercises can be challenging, but the above measures can help you enjoy the fresh outside air and keep you safe.
For more on this topic, check out the full Staying Healthy collection