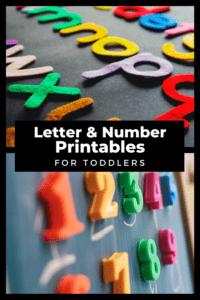 Teaching little ones their numbers and letters is really important, but it can take awhile. So make it fun and give them a visual with these free letter and number printables for toddlers!
Just grab some card stock from the store, print, and use in whatever way is convenient for you!
---
Free Letter and Number Printables for Toddlers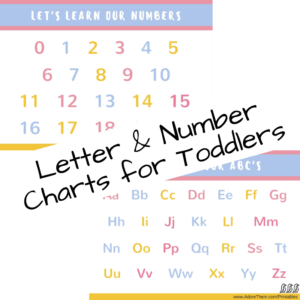 ---
These printables are created by Karissa Tunis
For more on this topic, check out the full All About Toddlers and Free Printables collections
Toddlers are arguably the cutest, funniest, and most exhausting little things on the planet! They are developing at such an incredible rate, and it is amazingly rewarding to see them learning, discovering, and achieving new things on a daily basis. Because of these developmental leaps, toddlers can also present a different type of parenting challenge, which is why we have compiled this collection of resources for you!
---
Montessori Activities to Do at Home (on a Budget)
Although sending your child to a Montessori school is the best option, it is not the only option! With the rise of stay-at-home or work-from-home moms, it is not always in the budget, or feasible to send your toddler out of the home for preschool. But what is so great about Montessori, is that you can easily replicate these valuable lessons right in your very own home!
Included in this article is a collection of activities that you can put together for your child to enjoy! You can find most of the necessary items at thrift stores, the Dollar Tree, at craft stores like Michaels, Amazon, or look for free printables (like the one in this article) online. Some activities you will need to create or set-up yourself, but I promise…it is simple!
Keep Reading: Montessori Activities to Do at Home (on a Budget)
---
50 Easy Toddler Activities (with no mess!)
Putting together this list brought back so many memories for me! Memories of the days when I had a baby and a toddler to keep occupied for hours and hours at a time 🙂 While my boys are a bit older now, they still would love a lot of these activities. I even stopped putting together this list to go create the baby oil + food coloring one right then and there (#21). Below are 50 easy toddler activities that my kids love, and I am sure yours will too!
Keep Reading: 50 Easy Toddler Activities (with no mess!)