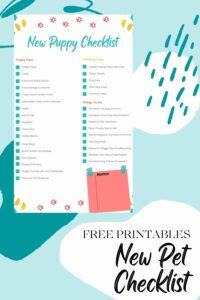 New Pet Checklist – What to Buy for Your New Puppy or Kitten
There is not much sweeter than bringing home a new puppy or kitty to love on! However, no matter their age or size, a new pet will require some new gear and accessories. That is why we put these checklists together to help you be super prepared for your new furry friend. Below is a free New Kitty Checklist and a free New Puppy Checklist. These lists will help ensure that this new addition to your family is well cared for. So grab some paper, print, and start checking off their items.
And if you would like some additional free pet resources, check out this Pet Information Kit – Free Pet Printables for Your Family.
Continue scrolling down for your free New Kitty Checklist and Free New Puppy Checklist printables. We hope you enjoy all those furry snuggles!
---
Created by Karissa Tunis
For more on this topic, check out the full Family Pet collection
---
Free Printable New Pet Checklist
What to buy for your new puppy or kitten


---