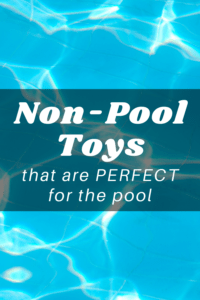 Fun Pool Toys for Kids
Our family loves hanging out at the pool, and could literally spend all day in the water! But, I know I've said it before, I am not a fan of typical water toys. Any toy that has a hole to squirt water usually ends up in the trash within a few weeks as I begin to see the mildew inside.
This post contains Amazon affiliate links
---
Fun Pool Toys for Kids
Well… the last two are meant for the pool, but you get the idea 🙂 Look through your child's toys and your kitchen cabinets before heading to the pool next time to see what ideas you can uncover!
---
Co-Owner: Karissa Tunis
Karissa Tunis is the co-owner of both the parenting website Adore Them and the family event company Milestone Family Expos. Through these ventures she is able to share inspiring, heartfelt insight with large audiences within local communities and across the country! Her knack for all-things-organization allows her to balance content creation, brand partnerships, and event planning without losing sight of what she wants for her own family. Despite her busy schedule, Karissa also makes it a priority to spend quality time with her husband and three children. You will often find her volunteering at her children's schools, cheering them on from the soccer sidelines, or enjoying the great sites of Charleston, SC with her family.
Contact: Karissa@AdoreThem.com
---