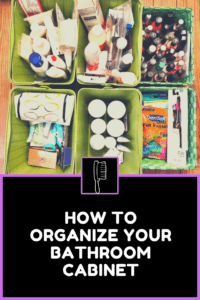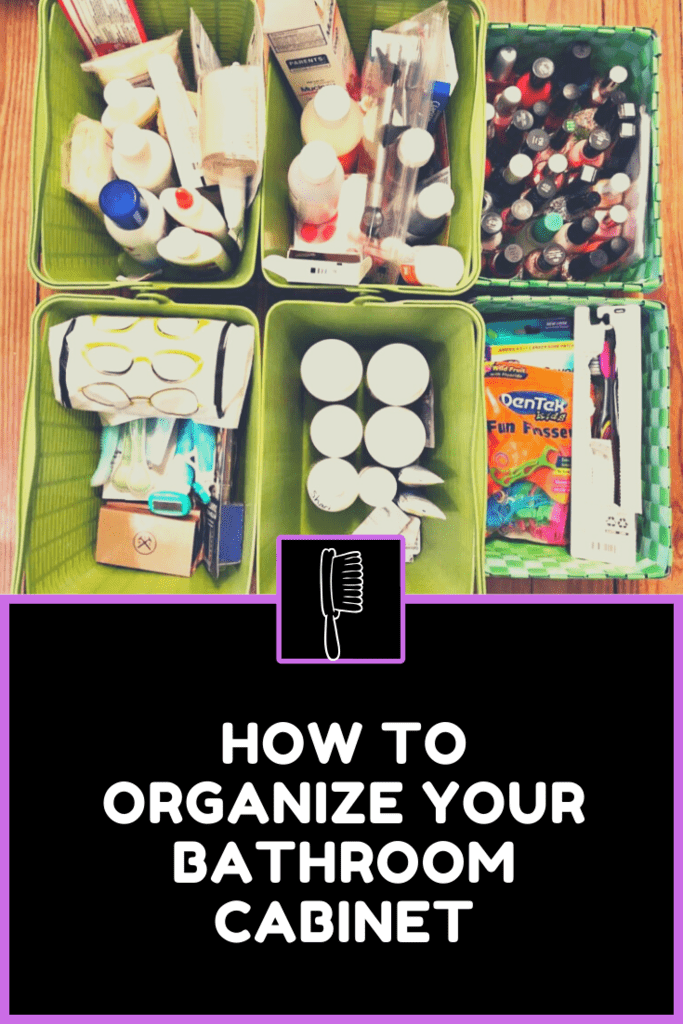 We have a small built-in closet in our upstairs hallway across from our bathroom. It is the perfect spot for all of those medical supplies and extra toiletries. However, it is also one of those spots that gets messy in a hurry! I generally don't care about putting things back where they belong when I am digging for medicine for a sick kid at 3am, or if I ran out of conditioner mid-shower and am dripping wet digging for a new bottle. This is bound to happen, and it is just part of the process. But the important thing is that you go back through every so often to declutter and reorganize when the space needs it! If you stay on top of it, it doesn't take too much time. Continue reading below to learn how to organize your bathroom cabinet.
The more you do it, the faster it will get. Once you come up with a system that works for you, you can be surprisingly speedy!
---
For more on this topic, check out the full Get Organized collection
---
How to Organize Your Bathroom Cabinet & Avoid Waste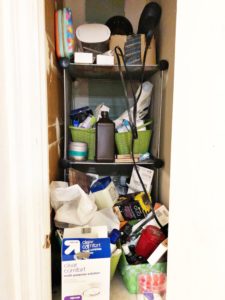 The problem with not organizing this space regularly enough is that things end up being wasted! I like to buy extra toiletries and supplies when they are on sale. But then I tend to forget about them when they get buried in the mess. This means that I go buy them again, even though I didn't really need them! When going through the piles this time, I found a whole stash of razors and razor blades for my husband. The nice thing is that these don't expire, and he can still use them. But the same doesn't apply to forgotten medications, unfortunately.
Be sure to use this tip for organizing your kitchen as well!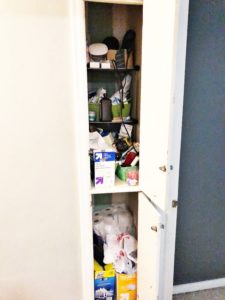 I found a whole bunch of medications that expired in 2015. Over the counter supplies that are nice to have on-hand, but maybe got used once or twice before being forgotten. I went through and made a list to re-buy anything that we should have on-hand, and then they all went in the trash.
Organize Your Life to Bring Joy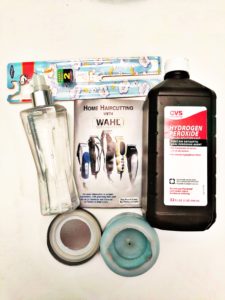 I also threw out items that I had kept when I decluttered in the past. Things like body spray that wasn't my favorite smell, hydrogen peroxide that had a few drops left in the bottom, instructions for the hair cutting kit, a candle that was all but burnt out… you get the picture. Things that were taking up space, but not valuable enough to warrant that space. Why hold onto a bottle of scent that I don't like the smell of? Why hold onto instructions for something that I have used multiple times without ever needing to reference them?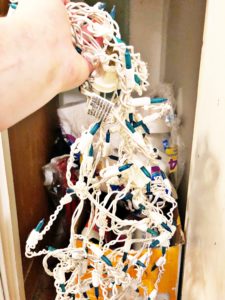 I also found some random things that didn't belong in there. A string of Christmas lights, an UNO card, & a lego man…
The other thing that was taking up a ton of space was extra packaging! I had three different packs of toothbrush packaging, and each with only one toothbrush in it! Consolidating that freed up significant space. Getting rid of any extra packaging that you can will makes it easier to store. It will also make it easier to grab once you go to use that item. I am going to try to be better about unpacking items before storing them away.
How to Organize Your Bathroom Cabinet
All of that being said, I want to lay out my process for organizing these toiletries, medical supplies, and other items in a simple, efficient way…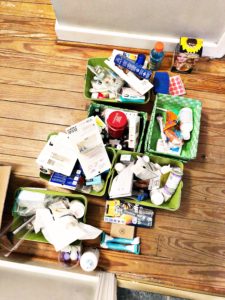 1. Everything out!
I put everything on the floor so that I can start fresh.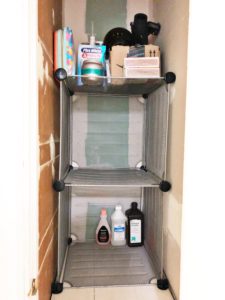 2. Figure out what you need.
I had this old wire shelving laying around from my college dorm, and it fits perfectly in our skinny vertical closet space! I like that it breaks up my storage boxes so that I don't need to worry about stacking things. Get creative with what you already have, or purchase an inexpensive solution to help you stay organized moving forward.
3. Think of categories.
One of the keys to successful organization is coming up with categories that make sense. Then you can use those categories to create piles to help organize as you work through the mess. My categories include:
Dental hygiene – toothbrushes, floss, whitening supplies, toothpaste
Kid medications (be sure to store these on a higher shelf)
Adult medications (be sure to store these on a higher shelf)
First Aid supplies – band aids, tape, ointments, etc
Hair stuff – blow dryer, diffuser, hair ties, headbands, etc
Nail Polish
Razors
Travel size items – I keep these in our travel toiletry bag stuffed in the back of the bottom of the closet
Large toiletry items – I keep all of these bulky items in an older diaper box in the bottom of the closet – things like body wash, hair products, shampoo/conditioner, hair dye, etc
Use right now – I tend to find things that would be useful right now, so I just put them on the bathroom floor. Later, I put them where they belong once I'm finished organizing
4. Go through piece by piece.
Items should either been thrown out or added to a pile. Now is your chance to check expiration dates, remove extra packaging, or get rid of things that you tried & will never use again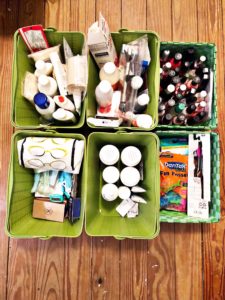 5. Place items in like boxes.
Most of the storage boxes in my house have come from the dollar store. I love having a bunch of them on-hand, ready to go & repurpose however I need them. I have small boxes that have lids that would be able to stack better, but for these awkwardly sized items, I like the open tops. It makes it easier to grab things & throw them back in for me; but lidded boxes could also be better for stacking. It just depends what works best for your space.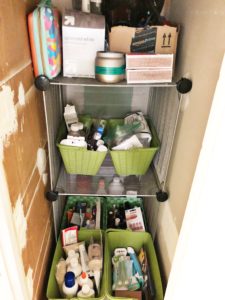 6. Place those boxes back into the space in a way that makes sense for you.
What do you use the most often? What do you use the least? Make sure that you arrange your space in a way that will make it easy for you to grab items and put them back.
Use this tip when organizing closets as well!
An Organized Bathroom Cabinet!
After 15 minutes or so, you will feel so much better! You will know what you have and where it is! You will be able to open the cabinet without feeling overwhelmed or guilty about the mess. It is one less thing to worry about on a daily basis 🙂
And best of all, you now know how to organize your bathroom cabinet, and how to properly maintain it!
---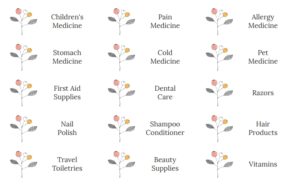 ---
And for more on this topic, check out the full Get Organized collection
---