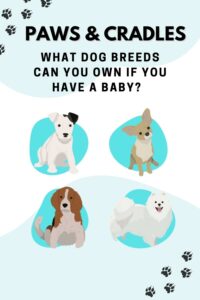 A man's best friend is no other than the ever-lovely dogs. They are domesticated animals that have been part of many households. Some families consider them part of their family tree and are actual siblings of their kids! However, if you are planning to introduce your fur pets, or are expecting a new addition to your family, it is a concern whether it is okay or not for them to be together.
Fortunately, there are family-friendly dog breeds that are sweet and kind to children. Additionally, growing up with a dog can help your kid learn responsibilities. You will meet dog breeds that play well with children in this list. You can read further ahead to learn more about their characteristics and how they get along with their little masters.
---
For more on this topic, check out the full Family Pet collection
---
Dog Breeds to Consider (And Not) If You Have A Baby
Golden Retriever
Golden retrievers are known for being adorable and playful dogs. They are active, sweet, and learn how to play around big kids. They can also be gentle around babies and toddlers. Even so, take it slow in introducing your baby to the dog. Nothing is more compatible with a patient pet that loves attention and a curious baby.
Moreover, taking care of golden retrievers is not an arduous task. They are obedient and intelligent, so training them will be easy. As a puppy, take care of them as you care for a toddler. Make sure you provide them premium dog food to grow strong and expose them to proper socialization to prepare them to meet your kids.
Bull Terrier
The bull terrier has a sweet-looking appearance with it's distinct head shape. They are sweet and strong-willed with a combination of affectionate nature. This breed is a good entertainer with its fun personality. Moreover, they are highly trainable and loyal. Just ensure that your kid does not overstimulate them during playtimes.
Like other people, sometimes dogs also need their own space and time. Also, bull terriers require low grooming needs. They have generally strong teeth, so you can brush them at least twice a week after feeding them with a good meal.
Vizsla
Vizslas are relatively active dogs. They will be a good partner for highly energetic kids. So, if you also have a backyard where they can freely run, they will be good company for your active child.
You might be concerned about their cheerful disposition, but they are probably one of the gentlest types of dogs you will meet. They understand bonds and are loyal to their family. You will also not have to worry about maintenance because vizsla dogs have short coats.
Mastiff
The Mastiff is known for being a calm dog breed that is also smart and patient. It is dignified and is a good-natured animal. This breed is a good partner for your older kids, but it is not recommendable to be around toddlers because of its huge size.
Mastiffs are also good cuddle buddies, and it would be best to keep them monitored when playing with your kid because this lovable dog is sometimes unaware of its towering height. Although they are calm and kind, you still need to socialize them and properly introduce your kid to them carefully. It would be dangerous for its size if they get shy and fearful.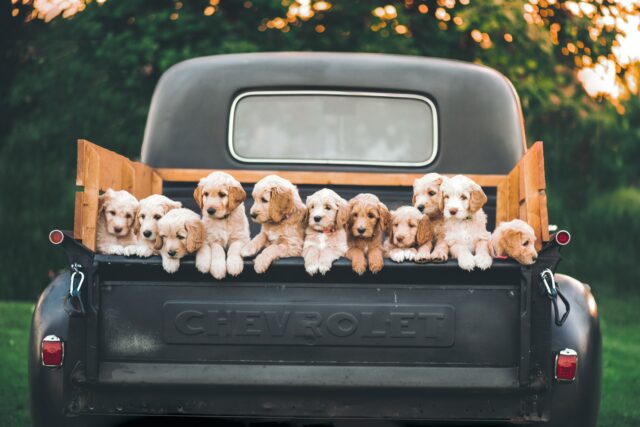 Labrador Retriever
This dog is a popular breed. Due to its kind and playful nature, it naturally made it to this list. Aside from these qualities, they are also patient, protective, and loving. This dog is intelligent and dependable, so that you can train them without a problem.
Labradors get well among other animals and with everyone they meet. You can be at ease with your kid and a labrador retriever. Just make sure that your dog can get enough room to run around and be active.
Beagle
You can consider that beagles like being around people. They are low-maintenance dogs that also get along well with children. Beagles are also active dogs and, at the same time, really patient. These qualities make them a good pet for families. There may be tendencies where they bark a lot, considering that they are hounds. Nonetheless, they are intelligent, friendly, and playful. You just need not forget to brush them to keep their coats healthy!
Collie
You may identify collies with their long face and large body covered with a long or short coat. They are known as the one-family dog that rarely gets aggressive. Additionally, collies are the gentlest with children. Despite being known as one of the kindest and good-natured dog breeds, they can get highly suspicious when a stranger approaches the child of its family. Aside from that, they are the calmest and love daily walks.
Newfoundland
The Newfoundland dog breed owns the title, "nature's babysitter." This breed is the smartest, and their love for children makes them highly protective of children. They are also affectionate and loyal, making them reliable and a good pair for your children.
Additionally, they are good swimmers and have water-resistant coats! It would be best to put water near them to keep them cool. Moreover, as they are intelligent, training them new tricks will not be a problem.
Pug
Pugs should make it to the top ten when talking about adorable dogs. With their cute and charismatic appearance, they easily attract people. They also do not come less with their fun and outgoing personality. Pugs have the quality of wanting to please their people, and they love spending time with them. With its small and compact size, you can rest assured when they are around your kids. Maintenance only requires close attention when bathing them.
Dog Breed Takeaway
Since most dogs are protective of their families, keep in mind that you should prepare your dog when introducing your child. Despite being good-natured, patient, and kind, they will constantly put their guards up when they are suspicious towards a person.
Consequently, ensure that your kid also treats your dog with respect and take care of them too. Dogs are members of the family. There is no reason why they can not get along with your baby.
[Read: How to Choose the Best Type of Dog for Your Family]
For more on this topic, check out the full Family Pet collection
---