Download, save, and print your own copy of this free potty training certificate printable!
Continue reading below for more potty training help…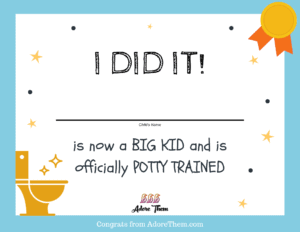 ---
Many parents dread the thought of potty training, and i can be hard to know where to start. This is why we have compiled a whole bunch of parenting advice on the topic of potty training!
GENTLE POTTY TRAINING
12 PARENTING TIPS FOR POTTY TRAINING SUCCESS!
In this article, Shari covers a whole bunch of parenting tips that will help you potty train your own child. Through potty training her boys, she came across these strategies that worked well for her family as well as other families that she shared them with!
Potty Training Help
Shari covers the following topics in more detail in her article: Gentle Potty Training – 12 Parenting Tips for Potty Training Success
Be sure to plan ahead before potty training
Take things one step at a time
Find a potty that works for your kid
Use the naked method for potty training
Get creative with activities while learning to use the potty
Make potty training fun
Use the right amount of praise for your particular child
Have your child drink plenty of liquids while potty training
Trust your kids and don't pester them too much
Give gentle potty reminders
Figure out the transition to clothes after potty training
Find a great travel potty
POTTY TRAINING ADVICE
HOW I POTTY TRAINED ALL 3 OF MY KIDS IN A FEW DAYS
In this parenting article, Karissa shares her best potty training advice as a mom of three kids who each potty trained in a matter of only a few days! Keep in mind that every child is different, but in this parenting article I'm sharing strategies that have worked well for each of my children – despite their differences.
Potty Train Quickly
Karissa covers the following topics in detail in her article: Potty Training Advice – How I Potty Trained All 3 of My Kids in a Few Days
Make sure your child is developmentally ready to potty train
Set the stage for potty training
Remain patient while teaching your child to use the potty
Stay dedicated to the process of potty training
Just go straight to underwear
Offer rewards when potty training (like this potty training certificate)
Occasional setbacks while learning to use the potty
For more on this topic, check out the full Potty Training & Pacifiers collection