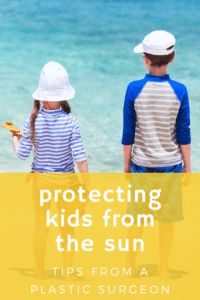 In the midst of summer these months mean days at the pool and family trips to the beach, while also meaning increased risk for sunburns. While sunburn may seem temporary, long-term exposure to UV radiation can cause severe damage, and with repeated exposure, potentially skin cancer. Read below for 5 tips from a plastic surgeon to protect kids from the sun.
---
This article is written by Dr. Glat, M.D.
For more on this topic, check out the full Summer Safety & Activities collection
---
To help parents keep kids safe in the upcoming months, experts from the Burn Center for Children, St. Christopher's Hospital for Children, share five tips to protect kids from the sun so that they can enjoy a sunburn-free summer.
Babies under six months should avoid sun exposure
Infants should be dressed in lightweight clothing covering exposed areas in the sun to prevent sunburn, as well as being kept in the shade whenever possible. If needed, parents should apply a very small amount of sunscreen to the baby's face and back of the hands.
[Read: Heat Related Illnesses]
Apply sunscreen to kids correctly
Make sure children apply and reapply broad-spectrum sunscreen with an SPF of 15 or higher throughout the day. A general rule is to reapply every two hours and after taking a swim or sweating. Kids should apply about one ounce per application of sunscreen to their face, arms, legs, and anywhere that is exposed.
Choosing the correct kind of sunscreen makes all the difference. There are many sunscreen brands out in the market, but not all of them are ideal for kids' delicate skin: the fewer the chemicals, the better and the gentler. Organic sunscreen is best because they contain milder and more natural ingredients that are less likely to irritate kids' skin.
Look for a sunscreen that contains 21 percent zinc oxide. This provides broad-spectrum sun protection and helps prevent skin cancer. Blue phytoplankton also protects the skin from damages caused by blue light exposure, especially if your kids are fond of using gadgets or staying in front of the television for hours.
Another ingredient to watch out for is microalgae to shield the skin from pollution. Lastly, look for rice starch because it prevents excessive oiliness for a light feeling and natural-looking finish.
[Read: The Science of Sunscreen]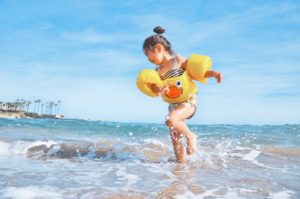 Avoid direct sunlight as a family
Limit sun exposure during peak intensity hours of 10 a.m. and 4 p.m. Remember, just because it's cloudy does not mean kids shouldn't wear sunscreen or protective clothing. The sun's UV rays can still burn your child's skin in overcast weather.
[Read: Beat the Heat – Indoor Summer Activities for Families]
Don't forget to wear sunglasses and hats
Sunglasses should provide 97%-100% protection against UVA and UVB rays, and hats should have a wide brim or a bill – like a baseball hat – to provide maximum protection.
[Read: How to Safely Prepare for the Pool]
Sun protection isn't only for the beach or pool
Though water and sand both reflect UV rays and may result in sunburn more quickly, sunburn can occur anywhere. Help children create healthy habits by ensuring they practice sun protection every day to avoid burning at summer camp, playing outdoor sports or visiting the park.
[Read: Summer Activity Ideas for Kids]
For more on this topic, check out the full Summer Safety & Activities collection
---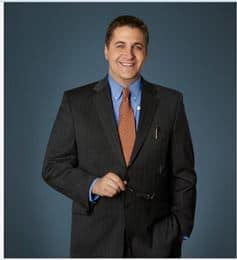 Featured Contributor: Dr. Paul Glat, M.D.
Dr. Glat is a Board Certified Plastic and Reconstructive surgeon from the Philadelphia area. Dr. Glat attended medical school and completed residency training in General and Plastic Surgery at New York University (NYU). He completed a fellowship in Craniofacial surgery at UPenn. Dr. Glat is now a Professor of Surgery at Drexel University College of Medicine as well as the Chief of Plastic Surgery and Director of the Burn Unit at St. Christopher's Hospital.