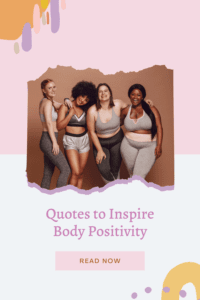 15 Quotes to Inspire Body Positivity + Free Printables
Body positivity is one of those buzzy new terms that pop up in Instagram hashtags and Pinterest posts. But at its heart, body positivity is the notion that everyone should have a positive body image. This is regardless of how society and popular culture have defined the "ideal" body shape or size.
Most of us struggle with feeling comfortable in our own skin. Whether it comes in waves or it's something you experience every day, there are steps you can take to treat your body with more kindness and develop a healthy love for yourself. 
One way to do that is by carving out time for yourself. Self-care is a great way to do this and can be done in such a wide variety of ways, making it perfect for someone that's short on time or is unsure of where to begin. This could include something as simple as 15 minutes of journaling each morning. 
---
For more on this topic, check out the full Self Care collection
---
Body Positivity Affirmations
You can also start or end your day with affirmations. This can help you develop a positive mindset and ward off negative thoughts. Start by repeating an affirmation out loud about ten times each day — you could do this all at once or throughout the day.
This free printable can help you get started with daily affirmations. Print these out, frame them, hang them around your house, or simply save them as your phone's wallpaper! These daily reminders will help put you in a more positive mindset.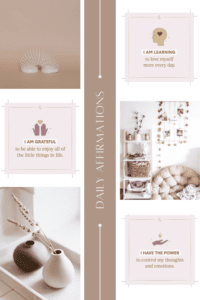 ---
Quotes to Inspire Body Positivity
Another way to develop body positivity is to remind yourself that others experience this, too! We rounded up 15 quotes to help remind you of how other famous figures and experts have grown their own body positivity.  
"Since I don't look like every other girl, it takes a while to be okay with that—to be different. But different is good." — Serena Williams, Professional tennis player
"There is no cosmetic for beauty like happiness." — Maria Mitchell, Astronomer
"Each individual woman's body demands to be accepted on its own terms" — Gloria Steinem, Journalist & Activist
"I've learned that if you're too skinny, they'll say something about it. If you're not skinny enough, they'll say something about it. I just try to feel good in my own skin as much as I can." — Jennifer Love Hewitt, Actress
 "Life is way too short to be focused on scales, weight and cellulite. If you can look in the mirror and know that you're a beautiful, loving, friendly person who's good to people, that'll ultimately make you shine on the outside."  Teresa Palmer, Actress
"I am allowed to look sexy, feel sexy, and be in love. I am worthy of all those things. And so are you." — Mary Lambert, Singer
"I can't think of any better representation of beauty than someone who is unafraid to be herself." — Emma Stone, Actress
"As a child, I never heard one woman say to me, 'I love my body'. Not my mother, my elder sister, my best friend. No one woman has ever said, 'I am so proud of my body.' So I make sure to say it to my daughter because a positive physical outlook has to start at an early age." — Kate Winslett, Actress
"Even though it will never be flat again, my stomach's still my favorite because it reminds me of my greatest achievement: my babies." — Isla Fisher, Actress
"This body is fierce, strong, and unapologetic" — Mirna Valerio, Author & runner
"Being a healthy woman isn't about getting on a scale or measuring your waistline. We need to start focusing on what matters — on how we feel, and how we feel about ourselves." — Michelle Obama, Activist & former First Lady
"If you aren't good at loving yourself, you will have a difficult time loving anyone, since you'll resent the time and energy you give another person that you aren't even giving to yourself. — Barbara De Angelis, Author & consultant
"Finding balance as a mother means accepting your imperfections." — Mary Organizes, Influencer
"Don't waste so much time thinking about how much you weigh. There is no more mind-numbing, boring, idiotic, self-destructive diversion from the fun of living." — Meryl Streep, Actress
"People often say that beauty is in the eye of the beholder, and I say that the most liberating thing about beauty is realizing that you are the beholder." — Salma Hayek, Actress
For even more body positivity quotes, check out Tommy John's roundup of quotes for men and women of all ages. And remember that feeling comfortable in our own skin is a lifelong journey, but one that we're all on together. 
---
For more on this topic, check out the full Self Care collection