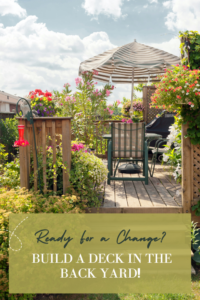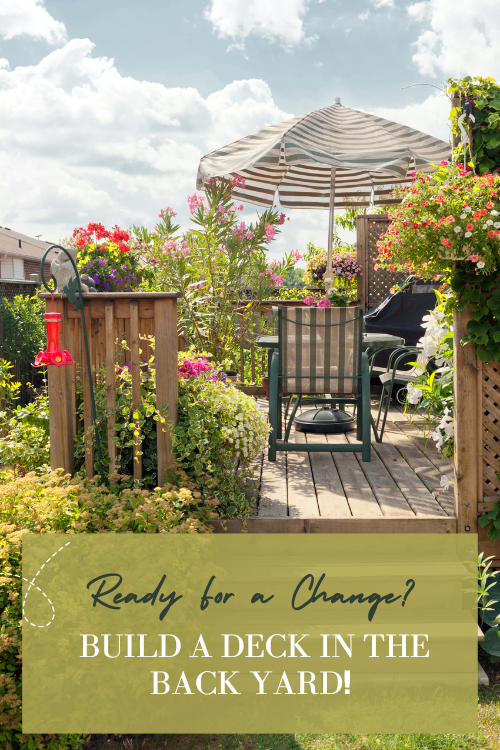 Is there really anything better than opening the back door of your home and walking out onto warm, sunlit decking? Taking your breakfast and morning drink out to the table you've set up and enjoying every single moment in the sun? Absolutely not! Hearing those birds sing while you eat is a whole new kind of happiness and that starts with designing and planning a deck that you and your family can enjoy. Keep reading below to learn what to consider when adding a deck to your backyard.
---
For more on this topic, check out the full Family Home collection
---
Reasons to Build A Back Deck
Not only does decking add an amazing entrance to your garden, it's going to give you an inviting, exciting area to relax in as well. Another bonus is that it offers somewhere to entertain others. Decking makes the garden a more functional space and with the help of companies like Clear Amber Shop, you can ensure that you have the right materials from the get-go. With planning help, you can ensure that the decking you design is everything you need it to be: functional, versatile, resilient and waterproof! So, with that in mind, here are 8 reasons why a new deck is going to revolutionize your backyard.
You extend your living space
Most people have a deck that goes from the back yard and extends outwards, creating a seamless transition from the living room into the outside without any blockage. If you want to add on some extra living space, decking is the option that you need. You can use the space to entertain friends. Or simply just lay back on a daybed and relax! You get that extra living space that looks good. And you can color match the material with the flooring in your living space, too. This design feature adds that aesthetically pleasing transition from one living area to the next.
You add more to your entertainment
Are you a fan of having friends round for a BBQ? Well, with a decking, you are able to offer the perfect space to support and entertain. They can sit at the new table or the outdoor suite and elevate the space to a more entertaining, exciting area to be. It helps during events, too, as you can just throw the doors open and allow everyone to spill outside into the world.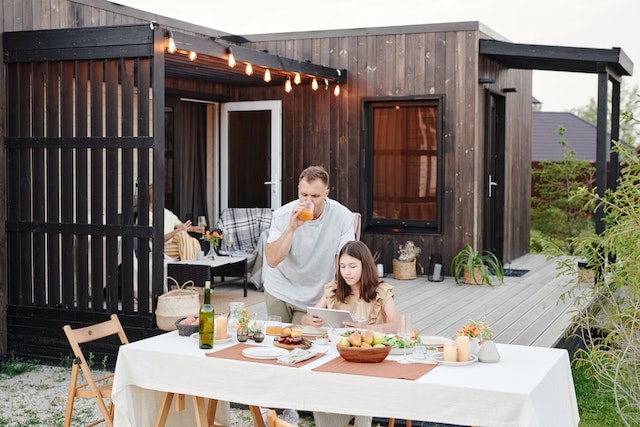 It's super easy to keep clean
Decking is very easy to clean, but don't go crazy with a pressure washer. You can regularly sweep it up and use a bucket or two of hot water with a mop to get rid of excess dirt. Keeping the debris off of the surface is the best way to ensure that your decking stays looking as good as the day that you install it.
The best part about investing in good decking for the backyard is that it's going to really stand the test of time. It's made of a strong, durable material and that means that no matter how much traffic it gets, it's going to last. If you want a solution for the outside that stays looking great and remains in the best condition, you are going to make the right choice with decking.
You get to give your garden a natural look
When you choose timber decking, you get to give your garden a natural look and it's going to be beautiful. It will complement your home as well as your garden, and because timber decking is made with real wood, you add texture and break up the endlessness of lawns or gravel. You can choose many different styles or designs with decking, too, so you will always find something that'll suit your tastes. It's a good way to invest in your home, too, and you can paint your decking in outdoor paint to match the existing decor you have.
Added value
The easiest reason to make a change in your home for added value is that you are looking to increase how much your home is worth. You will find this to be a really attractive selling point for your house and you will attract a lot of buyers. Potential buyers are always willing to pay more for decking because they won't have to later on! It's an investment that makes your house more enjoyable while you're in it, and then adds that value when you go to sell up.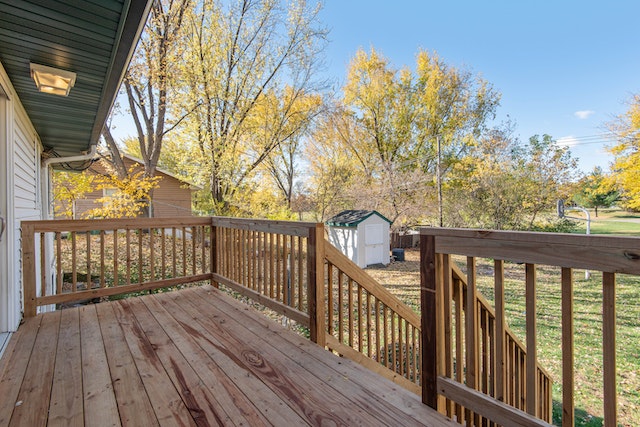 It's super good for the environment
Decking, especially wooden decking like timber, is great for the environment. That means you can feel good about using it for building and not just worry about your impact. Composite decking is also a good option because it's made from materials that are almost 90% recycled. That will ensure that you are using a sustainable option, a durable one and one that the environment will thank you for. This decking is going to add so much to the house so you have to think about the fact that you want this to be sustainable, too.
It doesn't actually matter the shape or form your decking takes, it's so versatile. It's got the potential to transform your exterior space massively and you can bring so much warmth and texture to your backyard. You don't have to keep your garden looking like a concrete jungle or a single patch of lawn. The addition of decking is going to elevate the look and the feel of the space. If you have a pool out there, especially, you can extend the decking around the pool and create an amazing walkway.
These are just eight reasons to add a decking to your garden if you want a change. But there are so many more out there. You can choose any or all of these reasons to add new decking to your house. Because either way, it'll last for years and give you a beautiful space to live in both inside and outside. If you're feeling inspired, why not speak to an outside designer and talk through the materials that you could be using for your garden. Are you ready for a change?
For more on this topic, check out the full Family Home collection
---