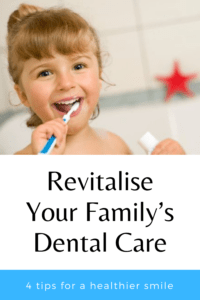 Having excellent dental hygiene is paramount in both the health side of things and the self-confidence side. Making sure your family dental care plan is the right one is easier than you may think, with just a few key points to consider. Continue reading below to find out how you can revitalise your family's dental care.
---
For more on this topic, check out the full Staying Healthy collection
---
Consistency is Key
Prioritizing dental hygiene for your kids can be as simple as making sure their trips to the dentist are regular. It is recommended that dental check ups take place between 6 months to one year. Of course, it's ideal to have some great products in place too. Depending on whether the children have sensitive teeth or not, there are a number of different kinds of toothpaste tailored towards kids. When trying to ensure you have made the right decision, it's worth asking for some advice from your dentist as to what toothpastes may be best for their developing teeth. It is ideal to select one with fluoride in it, because fluoride helps to prevent tooth decay.
And of course – don't forget to floss! Flossing twice per day is the recommended amount. It has been proven to help reduce plaque levels and reduce the risk of gum disease.
Invest in a Happier Smile
Our teeth strongly affect our confidence. So a better smile is bound to improve happiness. When growing older, many adult's teeth begin to move and become more crooked. This happens even if you wore braces as a child (possibly as a result of not wearing that cursed retainer!). The good news is – you can visit a Fabulous Family Cosmetic Dentist to address any of your aesthetic concerns surrounding you and your children's teeth. These types of treatments can be an excellent way to improve confidence, leading to bigger smiles all round.
Get Into The Right Habits
Getting into some good habits for top dental care will show your little ones how it's done. They will likely mimic your actions and pick up these habits themselves. One of these is making sure to brush for two minutes. We all know that while this doesn't sound like a long time, when you're brushing your teeth, it feels like forever. If you're brushing your teeth at the same time as the kids, try finding a 2-minute long video and watching it together. This way, the two minutes will fly by, and you'll have fun while brushing. This turns the repetitive experience into something more enjoyable and exciting.
Cut The Sugar
Having lower levels of sugar intake is a clear and straightforward way to improve oral care. High sugar intake is the leading cause of cavities in children, an unpleasant situation which anyone would want to avoid. The foods to dodge are mainly sweets and carbonated drinks. Avoiding sugar doesn't mean you and your kids can't enjoy the good things in life, but just make sure you enjoy them in moderation. Compromising your dental health isn't worth the hassle, and better hygiene will lead to healthier, happier lives.
For more on this topic, check out the full Staying Healthy collection
---