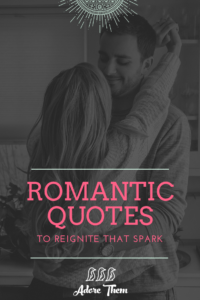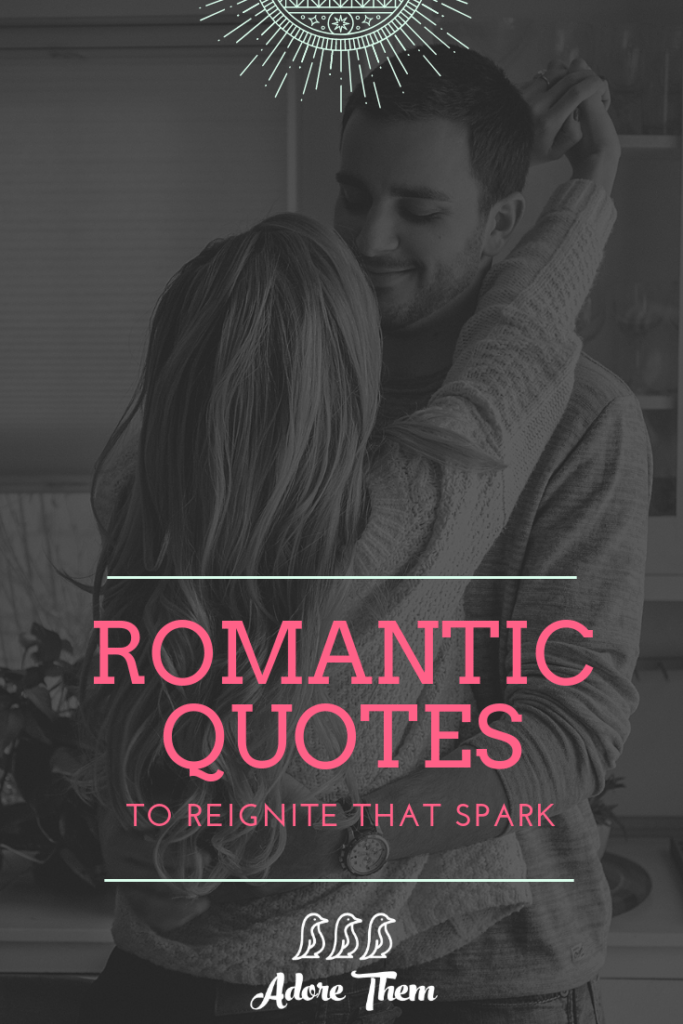 It can be easy to get stuck in the day-to-day cycle of juggling adult responsibilities – raising kids, running errands, cooking, cleaning, working, etc. And when you are so busy, the last thing on your mind is love quotes for your wife, or trying to reignite some romance with your husband!
Which is why it is so important to take the time to remember that romance exists. Reading through these love quotes made me remember just how much I love my husband, and how lucky I am to have him in my life! They reminded me of the overwhelming passion that ignites in the beginning of a relationship. And more importantly, it reminded me that that passion is still there (maybe just buried under a pile of mental laundry).
---
For more on this topic, check out the full Be My Valentine collection
---
Love Quote Ideas
Be sure to save your favorite love quotes for your wife or husband or yourself to look back on later as well. And feel free to take these as inspiration to get creative…
Write a love quote on a chalkboard to hang on your wall
Create a new phone background using your favorite quote and send it to your partner too
Write your partner a letter about why the quote stood out to you
Head to Etsy where there are tons of talented people that offer custom creations
Or simply text your favorites to your partner!
I hope the romantic quotes below inspire you to set some time aside for the person who loves you through it all!
---
Love Quote Samples
Love Sentences:
"And in her smile I see something more beautiful than the stars."
––Across the Universe by Beth Revis
"Love lets you find those hidden places in another person, even the ones they didn't know were there, even the ones they wouldn't have thought to call beautiful themselves."

––Wild Awake by Hilary T. Smith
"I don't care how hard being together is, nothing is worse than being apart."

––Starcrossed by Josephine Angelini
"So, I love you because the entire universe conspired to help me find you."
― Paulo Coehlo
"If I had a flower for every time I thought of you … I could walk through my garden forever."
― Alfred Tennyson
"You don't love someone for their looks, or their clothes or for their fancy car, but because they sing a song only you can hear."
― Oscar Wilde
"Once upon a time there was a boy who loved a girl and her laughter was a question he wanted to spend his whole life answering."
― Nicole Krauss, The History Of Love
"Any man who can drive safely while kissing a pretty girl is simply not giving the kiss the attention it deserves."
― Albert Einstein
"It was love at first sight, at last sight, at ever and ever sight."
― Vladimir Nabokov, Lolita
"You are the one girl that made me risk everything for a future worth having."
― Simone Elkeles, Perfect Chemistry
[ Read More: 245 Quotes about Love ]
---
Love Phrases:
"It's one thing to fall in love. It's another to feel someone else fall in love with you, and to feel a responsibility toward that love."
––Every Day by David Levithan
"I never loved you any more than I do, right this second. And I'll never love you any less than I do, right this second."
––Beautiful Creatures by Kami Garcia, Margaret Stohl
"I want everyone to meet you. You're my favorite person of all time."

––Eleanor and Park by Rainbow Rowell
"I knew the second I met you that there was something about you I needed. Turns out it wasn't something about you at all. It was just you."

––Beautiful Disaster by Jamie McGuire
"I love you without knowing how, or when, or from where. I love you simply, without problems or pride"
― Pablo Neruda, 100 Love Sonnets
"Here it's safe, here it's warm, here the daisies guard you from every harm, here your dreams are sweet and tomorrow brings them true,
here is the place where I love you."
― Suzanne Collins, The Hunger Games
"When someone loves you, the way they say your name is different. You know that your name is safe in their mouth."
― Jess C. Scott, The Intern
"Love has nothing to do with what you are expecting to get—only with what you are expecting to give—which is everything."
― Katharine Hepburn, Me: Stories Of My Life
---
Love Quotes:
"So it's not gonna be easy. It's going to be really hard; we're gonna have to work at this everyday, but I want to do that because I want you. I want all of you, forever, everyday. You and me … every day."
― Nicholas Sparks, The Notebook
"There are two basic motivating forces: fear and love. When we are afraid, we pull back from life. When we are in love, we open to all that life has to offer with passion, excitement and acceptance."
― John Lennon
"Remember to hold hands and cherish the moment for someday that person might not be there again. Give time to love, give time to speak! And give time to share the precious thoughts in your mind."
― Bob Moorehead
"Love is a decision; it is a judgment; it is a promise. If love were only a feeling, there would be no basis for the promise to love each other forever. A feeling comes and it may go. How can I judge that it will stay forever, when my act does not involve judgment and decision."
― Erich Fromm, The Art Of Loving
"I fell in love with her courage, her sincerity, and her flaming self respect. And it's these things I'd believe in, even if the whole world indulged in wild suspicions that she wasn't all she should be. I love her and it is the beginning of everything."
―F. Scott Fitzgerald (on his wife Zelda)
---
Short Love Paragraph:
"Love is a temporary madness, it erupts like volcanoes and then subsides. And when it subsides, you have to make a decision. You have to work out whether your roots have so entwined together that it is inconceivable that you should ever part. Because this is what love is. Love is not breathlessness, it is not excitement, it is not the promulgation of promises of eternal passion, it is not the desire to mate every second minute of the day, it is not lying awake at night imagining that he is kissing every cranny of your body. No, don't blush, I am telling you some truths. That is just being 'in love', which any fool can do. Love itself is what is left over when being in love has burned away, and this is both an art and a fortunate accident."
― Louis de Bernières, Captain Corelli's Mandolin
Short Love Paragraph:
"To love at all is to be vulnerable. Love anything and your heart will be wrung and possibly broken. If you want to make sure of keeping it intact you must give it to no one, not even an animal. Wrap it carefully round with hobbies and little luxuries; avoid all entanglements. Lock it up safe in the casket or coffin of your selfishness. But in that casket, safe, dark, motionless, airless, it will change. It will not be broken; it will become unbreakable, impenetrable, irredeemable. To love is to be vulnerable."
― C.S. Lewis, The Four Loves
For more on this topic, check out the full Be My Valentine collection
And if you need even more love quote inspiration, check out this Goodreads list of tagged quotes!
---