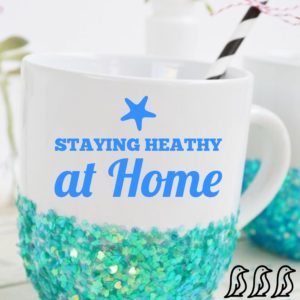 This article is written by Michelle Brubaker
For more on this topic, check out the full Staying Healthy collection
Staying healthy in the winter can sometimes seem like a waste of time with the onslaught of germs and bacteria that we come into contact with. If you're feeling like you can't catch a break this winter, take a look at these ideas to help keep your family healthy at home!
---
One of the easiest ways to stay healthy is to examine your family's nutrition. During the winter, it's so easy to get caught up in comfort foods and over-eating. No one will be seeing your legs in shorts anytime soon and so a lot of times we hibernate a bit, maybe even take a break from healthier habits. Fruit and veggies may seem a little less plentiful because less is in season. We all have excuses for eating the way we do. It's a lot easier to eat unhealthy foods, that much is true. But what we put into our bodies is what we get out of them. Food is fuel. Which type of fuel are you choosing?
I find it very helpful to limit sugary snacks and excess dairy in the winter. Especially when you or your children are fighting colds and runny noses. Sugar feeds the germs. Dairy slows the processes in our bodies that eliminate mucus. So even for a week, taking a break or reducing your intake of those two things will have an effect on your wellbeing. Switch from sugary drinks to water, or water with lemon juice. Make a veggie platter for an after school snack instead of cookies. Start slowly swapping unhealthy foods with healthier options and you are sure to see a difference! Hydrating with water is so very important to keep our bodies healthy and it's no different this time of year! So drink up! Buy a fun cup, add some natural flavorings and get sipping!
Antioxidant rich foods are important because they keep our bodies healthy by neutralizing the free radicals in and around our cells. They support healthy cell function and when it really comes down to it, our bodies are just a mass of different types of cells! It's important to keep all of them functioning at their best, right? Elderberry syrup is a convenient option for adding antioxidants to your diet and it tastes great, too!
Vitamins and Minerals are important during all times of the year, especially winter where our daily intake of healthy foods slows a bit. Taking a vitamin/mineral supplement can fill in the gaps that your body is missing from the food you eat. It's also helpful to take an omega 3 supplement. This is really great for both adults and children, feeding the brain. You can omega blends in liquid or tablet form, it's easy to add them to smoothies or have your children take a spoonful.
Probiotics are also a great way to keep our digestive systems balanced and healthy. Our digestive system is very closely tied to our immune system. If our gut is out of whack, our immune system is out of whack. Pre and pro biotics help to establish a healthy biome of bacteria. They are good bacteria! Yogurt, Kefir and Kombucha are the easiest way to get some good bacteria into our systems. When choosing yogurt, opt for low sugar options though to stay in line with our goal of reducing our sugar intake and remember to take a break from yogurt if you're dealing with a lot of mucus.
Vitamin C is a well-known remedy to help our bodies stay healthy and recover faster from illness. It supports our body's immune system and the immune system is truly the command center of the body, if you will. When your immune system is functioning properly, all other systems are go! If the immune system is off, some systems are lagging and may need extra support. Vitamin C is also known as ascorbic acid and is available in a powder form to add to water and other beverages.
Next up is our hygiene. Hand washing is very important all the time, not just during the winter. But we spend a lot more time indoors in the winter, and germs and bacteria don't get aired out as much, leading to build-up. Our bodies do have a natural biome of bacteria but we want to keep that in balance. Much to many individual's surprise, it's actually beneficial to bathe every few days, as opposed to every day. If you still give your children baths, consider adding Epsom salt and Vitamin C directly into the water. Epsom salt contains magnesium which also supports a healthy immune system and can help with lymphatic drainage! And Vitamin C can help to neutralize some of the chlorine in the water to minimize exposure to that harmful chemical.
Hand in hand with hygiene is cleaning frequently used toys. Some parents load up the dishwasher and run the water-safe toys to sanitize them. I simply make a spray bottle filled with water and essential oils. Certain essential oils are naturally antibacterial (citrus oils like Lemon or Lime, Melaleuca (Tea Tree) oil, Rosemary oil, and more) and help to neutralize germs (and odors) with a pleasant and non-toxic approach to sanitizing! You can also use this as a hand sanitizer at home or on the go! Reducing your toxic exposure to harmful chemicals will allow your body to work on more important bodily functions and not spend precious energy trying to remove those toxins from your cells.
One easy thing to do in the winter to stay healthy is to run a humidifier. If your house doesn't have one installed already, get one for the main living area and one for each bedroom. Increasing the moisture in the air supports healthy respiratory functions, allowing our airways to process germs and bacteria more effectively. If you're using essential oils and you own a diffuser, it will disperse some water into the air but not as much as a humidifier. Consider having both. They each have their own benefits but the main purpose of a diffuser is to disperse essential oils into the air.
Last but not least, exercise is a great way to keep your body healthy at home! Get the blood pumping by taking a walk, an exercise video (youtube is a gold mine), dancing around the living room or any other form of activity that gets your heart rate up! This raises your endorphin levels and helps your body de-stress a little bit. We all know how unhealthy stress is! Bonus points if you sweat! Sweat helps our bodies release built up toxins and can also be good for our skin!
It's so easy to focus on big picture stuff in our lives but taking these small measures will have a large impact on your overall health and wellbeing. It may be overwhelming to incorporate all of these ideas into your daily lives, but choose a couple you think would be easy to do and get started! Your body will thank you with better health and wellbeing!
Check out Michelle's free Printable checklist that you can hang up in your own home to remind your family these wonderful tips for Staying Healthy at Home!
For more on this topic, check out the full Staying Healthy collection
---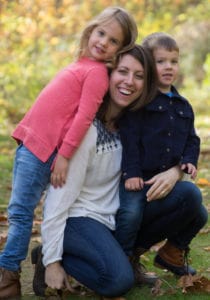 Featured Contributor: Michelle Brubaker
Michelle is a health and wellness enthusiast, specializing in essential oils. She loves empowering individuals and families in their journey to a healthier life. She lives in East Petersburg with her husband, Alex and children, Scarlett and Zavier.
You can reach Michelle at: