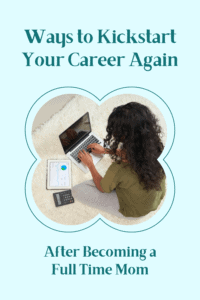 You might have changed careers recently, be a full time working mom, or planning to return to work after maternity leave. Trying to juggle full time childcare with your own career can feel like a daunting prospect! But at the same time you do not want to give up on any passions you have in life, or the ability to try out a new job just because you are a mom now. So it is important to remember that your happiness counts too. Here are some ideas to help you kickstart your career again after becoming a full time mom.
---
For more on this topic, check out the full Work Life Balance collection
---
Ways to Kickstart Your Career Again After Becoming a Full Time Mom
Start Your Own Business From Home
You might be quite a creative person and have a great idea for a new product that you could launch from the comfort of your home. The flexibility of working from home and looking after the kids when they are not in school could work out well. You could start by joining an online website and selling your products there to begin with, to see if you enjoy the idea before spending a lot of money to set up the business. This will allow you to see how you cope with the demands as well.
[Read: 9 Ways to Be More Productive While Working From Home]
Good at Selling
If you are good at talking to people, and even better at selling, then why not venture into real estate? You would not need a degree for this. It simply requires you to take some classes and an exam to obtain a license to become a real estate agent. Typically this takes about 6 months, and you are good to go. The pay can be very good as well.
Return to School
If you miss studying and want to get back into it, you could look at courses that would allow you to partly learn from home. Then when the kids are in school you could attend any in-person classes.  If one of your skill sets is that you have the ability to help others and listen to their problems, then perhaps you could consider between available occupational therapy degrees that would fit into your current childcare routine.
Creative Role
Perhaps you have always wanted to write your own book or start your own blog to share your experiences about being a mom. This would allow you to share how you are raising your children, or you could focus on one of your specific interests. You could start freelancing as a writer which is a great way to work around a schedule that suits you while also allowing you to tap into your inner creative side. Who knows, you might even find that once you get going you wish you had started this sooner!
The World of Fitness
You might have found a new love for all things fitness during lockdown and are now feeling inspired to become a fitness instructor or yoga teacher. You would need to take a course and complete an exam before you are fully qualified. But it would certainly be easy to set up tutorials from home once you are qualified by streaming through your social media page to attract clients.
For more on this topic, check out the full Work Life Balance collection
---