I don't know about you, but keeping my family fed feels like one of the most daunting tasks. And it's something that I have to do day after day, week after week. There are so many steps to keeping everyone fed that as soon as I get off track it is hard to catch back up! Keeping up with a weekly meal plan is so helpful. It only takes me a few minutes to fill in the blanks, and then I don't have to think about it for the rest of the week! Download this free printable for yourself below…
---
Free Printable Weekly Meal Plans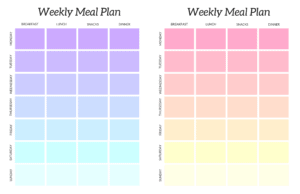 ---
Recipes for a Weekly Meal Plan
This free meal planning printable is only a start… now you need to add some recipes!
Favorite Family Meals
---
Weekly Planning and Time Management
Being a mom is very rewarding, and yet it is also the hardest job in life! Weather you are a stay at home mom, a work from home mom, a work out of the house mom, a single mom, a married mom, a caregiver, or any other combo; trying to juggle life and raise a little one has its challenges! But don't get me wrong, I would not change it for the world! But I got to a point where I needed to find a better solution for how to organize my focus, which is why I began implementing this strategy that helps with time management for parents.
A few years ago, I tried to come up with a system that would allow it all to feel a bit more manageable. Through lots of trial and error, we have found a system that works for us in this current phase of life. We still don't get it right 100% of the time. But I can honestly say that I feel better in control of my time now than I did a few years ago.