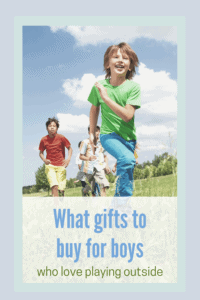 If you've been tasked with buying a present for a little boy who loves nothing more than running around in the garden, you might be coming up short. These types of children typically make their own fun by playing hide and seek. Collecting sticks and leaves. Or striking up friendships with other neighborhood kids. But don't worry, this article will have plenty of boys gift ideas to help you find the perfect toy for this very special child in your life.
---
For more on this topic, check out the full Gift Giving collection
---
Sports equipment
This is probably the most obvious idea on the list. Sports equipment is a classic for all boys who like spending time outdoors. But if they already have the basics like a football and a frisbee, it's time to get creative. Think about buying them a couple of cricket bats and wickets. Or even a badminton racket set and a net that can be easily stored away when not in use. Now there are leashes for soccer balls to practice kicking. Football accessories like a set of gloves or a kicking tee. There really are a lot of possibilities and sports related items that kids will love.
[Read: Gifting Experiences (instead of toys)]
Metal detector
There's nothing more exciting for kids than a trip to the beach with a brand new metal detector. If the little one in your life loves exploring rock pools and looking for shells, a metal detector could make them feel like a real explorer. While you might not find anything incredibly precious, you might come across a few bottle caps that are sure to leave kids feeling like they uncovered hidden treasures.
Kite
A classic childhood toy that's often overlooked is kites. They can be used just about anywhere. Whether you're going out for a hike, to the park, or down to the coast; a kite can provide hours of fun for the whole family. With so many different designs available, you're sure to find one that your child will get excited by. This could be a kite shaped like a pirate ship or one that looks like a hot air balloon. Whichever you choose, you can bet your little one will be thrilled once you get it up in the air.
Science kit
While a science kit might not be an obvious choice for a boy who loves to play outside, there are lots of kits designed to be used in the garden. Microscopes can be used to look at leaves and bits of soil your child collects outside. While butterfly gardens can be used to observe caterpillars that will eventually spread their wings. Young boys who love exploring will also appreciate a nature trail. So consider buying them a book where they can document the plants and animals they spot along the way.
[Read: 30 Science Experiments for Kids] 
Trampoline
If it's a big birthday, you might want to splash out and get your little one a bigger gift. A trampoline, no matter how big, is sure to stand the test of time and be a source of enjoyment for kids for years to come. Your child will finally have a way to use up all that energy they seem to have. Just make sure you pick one with a safety net to avoid any accidents.
ATV
Have you ever heard of ATVs? These are 4 wheeled vehicles that kids can ride on around the home and garden. Boys who love to play outside will definitely go crazy over it. It will also give them a sense of freedom and ownership. There are a plethora of 4 wheelers for 12-year-olds and kids of different age ranges. If your kid has a little experience with bicycles and other similar ride-on vehicles, an ATV will be safe and easier to master.
For more on this topic, check out the full Gift Giving collection
---