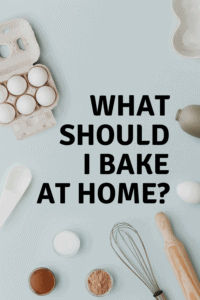 In times like this, we are looking for comfort, which often means finding new fun comfort foods to eat! Food is great to experiment with, and we hope that you've found a new passion in the kitchen. More and more people are interested in learning to bake at home, which can be a great hobby while stuck inside!
Baking is one of the best ways to get your hands on some sweet treats. Sure, you could go to the store and find a ton of pastries, cakes, sweets, or whatever else you might be craving. But baking is fun, and it's good to get in the kitchen and see what you can make. Chances are, it's always going to taste better when you've made it yourself! So keep on reading if you're looking for a little bit of inspiration.
---
For more on this topic, check out the full Staying Home collection
---

Small Sweets to Bake at Home
They say that the best things come in small packages. And we definitely believe that to be true when it comes to sweet treats! Tiny sweet treats are fun to eat and perfect for tea parties with your kids or a quick dessert after dinner. Brownies, cupcakes, shortbread, and even donuts are great options for little desserts! Learn how to make an old fashioned donut – it's much easier than you might think and might quickly become a family favorite.
And if you're looking for other sweet breakfast options, learn how to make grain free pancakes!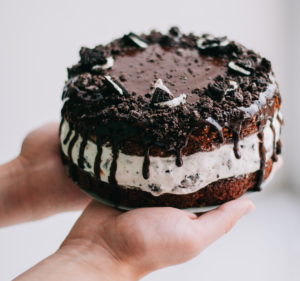 Crazy Cake Designs to Make at Home
Now is the perfect time to experiment with crazy cake designs! Try something new, and if it looks terrible, it will still taste delicious. You could go for a fruity strawberry cake design and have strawberry sauce dripping down a towering cake. Or make the biggest, silliest looking chocolate cake your kids can think up! Decorate it with oreos, kit kats, and other favorite chocolate candies. Messy, crazy cakes are fun and easy for the whole family to bake at home!
Go check out more party planning ideas!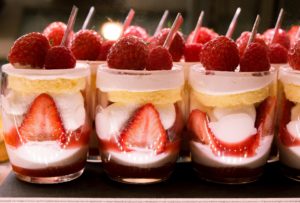 Simple Treats to Bake
Finally, why not just keep it simple. A really easy treat to bake at home is Eton Mess, which is a traditional English dessert. All you need is cream, meringue, fruit, and whatever sauce you want. It's ready within minutes and a quick treat you can whip up pretty much any time of the day. They look adorable served in small glass cups, and they are both sweet and refreshing to eat!
Read how to incorporate simple treats into the perfect coffee date!
For more on this topic, check out the full Staying Home collection