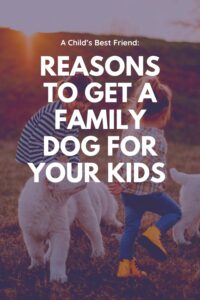 Reasons To Get A Family Dog For Your Kids 
If your house is full of kids, and your days are riddled with busy schedules, the last thing on your mind may be getting a family dog. From puppy training, to food expenses, walks, veterinary trips, and more! Adopting a dog may seem like too much time and effort. However, while getting a dog will also bring many new responsibilities; the happiness and love they will bring to your family will make it all worth it! Not only will your new furry friend provide loyalty and companionship, but they will provide numerous benefits for your kids.
So if you are on the fence about getting a dog, here are the top reasons to bring one home to your kids today.
---
For more on this topic, check out the full Family Pet collection
---
Companionship
One of the best things about having a dog is companionship. Whether you have multiple kids, or an only child, your kids will view your dog as another sibling that is always there for them.
According to studies, dogs can render depression, ease stress and anxiety, and help people feel less lonely.  In addition, they are a friend who won't go away. Since dogs are always in a joyful mood, getting a dog will help your kids when they are angry, hurt, sad, lonely, or scared by offering them love and support in a nonjudgemental way.
Keep Kids Active
If you have a hard time getting your kids to go play around outside, getting a family dog could help them be more active. On top of needing to be walked on a daily basis, dogs love to run, jump and play. Which can encourage your kids to do the same. Having your kids play fetch and tug of war with your dog will help them get the exercise they need and live a healthy lifestyle while having fun.
Teach Responsibility
It is no secret that dogs are a lot of work. However, if your kids are old enough, finding a great family dog is a great way to teach them valuable lessons in responsibility. Before you get a dog, consider sitting your kids down and explaining all the work they entail. Tell them the only way they can have a dog is if they help walk them, feed them, clean up the dog poop, and help groom them.
This will teach kids that everything in life requires hard work. It will also show them how important it is to care for another living thing.
---
Free Pet Printables
What's included in this pet information kit?
In this free download, you'll find a variety of resources to help your family care for you pet!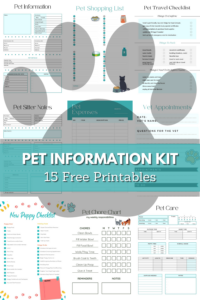 ---
Dogs Offer Protection
It is no secret that dogs are protective of their family. Getting a family dog will help your kids feel safe, especially if they just turned old enough to start staying home alone while you run errands.
For example, robbers are much less likely to break into a home with a dog for fear of being attacked. Dogs will always be ready to bark, protect, and defend your home and your children.
They Instill Confidence
They provide so many benefits, and all of the benefits add up to improving one's confidence. For kids, confidence is such an important factor in life as it sets the tempo and tone for the rest of their life. Getting a dog and having that kind of companion can have a profound impact on a child's confidence. They'll develop a sense of self-assurance and independence. They'll feel more confident when it comes to buying dog food and going out on walks. This will then transcend into other areas of life. So many different skills will be built and competence in many areas will grow. 
Help With Speech Development
It is completely normal for kids to have a hard time forming sentences and talking out loud. If your child has a developmental speech delay, a dog can help them talk. Once you get a dog, your kids will want to teach them commands like to roll over, stay, and more. They will also feel more comfortable talking to their furry friend and can eventually develop the confidence to speak aloud more often.
Understand Unconditional Love
Dogs will also teach children the power of unconditional love. Having a dog will help kids recognize how much they love their new family member and can allow them to apply the
concept of love to other people they encounter in their lives. In addition, loving a dog unconditionally will teach a child selflessness and help them understand it is not all about them.
[Read: How to Choose the Best Type of Dog for Your Family]
Unsure of Where to Get a Family Dog?
If you decide you want a family dog but are unsure of where to start, consider checking out Infinity Pups. They will help put you in touch with the best breeders who have a variety of puppies for sale so that you can find the best dog for your home.
Bring Home A Dog Today
Bringing home a dog will not just provide your kids with a new friend, but will teach them valuable lifelong lessons. Their new pet will offer support, love, and protection while doing so.
For more on this topic, check out the full Family Pet collection
---