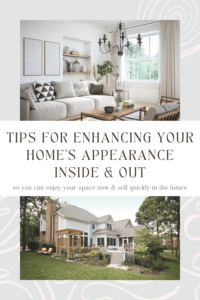 Your home is a special place for you and your family. It's a big investment, and one you should commit to upkeep and maintaining over the years. You not only want to be able to enjoy your property today, but also have it ready to sell when you want to put it on the market down the road. Therefore, it's wise to put some time, money, and effort into making it look more beautiful and attractive. Below are some tips for enhancing your home's appearance inside and out so you can achieve this goal.
---
For more on this topic, check out the full Family Home and Moving Tips collections
---
Tips for Enhancing Your Home's Appearance Inside and Out
Clean & Get Organized
Enhance your home's appearance inside and out by making sure you keep it clean and organized. Commit to a regular cleaning schedule and pick up each night before you go to bed. Also, it may be helpful to choose a few times of year to perform a deep clean, such as when the seasons change. Make sure you have a place for all your belongings and use storage solutions to help you keep all your items in proper order. The more organized you are, the better your home will look, and the less stressed out you'll be.
[Read: Get Organized]
Get Better Lighting
Letting more light into your home will help make it more beautiful and bright which will enhance the overall feel. For starters, consider hiring and working with a Window Company to replace old and broken windows. There may also be a chance to add a bay or picture window to give your home more character. New windows will make your home not only look better, but will help you bring in more natural light. Also, replace old light fixtures and covers in your home as these can easily make a space look more dated. Be sure to also set out plenty of lamps and candles for light and ambiance. You might also want to consider putting some lights on dimmer switches so you can turn them up or down depending on the time of day and mood you're trying to set.
Boost Curb Appeal
Take a look out front and see what projects you may be able to tackle that will help boost your curb appeal. Enhance your home's appearance inside and out by replacing an old garage door, painting your front door, decorating your front porch, and maintaining your lawn and landscaping. Consider adding some trees, planting colorful flowers, and adding hanging plants for additional appeal. If your siding is old or dirty, then see if it may be time to replace it altogether, or consider power washing it. Even just a good cleaning can make a world of difference!
Create A Backyard Oasis
Another tip for enhancing your home's appearance inside and out is to create a backyard oasis. You want to be able to use your backyard when the weather is nice. Your family will enjoy sitting and relaxing together, or using the space to entertain guests. So turn it into a peaceful and serene place that's a fun and exciting spot to hang out. Think about planting a garden, adding a water feature, and make sure you have an attractive deck or patio put in that you can enjoy using now. Some might even forget that the wood flooring needs some attention too. You might want to consider using composite deck flooring for that to have lesser maintenance.
Then, set out comfortable furniture, a grilling area, and hang string lights to brighten the area up at night. A backyard oasis will be an enjoyable area to spend time, and you'll be more likely to want to invite people over for a cookout or gathering. This will also be a huge selling feature if you ever decide to sell down the road.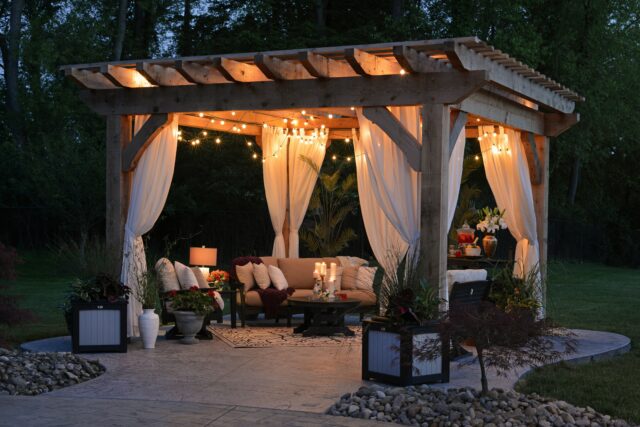 Paint & Decorate
New paint in neutral hues can instantly transform your home for the better. Enhance its appearance inside and out by applying fresh paint to the walls, trim, and cabinets. Add a pop of color to your home by painting your front door inside and out as well. When you're done painting then it's time to rethink your décor. Keep it minimal if you want to avoid clutter and make it appear more modern. Only place out the items you love and rearrange your furniture so it's away from the walls. Hang your curtains high and place out some plants and greenery to make your home feel livelier. Decorate with area rugs, pillows, and throws to not only add texture but also make your home feel more comfortable.
Focus on the Entryway
You always want to make sure you're making a good first impression when people walk into your home. Therefore, not only decorate the front porch area with plants and small pieces of furniture, but also focus on the entryway inside. Think about hanging up a mirror or two, including a small bench, and laying down a rug for people to put their shoes on. Brighten up the space by installing a light fixture that not only illuminates the entryway, but acts as the focal point. Look to your walls as well and consider hanging a family photo, or colorful and attractive artwork. If your entryway is big enough you can also include a small circular table in the middle with some décor on it.
Update the Kitchen & Bathrooms
Some of the most used and important rooms in your home are the kitchen and bathrooms. Homebuyers and homeowners care about how they look and if they're updated or not. Therefore, it's worth your time and money to make some updates to these rooms. If you don't have the budget for a full remodel, then at least make some changes that will make the areas more modern and beautiful. For instance, you can add a backsplash, paint the cabinets, install new lighting and appliances, and replace old countertops or flooring. Pick and choose a few of these projects to start with and continue to make enhancements as time passes.
You can also switch to water-efficient fixtures, such as low-flow faucets, shower heads, and water-saving toilets that use less than 1.3 gallons of water per flush. These fixtures will help reduce your household's water consumption and, by extension, your water bills.
[Read: How to Create a Calming Retreat in Your Bathroom in 8 Easy Steps]
Conclusion for Enhancing Your Home's Appearance Inside and Out
These tips will help you enhance your home's appearance inside and out stays looking nice and updated. Improving your property takes time, so be patient and try to tackle as many projects as you find feasible given your schedule and budget. You'll soon be living in and enjoying a stunning home that is more appealing and desirable. Not only for you to reside in, but for someone to buy from you one day in the future.
For more on this topic, check out the full Family Home and Moving Tips collections
---