When you have kids, every day can look a little different, which can make scheduling very frustrating! Trying to plan for the day, and stick to exact times, can feel daunting. But, I love this alternative plan! Time blocking allows you to schedule for the day with some built-in flexibility! This way, each day feels a bit more manageable.
---
For more on this topic, check out the full Work Life Balance collection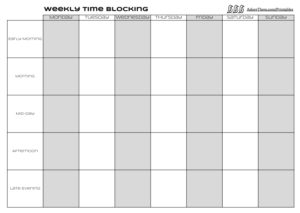 ---
WORK LIFE BALANCE
Life can get crazy, and it can be challenging to find that balance in life! Sometimes we may need to focus more on work, and other phases require more attention at home. And what about your social life? Sometimes that can become a priority for a period of time. It can be hard to juggle it all – especially at the same time! But we've got great news! ……
Adore Them has articles that explore all of this and more! We have content that touches on career success, the importance of routines, and the joys of being home and raising your family. Best of all, these resources are all free! Take advantage of these insightful articles, inspirational quotes, printables, videos, recipe, conversation starters, and more! Find fresh motivation, and start figuring out new ways to incorporate a better life balance today!
Also, learn how to find balance between work, home and play; or discover 5 (nice) ways to get ahead
For more on this topic, check out the full Work Life Balance collection