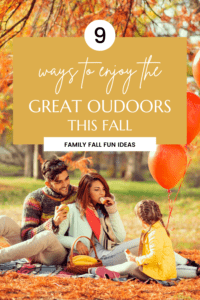 Are you ready to head out and enjoy an awe-inspiring activity this fall? Below are some of the best outdoor activities you can enjoy with your family throughout the season. Continue reading below for 9 ways to enjoy the great outdoors this fall!
---
For more on this topic, check out the full Fall Fun collection
---
9 Ways to Enjoy the Great Outdoors This Fall As a Family
Plan a camping trip
What better way to enjoy the great outdoors than going back to nature on a camping trip? Escape the city noise for the weekend with your family as you head to some of the best camping sites across the country.
[Read: Camping with Kids – Activities, Recipes, and More!]
Book a family adventure
Autumn is the perfect time to try out something new. Book a family adventure this fall and experience something out of the ordinary. For instance, you can stay in a treehouse or enjoy horseback riding with your family. Just be sure to pack plenty of kids fall jackets and seasonally appropriate clothing!
Take a walk on the beach
Beach life is not limited to summer only. Autumn is a perfect time to visit the sandy beaches. During this time, you can expect less crowded beaches, offering a perfect time for you and your family. Accordingly, there are many outdoor family activities you enjoy on the beach.
[Read: What to Pack for the Beach with Kids]
Go hiking
If hiking is your thing, you can head to the woods and walk through the wilderness. There are many hiking trails across the country, so you should not have to worry about where to get started. Get your hiking gear from ECOGEAR FX and enjoy the excursion.
Go kayaking
Kayaking is another great outdoor activity you can enjoy this fall. This paddling experience is not just fun but also a perfect way to stay healthy and physically fit. Whether you are looking to relax over the weekend or find something of an adrenaline rush, kayaking is a good starting point.
Cycle
There is no better way to enjoy the great outdoors this fall than by incorporating physical exercise. Cycling as an individual or family is a perfect way to pass the time and create memorable experiences. Use bike paths to explore the city or a local park.
Nature walk
Nature has everything to make your day memorable. From bird watching to enjoying beautiful sceneries, there is nothing nature cannot offer. Take a walk across a local park or game reserve to connect with nature and enjoy what it has to offer. You can also spend this time educating your kids about various species as you come across them.
[Read: Photo Walk – A Fun, Fall, Kid-Friendly Activity]
Go hunting
While hunting remains a traditional outdoor activity for some families, not everyone wants to hunt for animals. You could instead go bird watching, treasure hunting, or perhaps even fishing. The point is to get out in nature with the people you love and make some new memories. However, if you do decide to go traditional hunting, ensure you have the proper gear and permits.
Pack for a picnic
The great outdoors can be memorable and enjoyable if you get creative enough. One of the ways is by packing some snacks and games for a picnic with friends and family. Take the adventure to a local park or camping site to bond with people as you enjoy games and other activities.
Final thoughts
Autumn is a perfect time for outdoor activities with friends and family. Whether you want to go camping, or on a picnic, the list of activities is endless. Think it over and pick something memorable for everyone.
[Read: 50 Fall Themed Activities for Families]
For more on this topic, check out the full Fall Fun collection
---