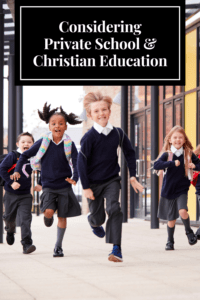 Information about Private School and Christian Education
Recently I did a Q & A with Lancaster Mennonite School. They are a private local school that is Christian affiliated and offers a traditional way of teaching. While they might not be local to you, I hope that you find their information informative. I also hope that you will consider checking out your own private and/or Christian affiliated options around you!
I grew up attending their schools from Kindergarten through grade 9 before switching to a public high school. My overall experience was very positive, and I left due to reasons unrelated to the school itself. Over the years they have continued to evolve and change, but many of their core principals and beliefs remain the same. Now with 5 campuses, and a growing attendance, I wanted to share with you the wonderful difference when choosing a private Mennonite school.
---
EDUCATION OPTIONS
This collection is created to shed light and answer questions surrounding different types of schooling and education. We are not trying to compare, but rather give you insight into the differences. Each family will need to make their own decision regarding what works best for their child and family. There are no "right" answers. It is an individual decision that needs to be made based on your student's individual needs, learning style, abilities, and resources. Read below for more information about Private School and Christian Education.
Our goal of this Education Options collection is to allow you to dive a little deeper into the possibilities and opportunities around you!
Public | Private | Homeschool/Cyber | Montessori | Waldorf | Classical | Unschooling
---
Q:  What is the Private School education philosophy?
As a leading Christian school, Lancaster Mennonite School offers a comprehensive PreK-12 program designed to educate the whole person. The school warmly welcomes students and families desiring an education in a learning community shaped by the following distinctives: Christ-centered, educational excellence, peace and service, community, and faith-infused opportunities.
Lancaster Mennonite School promotes excellence in a student-centered environment that is age and ability-appropriate. They help to build skills not only for further education, but also for lifelong learning. Teachers provide academic support and challenge; while guiding and encouraging students to develop their gifts and discover their calling. The faith-infused educational program nurtures students' spiritual life, curiosity, character, and sense of responsibility. The school values teachers who invite students to transformational growth within the context of the local, national, and global communities.
A diverse, multicultural environment that is welcoming, safe, trusting and respectful is an important component of the educational process. Lancaster Mennonite calls each student to personal faith, and practices that value peacemaking and service.
Q:  What are some similarities & differences in comparison to traditional schooling?
Most of the curriculum at most of the five campuses, from PreK-12, is traditional. The Locust Grove Campus offers a Spanish Immersion track starting in kindergarten. These classes are taught in Spanish so students learn the Spanish language along with the academic content. At the Lancaster Campus, Lancaster Mennonite Middle School uses a Project-Based Learning (PBL) model. These various academic disciplines are applied to a particular real-life project. Throughout the curriculum, an effort is made to include a Christ-centered perspective.
Q:  What does a day in the life of one of your students look like?
Aside from the innovative alternative programs offered at Locust Grove and Lancaster Mennonite Middle School, students experience a typical school day — on the surface. At a deeper level, they are involved in spontaneous prayer and applications of Scripture to situations that arise throughout the day. They also take part in Chapel services, Bible studies and Christian community life.
Q:  How can families find more information about this style of learning?
Complete descriptions of each campus are on the school's extensive website: www.lancastermennonite.org. Interested parents are also encouraged to visit during one of the school many visitation opportunities listed on the website at www.lancastermennonite.org/admissions/visit.
---
A big thank you to Lancaster Mennonite's Director of Marketing and Communications for taking the time to provide us with this information! We hope that you will give Lancaster Mennonite consideration when deciding upon your child's education. And if you are not local to Lancaster County, we hope that you will keep an open mind and check out your local Private School and/or Christian School options.