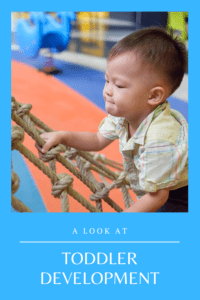 It is amazing how quickly children grow up and change throughout the toddler years! I remember when I had my first baby. It seemed like it took so long for her to smile, hold her head up, roll over, grab a toy, and so on. These were big accomplishments for her, but changes happened more slowly as it would take several weeks (or months) between hitting the different milestones. A baby's first year is very special! But it definitely can feel like it moves a bit more slowly. However, eventually they achieve everything that a baby learns to do, and eventually they become a toddler. That is when everything begins to change more quickly! Below is a fun look into Toddler Development.
---
This article is written by Karissa Tunis
For more on this topic, check out the full All About Toddlers collection
---
The Toddler Stage
Once my daughter hit the toddler stage, it seemed like every day my little girl was discovering something new! Every day she was trying new things, pushing her limits and becoming more independent. She had a strong personality, knew exactly what she wanted, and I loved every minute of it!
Fast forward a few years and now I have three children. My oldest is now 9, and my youngest is 4 years old. I feel like we are almost out of the toddler phase, and I am trying my hardest to pump the breaks and soak it all in! As fun as it is to see them continuing to grow and learn, I can honestly say that the toddler phase was, and still is, one of my favorites!
Sure each phase brings along their own set of challenges and loves. But there is something so incredibly sweet about watching an innocent little child blossom into their own little person. I love watching them explore the world around them. I love their curiosity and their little chubby hands. Their wet kisses, their sweet little hugs, and their darling little voices. And I love their determination to do it themselves….I love it all!
---
FREE PRINTABLES
Sticker Charts for Toddlers & Letter and Number Charts for Toddlers
---
A Look at Toddler Development
Below I created an infographic that highlights some of the developments a toddler might achieve. But let me be clear – I am not a doctor. I am just a mom that loves the toddler stage, and enjoys doing a little research. If you are ever concerned about your child's development, please speak with your pediatrician.
As a mom of three (1 girl and 2 boys), I can tell you from my own personal experience that boys and girls develop in different orders and at different paces. But even my two boys hit their milestones at different times. Their personalities are different, their focus is different, their interests are different, and their learning styles are different. So I always try to be careful about comparing them to each other, or comparing them to any other child.
Every kid is different. Every child is unique and special. And every little precious soul should be celebrated as they continue to grow and learn new things 🙂
---
Toddler Development Infographic
-Click the image below to save and/or print-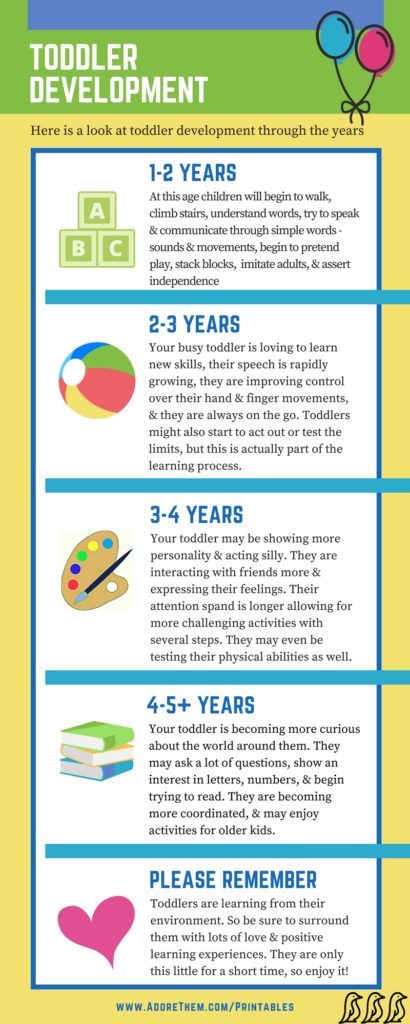 For more on this topic, check out the full All About Toddlers collection
---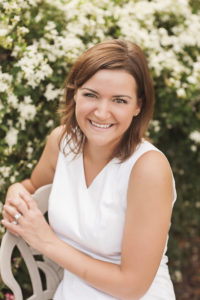 Co-Owner: Karissa Tunis
Karissa Tunis is the owner of Adore Them Parenting and the family event company Milestone Family Expos. Through these ventures she is able to share inspiring, heartfelt insight with large audiences within local communities and across the country! Her knack for all-things-organization allows her to balance content creation, brand partnerships, and event planning without losing sight of what she wants for her own family. Despite her busy schedule, Karissa also makes it a priority to spend quality time with her husband and three children. You will often find her volunteering at her children's schools, cheering them on from the soccer sidelines, or enjoying the great sites of Charleston, SC with her family.
Contact: Karissa@AdoreThem.com
---